CREtech Announces Media Relations Partnership With Top Communications Firm Marino for New York Conference on October 13-14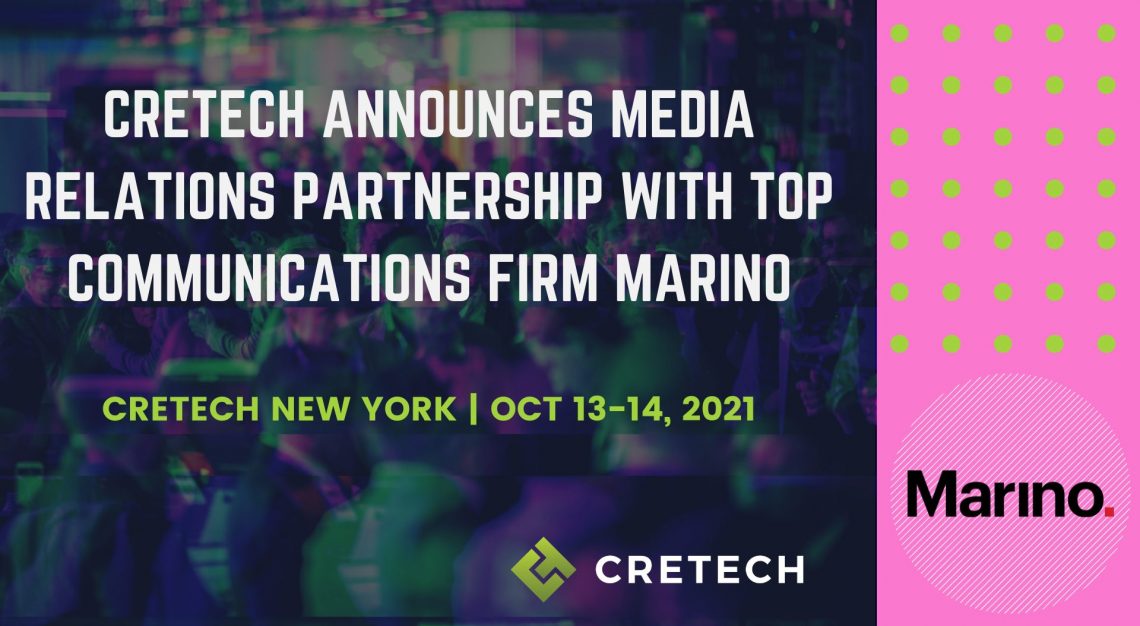 CREtech Selects Marino as Official Media Relations Partner for Flagship New York Conference
New York, NY (June 17, 2021) — CREtech, the world's leading community of professionals devoted to technological innovation in the real estate sector, announced today that Marino has joined as CREtech's official Media Relations Partner for its flagship CREtech New York Conference. The upcoming event in New York will take place at Pier 36 in Manhattan and is expected to attract over 1,000-plus leaders from the global real estate and tech sectors.
With offices in New York and Los Angeles, Marino is one of the most widely recognized and respected communications firms in the U.S. The agency stands among the national leaders in commercial and residential real estate communications and marketing firms, with an award-winning real estate practice built over more than 25 years. Marino has a storied past working with companies, organizations and projects that have shaped residential and commercial real estate into what we know it as today and, most recently, the agency has ventured into PropTech representing some of the most prominent and well-known brands in the industry. These companies in the PropTech, co-working, co-living, short term rental and innovation spaces trust Marino because not only do they understand their target audiences, they know how to create the messaging and identify the channels necessary to drive success.
Marino will be responsible for handling all of CREtech's public relations prior to, during and after the CREtech New York Conference. At the event, Marino will serve as the onsite media relations lead for all press associated with the conference.
"We are excited to partner with CREtech on this important event that will be held in person this October," said John F. Marino, the president of Marino. "As proptech—which is a growing part of Marino's business—becomes increasingly more important to the real estate community, CREtech New York 2021 will help our team of publicists stay on top of key insights and trends in this fast-changing sector of our industry."
"We are thrilled that Marino will be joining us as our Media Relations Partner for our flagship New York event," stated Lindsey Imperatore, President of CREtech. "Marino has a sterling reputation as one of the top New York City-based PR firms with a long history of serving clients in the real estate and tech sectors. We look forward to working closely with their team to help bring more awareness to the thriving real estate tech ecosystem, which will be on full display at our upcoming in-person event this fall," Imperatore concluded.
The 2021 CREtech New York Conference will be held in-person on October 13 and 14 at Pier 36 in Manhattan, and will host keynote presentations from world-renowned experts, demos from leading tech companies, and networking opportunities to drive new business like never before. Commercial real estate and tech executives from around the globe will attend the event to network, uncover new investment opportunities, and discover leading-edge products and services to enable digital transformation for the largest industry in the world.
To purchase your ticket to the world's most important real estate tech networking event, click here.
About CREtech
CREtech is Reimagining Real Estate. We are the largest international community of professionals devoted to technological innovation in the real estate sector. Our mission is to help the industry embrace, adopt, and future proof its businesses. Our streaming, live/virtual events, and consulting platform inspires the next generation of ideas, processes, and people to champion the world's largest asset class. Visit cretech.com to learn more about CREtech's mission and work.
About Marino.
Marino is a full-service communications firm delivering data-driven, fully integrated strategies focused on changing perceptions, amplifying impressions and fostering high-level relationships to build brands. Based in New York City, with an office in Los Angeles, the markets Marino serves include real estate, lifestyle and consumer, nonprofit and education, public affairs and advocacy, technology/innovation and professional services. Marino's clients range from Fortune 100 companies and international brands to local and national nonprofits and businesses. For more information on Marino visit www.marinopr.com.