CREtech Assembles World-Class Speaker Lineup for Climate Global Leadership Summit in Stockholm this October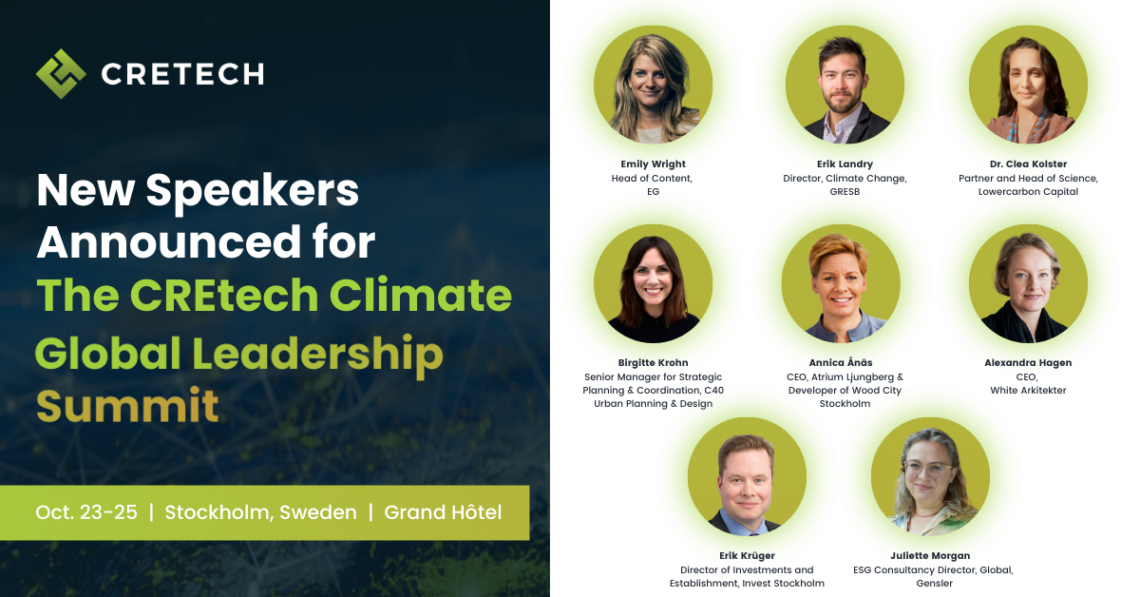 The annual CREtech Climate Global Leadership Summit will take place in Stockholm on October 23-25, to address the most urgent global climate issues impacting the real estate sector.

New York, NY (October 3, 2023) — CREtech, the largest international community of professionals devoted to technological and sustainable innovation in the real estate sector, has announced its extraordinary roster of speakers for the upcoming CREtech Climate Global Leadership Summit being held this October 23-25 in Stockholm, Sweden.
The CREtech Climate Global Leadership Summit is the second in a new conference series by CREtech offering unique perspectives from a carefully curated, diverse group of built world sustainability thought-leaders. Focused and intimate, this event maximizes networking and collaborative learning with an immersive program in an inspiring setting. The summit will address the most urgent global climate issues impacting the real estate sector. Hosted in Sweden, one of the world's most sustainable countries, the Global Leadership Summit will be held in Stockholm at the 5-star Grand Hôtel, situated in a waterfront location overlooking the Royal Palace and Gamla Stan, Stockholm's old town. 
Attendance will be extremely limited and anyone interested in attending is encouraged to register as soon as possible to reserve their ticket.

The 3-day intimate gathering is an exclusive retreat unlike any other conference that is programmed at CREtech. Following the success of the 2022 Global Leadership Summit which assembled the world's leading built world sustainability professionals for an intimate gathering in Copenhagen, the 2023 Summit will bring together global leaders and like-minded peers aiming to create best practices for achieving Net Zero in the Built World.

The annual Global Leadership Summit will feature the highest level speakers, relationship-building activities, educational excursions, workshops and more. Attendees will inspire collaboration, stimulate tangible ideas, and develop actionable insights to help accelerate the Race to Net Zero.
Chaired by Emily Wright, Head of Content at EG, speakers set to take the stage include: 
Juliette Morgan, ESG Consultancy Director, Global, Gensler

Dr. Clea Kolster, Partner and Head of Science, Lowercarbon Capital

Birgitte Krohn, Senior Manager for Strategic Planning & Coordination, C40 Urban Planning & Design

Erik Landry, Director, Climate Change, GRESB

Alexandra Hagen, CEO, White Arkitekter

Erik Krüger, Director of Investments and Establishment, Invest Stockholm

Annica Ånäs, CEO, Atrium Ljungberg and Developer of Wood City Stockholm
To learn more about the event and register, click here.

To learn more about partnership and sponsorship opportunities, click here.

About CREtech
CREtech is Reimagining Real Estate. We are the largest international community of professionals devoted to innovation and sustainability in the Built World. Through annual events and digital platform, our goal is to convene the entire real estate ecosystem to forge meaningful relationships, accelerate technology adoption, and inspire the next generation of ideas to champion the world's largest asset class. Learn more: CREtech.com