CREtech Expands with Two New Key Hires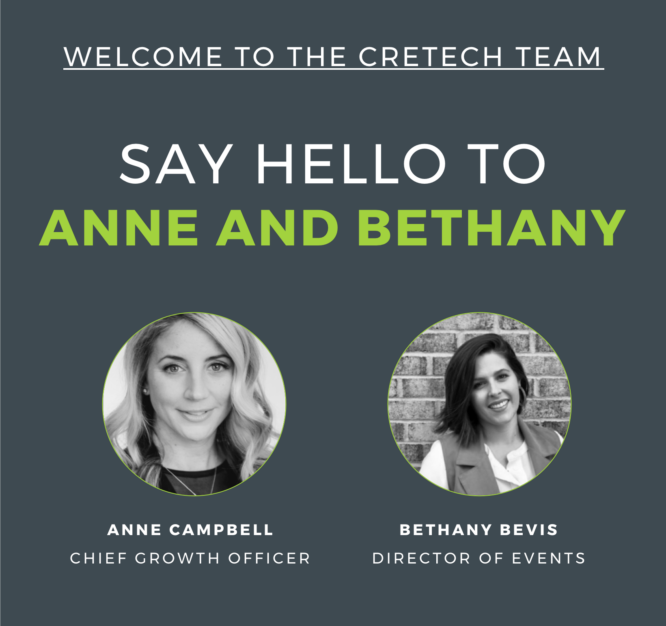 Fast growing event, data and research platform devoted to commercial real estate technology continues to scale
New York, NY (October 15, 2018) — CREtech (CREtech.com), the leading commercial real estate tech event and content platform in the industry is pleased to announce two new hires to keep up with the company's extraordinary growth; Anne Campbell, Chief Growth Officer and Bethany Bevis, Director of Events.
Recognized as leading experts in the technology, real estate and events business, the new team members will lead efforts to continue building the largest event platform in the commercial real estate tech industry, attracting new audiences and partners.
Anne comes to CREtech with over 15 years of sales and marketing experience for the world's largest and most recognized B2B technology events and media platforms. She's held leadership positions at CES (the Consumer Electronics Show) owned and produced by the Consumer Technology Association, eMerge Americas (the enterprise technology event of the Americas) and the NAB Show, owned and produced by the National Association of Broadcasters. Anne's contributions led to multi-million dollar sponsorship, advertising and exhibit growth, as well the recruitment of new event audiences representing vertical and horizontal markets throughout the technology ecosystem. Anne was also one of the first employees on the business team for Politico, selling advertising partnerships for it's print and online publications covering Congress, lobbying, media and the presidency.
Bethany brings over ten years of experience in nonprofit, real estate and membership organizations focusing on event production, sponsorship, and project management. Most recently, she managed the International Council of Shopping Center Foundation. Under her leadership, the ICSC Foundation hosted some of their most successful fundraisers and was able to increase their scholarship program by twenty-percent. She also spent time in Washington, DC and the National Association of REALTORS. There she managed a half-million dollar event, grant and research fund for PAC fundraising, training, events and recognition. She graduated with distinction from Northern Arizona University in Flagstaff, AZ studying communications and political science.
"Our mission at CREtech is to connect the commercial real estate and technology sectors and in order to accomplish this, we are committed to building a world-class team to help lead our growth," stated Michael Beckerman, CEO, CREtech. "I am thrilled to therefore announce the appointments of Anne and Bethany to help lead our event and sponsorship strategies at CREtech. They bring a whole new level of expertise and experience to our rapidly growing platform," Beckerman added.
To connect with Anne or Bethany, click here.  
About CREtech
Our mission at CREtech is to connect the commercial real estate and tech sectors, bringing a new age of innovation, investment and growth to the industry. The platform features the largest events, most important daily newsletter, largest directory of startups and industry leading research. CREtech additionally provides Advisory Services to startups and commercial real estate developers/brokers.
CREtech is owned and operated by The News Funnel, the leading content, connectivity and event platform devoted to the commercial real estate technology.
To learn more, visit www.cretech.com.