CREtech New York Sessions Now Available to Stream on CREtech+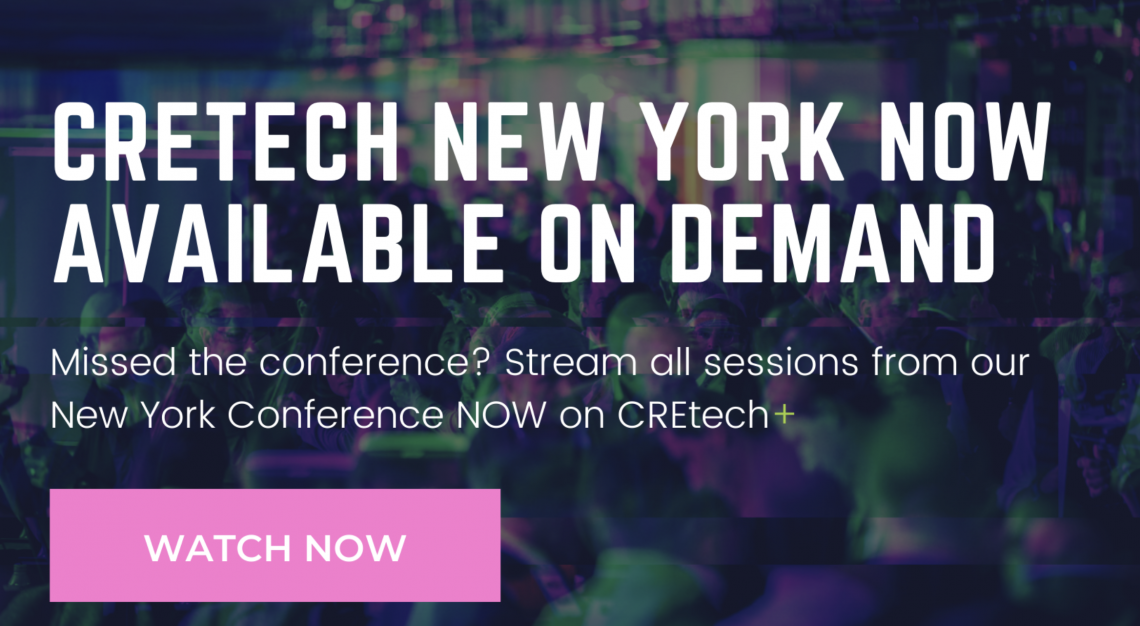 CREtech, the largest international community of professionals devoted to technological innovation in the real estate sector, returned to New York on October 13th and 14th for the most influential commercial real estate tech conference of 2021.
The two-day conference was held at Pier 36 and featured keynote presentations, panel discussions and demos from today's leaders in real estate, technology, venture capital and finance, the event was a rousing success. Over 1800 individuals registered to attend the conference and used CREtech's professional matchmaking app to set up 1:1 meetings in their industry renowned Tech Connect Lounge. 
All sessions from the New York conference are now available to stream on-demand on CREtech+.
The CREtech New York conference focused on uncovering new investment opportunities, and acquiring cutting-edge products and services that are at the forefront of the industry's digital transformation.  The agenda touched on such important topics as:
Gaining the Competitive Edge with Data
Fireside Chat with Chad Tredway, JPMorgan Chase
The Reimagined Office: From Experience to Operations
The PropTech Landscape: The Future of Investments and Growth In Real Estate
Embracing Innovation: How Leading Real Estate Companies are Embracing Technology
The Housing Crisis: Tech Solutions to Create Affordable Housing
Keynote: Reimagining Wellness Real Estate
Fireside Chat with Mark Schwartz
Leveraging Technology To Create Multifamily Experience of the Future
RETAS (Real Estate Tech Awards) Presentation
Measuring Physical Climate Risk: How CRE Professionals Can Manage the Impacts of Climate Change
Flexibility at Scale - How Landlords are Unlocking the Campus Experience
Using Data to Drive Impactful Innovation
Enabling Smarter, More Flexible Security (and Spaces!)
Building for Innovation: How Banks are Embracing CRETech
Why Tenant Experience Isn't Enough for the Future of Work
Innovation, Data and the Future of RE Intelligence
Discover how a passion for investing in mobile home parks turned into a leading proptech company
How Technology is Shaping the Future of the Workplace- With Cousins & Columbia
The Reimagined Workplace: Mobile Apps & Employee Experience
Session with Prescriptive Data
Title Sponsors for the event were HqO, JLL Technologies, Latch, NavigatorCRE, Openpath and NAR REACH. With Founding Sponsor Cherre and Climate Symposium Sponsor Moody's Analytics. 
Other Sponsors included:
And many more!
All sessions are available to stream on-demand on CREtech+. Enjoy your first month FREE. 
See the 2022 Event Schedule here and register your interest. 
About CREtech
CREtech is Reimagining Real Estate. We are the largest international community of professionals devoted to technological innovation in the real estate sector. Our mission is to help the industry embrace, adopt, and future proof it's businesses. Our streaming, live/virtual events, and consulting platform inspires the next generation of ideas, processes, and people to champion the world's largest asset class.
Learn More: CREtech.com