CREtech Releases Agenda for Leading Real Estate Tech Conference Taking Place This October 13-14 In New York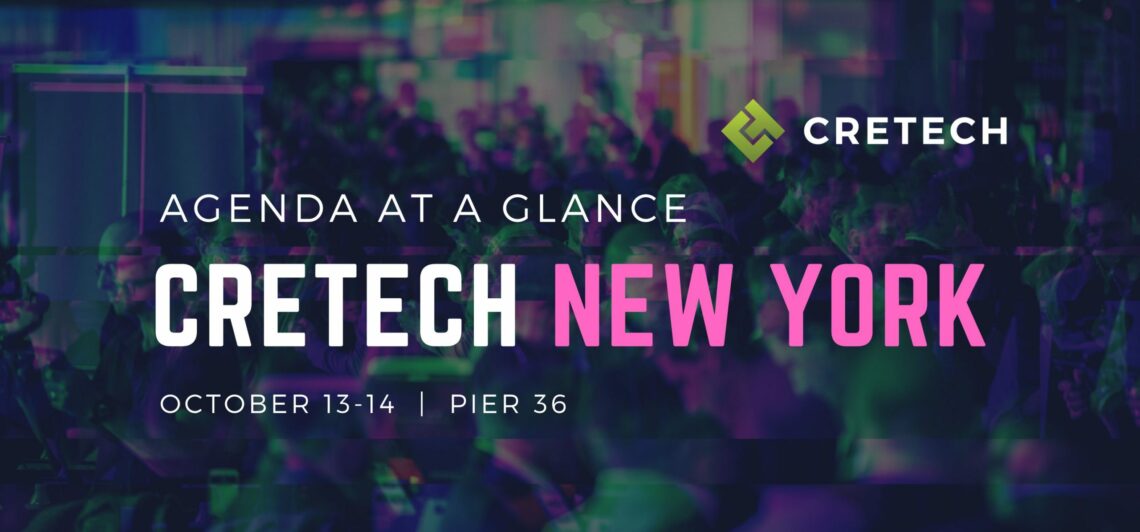 The world's most important tech networking event will feature leading content that explores the next frontier of Build World Tech.
New York, NY (July 19, 2021) — CREtech, the world's leading community of professionals devoted to technological innovation in the real estate sector, recently released an agenda -at-a-Glance to their in-person real estate technology conference, CREtech New York, which will take place this October 13-14 at Pier 36 in Manhattan.
The conference is anticipated to bring together over 1,000 of the world's premier real estate professionals, and will feature notable tech, venture and real estate speakers from across the globe. The event will also cover a range of topics, from climate change, to gaining a competitive edge with data, and attendees will have the opportunity to get an inside look into the future of technology within the real estate industry all while networking with top professionals in the field.
On day one of the conference, attendees will hear from keynote speaker, Andy Florance, Founder and CEO of CoStar Group as he delivers a presentation on how he found success in CoStar Group by fundamentally changing the way commercial real estate professionals access, use, and share information.
Attendees will also have the opportunity to hear a second keynote on day two of the conference from John Fitzpatrick, Managing Director and Chief Technology Officer of Alternative Asset Management Technology at Blackstone, who will be interviewed by Brad Greiwe, Co-Founder and Managing Partner of Fifth Wall. Fitzpatrick and Greiwe will set the stage for an insightful day of panel discussions unpacking where the industry is headed in the future.
Agenda at a Glance:
Attendees will get a front row seat to main stage presentations that will educate, inspire and connect them with leading c-suite speakers who are experts in built world innovation. CREtech will release further agenda updates soon, including our exciting Innovation Stage agenda.
Day 1, October 13
10:00 am: Conference Kickoff and Welcome

10:10 am: Keynote: Andrew Florance, Founder and CEO of CoStar Group

10:50 am: Gaining the Competitive Edge with Data

1:00 pm: Reimagine Office: From Experience to Operations

2:30 pm: The Housing Crisis: Tech Solutions to Create Fair Housing

3:10 pm: Another Superstar Keynote (coming soon!)

MORE TO COME!
Day 2, October 14
10:00 am: Conference Kick Off and Welcome

10:10 am: Keynote feat. John Fitzpatrick, Blackstone, and Brad Greiwe, Fifth Wall

11:20 am: Leveraging Technology To Create Multifamily Experience of the Future

1:00 pm: CREtech Climate Symposium

MORE TO COME!
"We are so thrilled with our growing line-up of speakers, many of whom are gracing our CREtech stages for the first time," stated Lindsey Imperatore, President, CREtech. "As with all of our conferences at CREtech, our team works incredibly hard to present the topics and insights that are most critical to the real estate industry today. From climate to data, affordable housing to reimagining both office and multifamily, no other real estate tech conference platform delivers such an immersive experience as CREtech which consistently has proven to deliver our audiences for many, many years," Imperatore concluded.
Back bigger than ever before, CREtech New York attendees will be able to connect in-person with the most prestigious group of real estate tech professionals in the world while enjoying the Pier 36 venue located along the East River in Manhattan. The building boasts over 70,000 sq ft of space, and has a 15,000 sq ft deck and has views of downtown Manhattan, South Street Seaport, the Manhattan and Brooklyn Bridges, and the Statue of Liberty.
Real estate executives from around the world will attend the conference to network, uncover new investment opportunities, and acquire cutting-edge products and services that are at the forefront of the industry's digital transformation.
To view the full agenda, click here.
To register and learn more about the event, click here.
About CREtech
CREtech is Reimagining Real Estate. We are the largest international community of professionals devoted to technological innovation in the real estate sector. Our mission is to help the industry embrace, adopt, and future proof its businesses. Our streaming, live/virtual events, and consulting platform inspires the next generation of ideas, processes, and people to champion the world's largest asset class.
Learn More: cretech.com