CREtech Returns to Boston to Host Groundbreaking Technology Showcase with MIT Center for Real Estate on April 10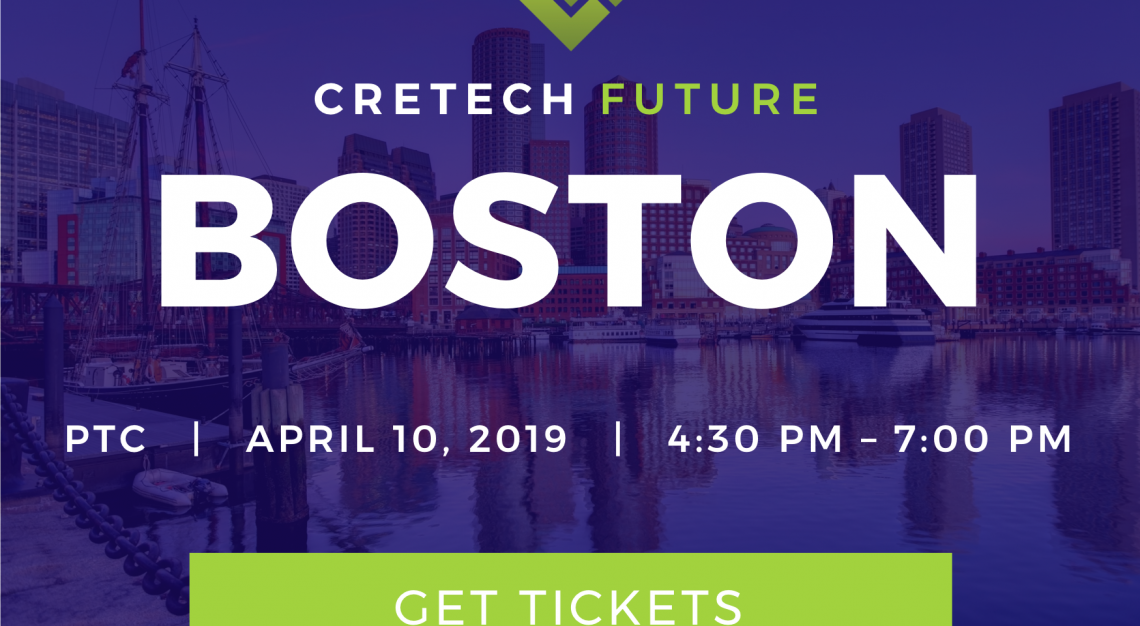 CREtech and MIT Center for Real Estate Join Forces Again for Leading Edge Commercial Real Estate Tech Conference
New York, NY (March 7, 2019) — CREtech (cretech.com), the largest event, data and content platform covering the commercial real estate tech industry, is partnering with MIT Center for Real Estate and NAIOP Massachusetts for its second annual event to be held in Boston on April 10th.
The CREtech FUTURE: Boston event will feature four curated technology showcases with leading-edge scientists and innovators focused on the most impactful, future real estate technologies which will have a profound impact on the commercial real estate sector. Speakers include:
Mark Schuetz

, VP, Augmented Reality Product Management,

PTC

Bhaskar Maddala

, VP, Engineering,

Reonomy

Markus ElKatsha

, Researcher, City Science Group,

MIT Media Lab

Michael Jansen

, Chairman and CEO,

Cityzenith
The event's featured panel, "Flying Cars and Robotic Buildings: The Experts Discuss Real Estate Tech 4.0" will be moderated by MIT Center for Real Estate's Head of Industry Relations, Steve Weikal. The speakers are some of the most important thought-leaders in the entire CRE Tech sector, including:
Hosted at PTC's new headquarters at the Boston Seaport, the event venue is considered one of the Greenest Buildings in the U.S. The building has received nearly perfect scores for sustainable sites, transportation, recycled content, regional materials, low-emitting materials, green power, and construction waste management. They also employed the latest in AI technologies to design its unique exterior.
PTC's world-class Customer Experience Center provides visitors with a hands-on tour to experience a world that is powered by PTC's Industrial Internet of Things, Augmented Reality, Product Lifecycle Management, and 3D CAD technologies. These exhibits demonstrate PTC's technology by using Augmented Reality, Virtual Reality and also a ride-on experience to bring the solutions to life. In addition, an adjacent R&D lab and maker space allows customers to engage with engineers at PTC as they develop the next generation of innovative technology.
"The MIT Center for Real Estate is always looking toward the frontier of what new, innovative and groundbreaking in the realm of real estate and technology, and we're excited to share the latest in partnership with CREtech and Michael Beckerman at CREtech FUTURE: Boston, " stated Steve Weikal, Head of Industry Relations, MIT Center for Real Estate. "We're especially pleased to be at the new PTC world headquarters, and experience first-hand how PTC is leading a digital revolution that is directly transforming the built environment."
"It is a great honor to once again be partnering with the MIT Center for Real Estate on this important commercial real estate tech event," stated Michael Beckerman, CEO, CREtech. "Partnering with Steve Weikal and the Center is truly one of the most important milestones and events in our young industry's history. Having their brand, professionals and community embrace, and lead, the commercial real estate tech sector truly demonstrates that we are making real progress as an industry in embracing tech. This technology showcase is a must-attend event for anyone who wants to fully understand where the future of the commercial real estate is heading," Beckerman concluded.
To purchase tickets, click here.
About CREtech
CREtech is the largest event, data and content platform in the commercial real estate tech industry. The platform features the most well attended trade shows in the industry, hand selected daily news, the largest directory of tech startups serving the industry and industry leading research.
CREtech is owned and operated by The News Funnel, the leading content, connectivity and event platform devoted to the commercial real estate industry.
Get tickets to an upcoming CREtech event or learn more about marketing and sponsorship opportunities by emailing anne@cretech.com.
About MIT Center for Real Estate
Educating the men and women whose innovations will serve the industry worldwide, the MIT Center for Real Estate is home to the first one-year Master of Science in Real Estate Development (MSRED) degree, as well as an intensive two- week Professional Certificate in Real Estate Finance and Development.
Our pioneering research investigates the real estate transaction from initial concept to market reality, providing breakthrough knowledge to help organizations capitalize on today's dynamic markets and technologies.
Uniting industry leaders with MIT's distinguished researchers and students, our diversified industry partnership program advances the art and science of global real estate, bridging the gap between theory and practice.