CREtech Tech Consultants Are Producing Best-In-Class Tech Solutions for The World's Top Real Estate Firms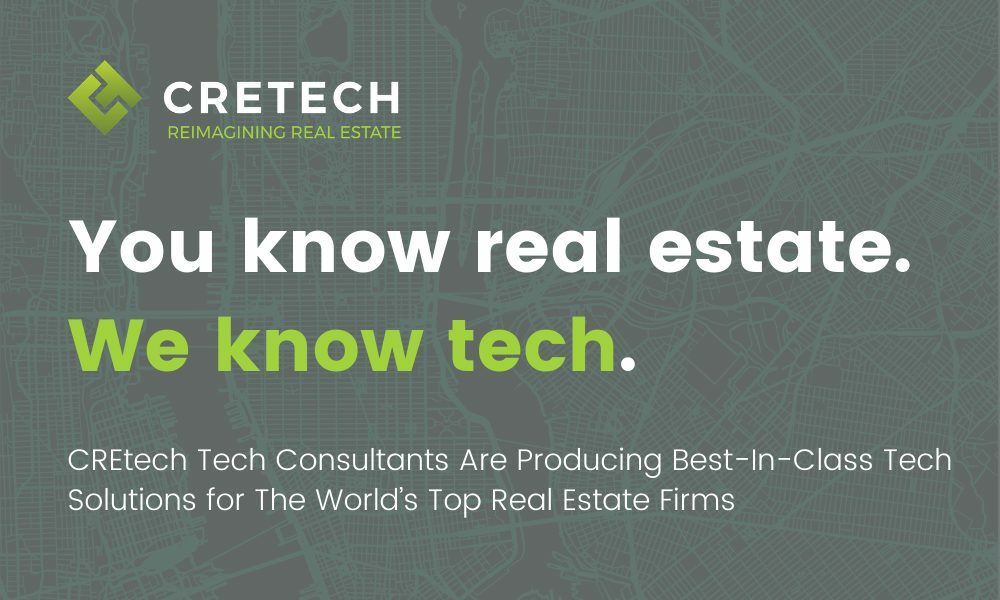 Top tech consultants are leading real estate firms to adopt innovative tech solutions that are proven to advance long-term business performance. 
June 15, 2021 — CREtech (cretech.com), the largest media company devoted to covering the real estate technology sector, announced that its CREtech Consulting Practice has been supporting the world's top real estate firms to generate significant returns on investment by adopting tech solutions within their portfolio.
CREtech's Global Innovation Consulting practice enables clients to reimagine their Real Estate business by advising on specific digital solutions, providing overall innovation strategies and developing tech solutions for companies. CREtech Consulting is well-positioned to scale in this marketplace given its market leadership in the real estate technology ecosystem and access to technology partners, thought-leaders, and massive distribution platform.
With over 20 world-class experts on the team, CREtech consultants offer a broad range of technology expertise to help grow real estate businesses, and produce innovative advancements to solve adoption challenges. Through custom consulting solutions, CREtech Consulting works with clients to craft unique recommendations to future-proof assets and  accelerate tech adoption within the industry.
Services offered include a diverse range of subjects/topics related to real estate, and CREtech's world-class consultants have a wide-range of specialities, such as:
Access Controls 

AR/VR Spatial Experience

Artificial Intelligence / Machine Learning

Blockchain

Construction & Design

Customer/Tenant Experience

CRE post-Covid / Future of Real Estate

Data & Analytics

Digital transformation

Ideation and Prototyping

Intelligent Process Automation (IPA)

Flex Space

Future of Work

Smart Technologies/ Building Performance

Smart Contracts

Sustainability/ESG

The Startup Landscape

Tenant experience 

UI/UX

Venture Capital
CREtech Consultant's areas of expertise covers an array of asset classes, including:
Office

Industrial

Multifamily

Retail

Mobility

Co-Working/ Flex Space

Hospitality

Construction

Mixed-uses

Smart Cities 
"We are so fortunate to have such a dynamic and thoughtful team of experts at CREtech Consulting," stated Michael Beckerman, CEO of CREtech and newly launched initiative, CREtech Climate. "Our consultants have been guiding the world's most notable real estate firms to adopt and invest in the most cutting-edge technologies that are on the market," added Beckerman. "I'm so proud of the impact we have made on the industry, and look forward to supporting more firms in developing tech solutions that will streamline processes and enhance business development," concluded Beckerman. 
CREtech's team of consultants are among  the most accomplished, knowledgeable and sought-after professionals and advisors in the industry. Each with a deep breadth of knowledge, CREtech's consultants share a broad array of product and market expertise needed to help your organization dive into all aspects of the real estate technology space. 
For more information on CREtech's Consulting practice, fill out the form here. 
About CREtech
CREtech is Reimagining Real Estate. We are the largest international community of professionals devoted to technological innovation in the real estate sector. Our mission is to help the industry embrace, adopt and future-proof their businesses. Our intelligence, streaming, event and consulting platforms inspire the next generation of ideas, processes and people to champion the world's largest asset class.
Learn more: CREtech+, CREtech Consulting and CREtech Climate.