DNB Ventures invests in Unite Living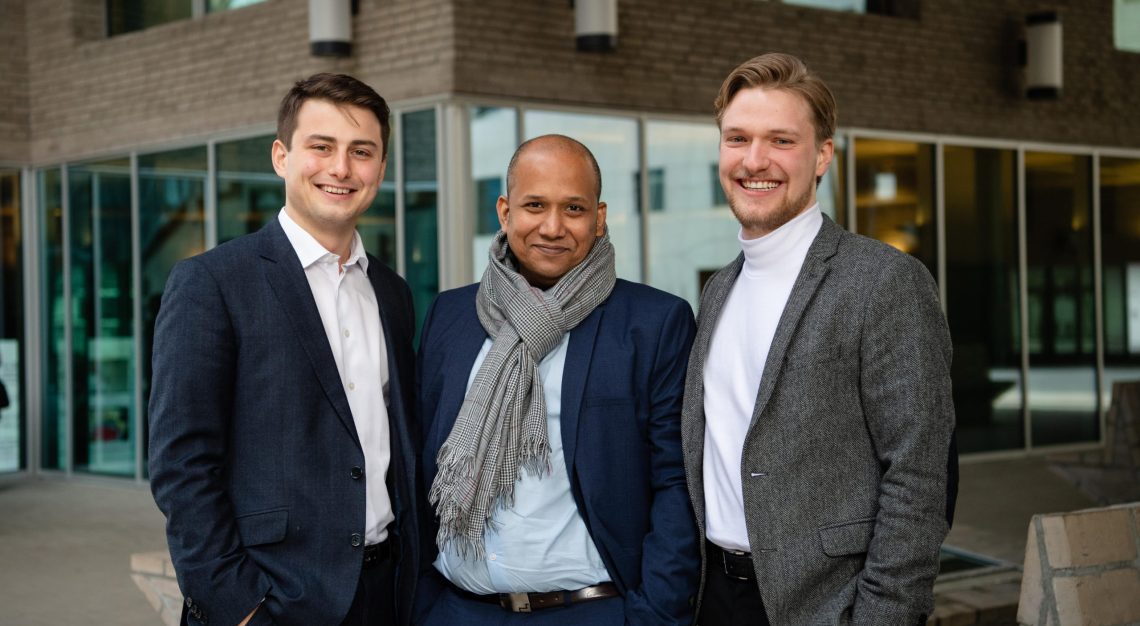 Ola Leithe Svalheim (left), Risul Islam (Middle) and Christian Wierød (right).
Photographer: Stig B. Fiksdal, DNB News
The residential rental platform, Unite Living, starts the new year with over one million dollar from DNB Ventures and Innovation Norway. The three-year-old company that digitizes and automates the residential rental cycles has already secured over 18,000 users and is valued at $6.9MM after the investment. Examples of customers are Krogsveen Boligutleie, M3 Utleie and Sem & Johnsen Boligutleie.
"We like Unite Living and are fascinated by what they have achieved so far. The team at Unite Living has shown an incredible ability to deliver good and innovative services to their customers and we look forward to the next chapter! ", says an engaged Ola Svalheim, DNB Ventures.
Renting a home is usually a manual process, which makes it time-consuming and risky. As of today, there is no easy way to rent and manage the rental process totally digitally. Landlords often use a cobination of Excel sheets, accountants and/or large advanced accounting systems modified for rental purposes. This results in much redundant functionality as well as a terminology that is unknown to managers and landlords. Instead of modifying an existing accounting system, Unite Living has built a 100 percent cloud-based management system based on the needs of managers and brokers. It does not mean that the accounting part is down-prioritized, on the contrary, the system keeps the accounts fully automatic and becomes a digital accountant in the cloud. Unite Living can therefore be implemented by all types of customers regardless of which accounting system they use today.
"We have received very good feedback on the solutions we have delivered to the market and are looking forward to develop new solutions with DNB Ventures on the team. DNB does an incredibly good job within innovation, new customer-related services and has had great success with Vipps. Together we want to create the best customer experiences for the future and based on the process we have been through, I think this will be a very good match. ", Says Christian Wierød, CEO and founder, Unite Living.
DNB has set aside $28.6MM for investments in start-up companies through DNB Ventures. DNB Ventures has a strategic facility and looks for companies that can contribute to delivering or contributing to delivering the next generation of customer experiences for DNB's customers, especially in the field of open banking, alternative loan financing, new technology and the platform area.
Solid technological foundation
"With a modular architecture developed in the best available technical platform, we are well equipped to deliver new and robust functionality several times a month to our customers. Our strength lies in our ability to innovate all the time and deliver simple solutions to complex issues for our partners, "says Risul Islam, CTO and entrepreneur, Unite Living.
The company has included Kristian Svantorp, Head of Architecture in DNB on their board of directors as a result of DNB Ventures investing in the company. «Unite Living has a solid product and very good insight into their customers' needs. They have been able to use technology well to truly create value and simplify everyday life for their users. And not least they fill a gap in the market. I'm looking forward to being able to contribute, "says Svantorp.
International ambitions
Unite Living has had international ambitions from day one. The company has in the recent years built up a solid network in New York, London and Scandinavia. The plan is to prepare the company for growth outside Norway's national borders during 2019.
Looking for new employees
The fresh capital will be used to strengthen the development team and hire more people for customer service and sales.
Facts about Unite Living
Name of the company: Unite Living AS.
Website: www.uniteliving.com
Company Description: 
Residental rentals from A to Z. Unite Living makes rental and management digital, simple, safe and efficient!
Industry: Real Estate Fintech – a combination of fintech and proptech.
Major Shareholders:
Founders Christian Wierød, Risul Islam og Øyvind Hasund Dahl
DNBVentures
Eiendomsmegler Krogsveen (one of the largest real estate players in Norway)
Gunnar Kapstad (The Chairman of the board)
Total funding: approx. $2.6MM.
Number of professional landlords using the system:20.
Number of rental units under management:approx. 2 500.
Number o fusers on the platform:approx. 18 000.