First Gold Certified Smart Building Awarded to Seven Building – Fosbury and Sons
Smart Building Certification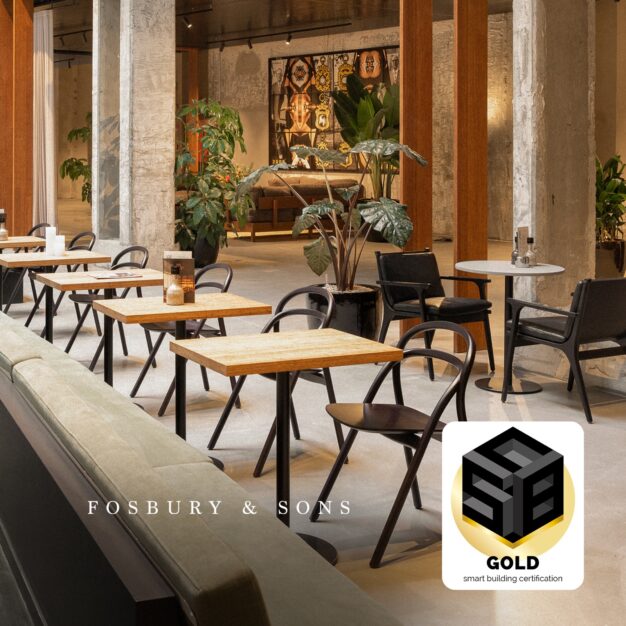 Smart Building Certification, the organization behind the smart accreditation, awarded its first Gold certified office space. The founders of Smart Building Certification handed the first official gold certification over to Fosbury and Sons, occupants of Seven Building in Brussels, Belgium
Smart Building Certification identified highest marks in Fosbury and Sons ability to manage and measure how the space is being used, a deep understanding in user behavior and collaboration, strong internet services and connectivity, as well as integrative design & decision making processes. These marks earned them a gold certification and are very much a reflection of what a smart coworking space can and should do to better meet its users needs. Fosbury and Sons have enlisted LAMMP the mad scientists of facility management to manage and even forecast these constantly changing behaviors and needs.  LAMMP enlists specialists in many areas to precisely and statistically analyze everything. As an example, they even use data to nudge behavior. In an experiment to promote healthy eating within the building, scents were used to successfully nudge a large percentage of individuals to the healthier option.
Smart Building Certification certifies the smart infrastructure layer of buildings and how it is being used to optimize health and wellbeing, sustainability, energy efficiency, human performance, and collaboration. The first building awarded Platinum Smart Building Certification was EDGE Olympic Amsterdam.
The Smart Building Certification is the first program to objectively evaluate the 'smartness' of buildings by assessing six core areas: building usage; user behavior and collaboration; building performance; building environment; integrative design and connectivity, health, safety and security.
Eveline Rigouts - COO Fosbury & Sons
"The Smart Building Certificate is an important recognition for our building. We are very happy to be situated in a building that is using smart technologies to optimize emissions and to improve building performance. Fosbury & Sons is always striving to create a place where people love to come every day and smart technologies deliver an important contribution to this mission. We and our members also see it as a real advantage to work in an environmentally friendly building." Eveline Rigouts - COO Fosbury & Sons.
Elizabeth Nelson - Head of Research and Innovation at Smart Building Certification 
"Wonderful to see Fosbury and Sons embrace the world of property technology and truly embed it into the way that they work. Working with LAMMP as a property management company in combination with smart building technology shows a commitment to continuous measurement, learning, and improvement. The innovative experimentations, installations, and solutions are simply inspiring and are showing us the way towards a healthier, more sustainable, and productive future. Congratulations to Fosbury & Sons!
Michael Peeters - CEO LAMMP Life&Asset ManageMent using Proptech 
Smart Building is more than just technology. It is about maximizing utility (maximal value with minimal resources). We were charmed by the completeness of the certification process as it was a combination of technology, human sciences, and sustainability. The blind peer review of the result adds to the trust we have in the result.
Flex workspaces historically faced the challenge of a constantly changing clientele base: ie. type of people, number of people, as well as requirements of the space.  As flex workplaces become more prevalent throughout the market, Fosbury & Sons in partnership with LAMMP seem to be paving the way in our understanding of how to measure, optimize, and improve what these should look like. Is this the future of CoWorking spaces? While we can't be sure, using data in this way has transformed industries like finance and professional sports with no option to look back.
About Fosbury & Sons
For many and for long, the workplace has been synonymous with the daily grind. Fosbury & Sons have innovated the professional environment by injecting the ordinary office with inspired design and best-in-class services. We offer workspaces, meeting & event spaces & an in-house restaurant tailored to your needs. Fosbury & Sons Albert is located in the heart of the Brussels business district, just a short walk from Brussels North Train Station and Rogier. For more information visit www.fosburyandsons.com
About Smart Building Certification
Smart Building Certification was founded by Elizabeth Nelson, Nicholas White, and Wouter Truffino in February 2020 as an initiative to establish an honest and independent platform that appraises buildings all around the globe on the basis of how smart they are. The Smart Building Certification is: 'Founded in Science, refined in practice and constantly optimized by our network of experts'. The certification has a strong foundation in academic research and partnerships as well as what is growing to be the largest network within the smart building space.
Introducing Smart Building Certification