Four Misconceptions that Hinder Progress on Improving Indoor Air Quality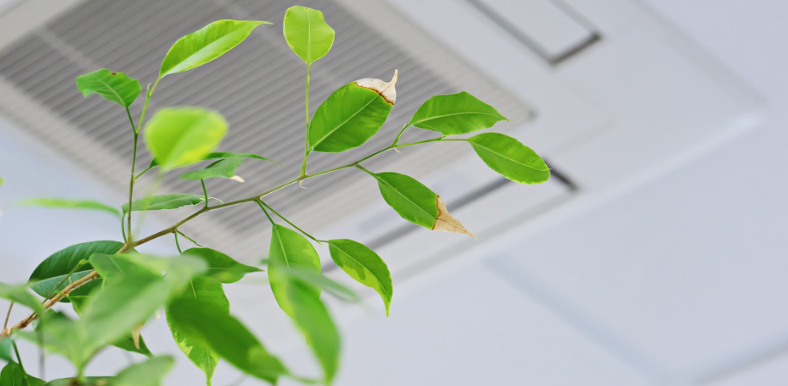 By Tom Jackson
Over the past two years, COVID-19 has dramatically raised awareness about the importance of indoor air quality (IAQ). In the past few months, initiatives launched by the White House – such as the Clean Air in Buildings Challenge and the Biden-Harris Action Plan for Building Better School Infrastructure – have further spotlighted the need for cleaner air and better ventilation in workplaces and schools to reduce the virus's spread.
While the Biden Administration has offered guidance on how to get started on improving IAQ, almost entirely missing from the conversation has been a discussion of the need for real-time monitoring – a key first step. This is critical because you can't manage what you can't measure.
In our experience as providers of smart building data solutions for corporations, governments and other institutions, we've found four common misconceptions that hold back landlords and tenants/occupiers from taking action. Regardless of the sector, executives from the CEO on down mistakenly assume that:
It's expensive to monitor and manage indoor air quality
An IAQ monitoring platform will need to be integrated into an existing HVAC system
Taking action requires engaging an air quality expert
You'll need a solid, quantifiable ROI to justify the investment
Since IAQ has become an increasingly pressing concern for those who spend much of their time in offices, factories and other workplaces, as well as for those who own and manage workspaces, it's important to correct these misconceptions.
Misconception 1: It's expensive to monitor and manage indoor air quality
Many people assume that installing equipment to monitor, measure and manage indoor air quality will be costly. In reality, it can be done quickly and inexpensively. In recent years, new, off-the-shelf technologies such as wireless, battery-operated sensors and open-source, IoT-based software systems have emerged that are both low-cost and highly effective at identifying IAQ issues. These high-quality sensors have a typical battery life of five years and can be mounted on any surface. Together with long-range LoRaWAN (Low Power, Wide Area networking protocol) networks, they allow for real-time monitoring of temperature, humidity and CO2 levels, as well as a variety of other workplace environment conditions. Installation and a subscription to such "Sensing as a Service" solutions – including everything to monitor, measure and assess IAQ continuously, 24/7 – can run as little as a few thousand dollars a year for a typical, 30,000-square-foot office in a major city like Chicago or London. That's a far cry from the hundreds of thousands of dollars or even millions (depending on the size of the building) it would take a landlord to integrate a real-time monitoring solution into an existing HVAC system.
Misconception 2: An IAQ monitoring platform will need to be integrated into an existing HVAC system
Because the sensors are wireless and battery-operated, they do not need to be integrated into an existing HVAC system. This not only keeps costs low but also avoids the disruption and hassle of having to open up walls to string wiring for network connectivity. When set up with IoT technologies, the IAQ monitoring platform can operate completely independent of an HVAC system. If you're a tenant/occupier, this can be a benefit because you don't have control over those systems unless you also own the building. Also, while it's true that the best way to solve an air quality problem is to improve airflow in spaces with higher CO2 concentrations, the solution does not always require an HVAC system to respond. There are many actions that tenants/occupiers can take to mitigate poor air quality, such as opening windows to improve ventilation, adding air purification devices in specific locations and avoiding overcrowding or lengthy meetings in high-use spaces. Tenants should work with building owners and managers to determine the best approach once an issue has been detected.
Misconception 3:Taking action requires engaging an air quality expert
Making improvements to IAQ in an entire building or a portfolio of buildings is a complex undertaking, no doubt about it. For that, you probably would want to engage a consultant or some other air quality expert. But at the individual office or facility level, no outside expert is needed to get up and running. The low-cost IoT technologies described above rely on standardized, off-the-shelf products and open-source software. No custom development or configuration is needed. Managed services free occupiers and owners from the learning curve and the operating costs of running their IoT infrastructure There are a number of data solution providers, like Microshare, that can install a system within a matter of days. And once the platform is activated, simple, ready-made digital dashboards and mobile apps are simple to use and can be easily tailored within a week. Benchmark data from other companies in the same industry or different industries, in nearby locations or distant ones, is provided to shed light on current conditions without the need for an expensive consultant or other expert.
Misconception 4: You'll need a solid, quantifiable ROI to justify the investment
Employee health and wellness has long been a corporate priority, but since the pandemic hit over two years ago, it has taken on fresh urgency. Wellness, with its implications for employee recruitment, retention and potential liablity claims, now commands the attention of the C-suite. Workplace environment decisions once the preserve of HR or facilities managers are now seen in the context of risk management. You might expect this increased scrutiny to apply when considering the cost of IAQ-related investments. Yet companies realize that when it comes to employee safety and wellness issues, they can't base their decisions on expected ROI. Poor IAQ has long been known to affect worker productivity and fuel absenteeism. All of these risks can have an impact on business as well as staff. So if you really care about your people and the potential liability associated with poor IAQ, you'll realize that ROI is the wrong decision criterion when it comes to worker safety and wellness.
Where you stand depends on where you sit
Admittedly, where you stand depends on where you sit when it comes to motivation for addressing IAQ. Tenants/occupiers have a strong incentive to keep their people safe, reassured and productive. Landlords and facility management companies, on the other hand, may be less inclined. Most building owners are focused on making only those improvements that will allow them to raise rents and substantially increase property value within their timeframe to sell. They're very particular about what improvements to make, and improving IAQ and HVAC systems typically hasn't been one of them. Pressure is mounting, however – not only from tenants but also U.S. government agencies such as the EPA and DOE.
Once a monitoring program has been established, occupiers can begin to use that information to initiate a dialog with their landlord and management company. They can present the evidence of poor air quality and insist on an action plan. It may not happen right away, but it's important to start the discussion. If your lease is coming up for renewal and you're not entirely satisfied with the response, you can threaten to walk.
Looking ahead, the issue of improving IAQ is not going to diminish anytime soon. Experts expect COVID-19 to move from a pandemic to an endemic, where annual vaccines will become the norm, like for the flu, and awareness of the need for clean air and surfaces will remain high. The time to dispel these misconceptions hindering IAQ progress is now.
Tom Jackson is Chief Strategy & Business Development Officer at Microshare, a leading provider of smart building data solutions, based in Philadelphia. He can be reached at tjackson@microshare.io.