HAMMERBROOKLYN. DIGITAL PAVILLON BECOMES FIRST TO RECEIVE PLATINUM SMART BUILDING CERTIFICATION IN GERMANY
Smart Building Certification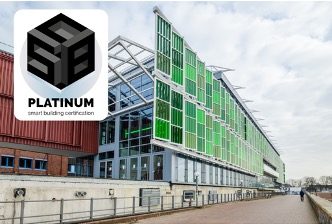 Smart Building Certification is proud to award Art-Invest Real Estate, the real estate developer of Hammerbrooklyn. Digital Pavillon, a Platinum Smart Building Certification. The 7,300 sq meter innovation hub and office building, which was delivered to community space Factory in mid 2021, is the first building in Germany to achieve the certification.
"What Art-Invest Real Estate has created with their Hammerbrooklyn. Digital Pavillon is an outstanding building, setting new standards for sustainability and building intelligence. They have repurposed the American Expo Milan pavilion, giving it a second life as an innovation hub for the city of Hamburg. This is an excellent example of a cradle to cradle building and of circular economy, re-using the building and enhancing it with state-of-the-art smart building technology. Smart in this building goes beyond the impact it is creating for the building and its users to support the greater community through education of what is possible with smart buildings through its example."
- Nicholas White, Head of Operations and Strategy at Smart Building Certification
Art-Invest Real Estate, a German real estate developer, investor, and property manager, has applied German engineering to the world of smart buildings. Hammerbrooklyn. Digital Pavillon, in the heart of Hamburg, Germany, is being used as an innovation and community hub facilitated by Factory, a curated network that stimulates innovation, connection, and progression. What sets this building apart is that it is not only about how the building is being used, performing, and is profitable, but is a living classroom to showcase the power of smart for its users and students.
Art-Invest Real Estate is utilizing a streamlined technological layer for maximum application and functionality. The project goal was to create a flexible, future-proof smart building infrastructure that is able to support the maximum of use cases for different stakeholders with a well-chosen hardware foundation. This approach has set this building apart from others that have been certified. Next to this, the building by design, is meant to educate and continue to push innovation through its use, giving home to the members of the Factory Hammerbrooklyn and the Hammerbrooklyn Youth Innovation Centre.
"Community and people are at the core of our work at Factory Hammerbrooklyn, and the smart building is the perfect example of human-centric design that leverages cutting-edge technology to create a productive, sustainable and inspiring environment for our members. The smart building platform analyses user behaviour, external weather conditions and functioning of the building's technical systems, leading to significant energy and CO2 emission savings. Air quality and comfort conditions are automatically maintained at a high level and building data is available in real time 24/7 to monitor the status quo and plan for the future. The smart building app further advances the user experience on site." - Martin Eyerer, CEO Factory Berlin + Factory Hammerbrooklyn
Smart Building Certification is proud to apply the SBC methodology to the Hammerbrooklyn. Digital Pavillon and support Art-Invest Real Estate by recognizing their smart approach and ambitions. The requirements for the certificate are classified in 6 categories: 1)  building usage 2) building performance 3) health safety and security 4) building environment 5) user experience and collaboration 6) connectivity and integrative design. Hammerbrooklyn. Digital Pavillon received an overall PLATINUM with individual high scores in all 6 areas of the certification.
The building has a clear focus on user experience, sustainability performance, as well as health and wellbeing. It is evident that the project team has put a focus on finding the right balance between the various technology providers to minimize the amount of technologies for the maximum impact. Hammerbrooklyn. Digital Pavillon is characterized by its smart design, completeness of functionality, and simplicity of infrastructure. "This agile smartness is something we expect to see in the future and shows the forward thinking of Art-Invest Real Estate. Through their incubator they have thoroughly vetted technologies in their own lab and have chosen ones that are complementary, easily integrated, and provide a seamless experience for various stakeholders.", says Elizabeth Nelson, Co-Founder at Smart Building Certification and continues: "From property management to end users, the applications each have clear measurable purpose whilst providing users meaningful functionality. Art-Invests Real Estate application of smart building concepts in this development are exactly what Smart Building Certification wants to recognize and share."
There were also high scores for innovation initiatives. The smart building concept of Art-Invest Real Estate is based on cooperation with universities and recognized research institutes. The team has found many ways to impact and interact with society, the environment, and education for shared thought leadership to support the smart, sustainable, and healthy movement.
"Art-Invest Real Estate believes that intelligent, sustainable and healthy buildings are the future of real estate as they give us data, insights, control, and the ability to constantly improve the conditions for the people living and working inside them. We are delighted to receive a PLATINUM certification for our Hammerbrooklyn. Digital Pavillon development as we are striving to perfect our approach for all of our upcoming smart buildings. This is a great validation that we are on the right path and we are pleased to share, learn, and contribute to the ecosystem" – Johannes Nussbaum, Head of Innovation at Art-Invest Real Estate
The Smart Building Certification, which has been developed to promote wellbeing, sustainability, performance, innovation, and health and safety in the built environment, recognizes buildings that have smart tech infrastructure in place to evaluate a building's behavior and performance. The first building awarded Platinum Smart Building Certification was EDGE Olympic Amsterdam – Hammerbrooklyn. Digital Pavillon now joins this league of world-leading Smart Buildings.