How Equiem One Reinvents the Workplace Experience
For too long, managing commercial buildings has been complicated by tangled webs of conflicting systems. Now, Equiem One brings TenX, building ops, and analytics together in a single, streamlined package.
Workplace Experience innovator Equiem has just announced Equiem One, billed as the next great leap for the industry. The powerful new tool aims to bring every element of the commercial space onto a single, powerful platform that can be shared by every stakeholder within the workplace ecosystem.
By centralising everything within one hub, Equiem One will pave the way for greater collaboration among stakeholders. Every stakeholder will be able to connect on a focused content and event strategy designed to elevate the workplace experience for their tenants. And, of course, every stakeholder will also have access to comprehensive analytics that break down how tenants and users interact with the platform.
Why now?
Workplace Experience has been a fast-growing industry for more than 10 years. But the side effect of that incredible growth has been a glut of systems, software, and platforms. Within a single commercial building, stakeholders can use a whole range of tools. In the best case, these tools may not seamlessly communicate with one another. In the worst case, they could conflict with one another, causing roadblocks and confusion.
Equiem One aims to replace that confusion with a simple, streamlined hub.
https://equiem.wistia.com/medias/47ag6a3mrr
10 years ago, when Equiem first founded the Workplace Experience field, things were simpler. Commercial landlords wanted a system that could help them understand their tenants more completely, and help safeguard lease renewals.
But after years of continued innovation, Equiem's suite has expanded to include not just a feature-rich TenX platform, but also a range of tools to manage every area of the workplace. Eventually, Equiem's platform included a deep Content Management System, event management tools, analytics, a fully functioning eCommerce platform, and much more. With Equiem one, every tool in the Equiem toolkit comes to a single platform.
One platform, one contract, one onboarding process. The vision of Equiem One is simplicity that doesn't sacrifice power. In fact, the refinement at the core of Equiem One only amplifies what the platform is capable of.
What Equiem One means for workplace stakeholders
Every stakeholder in a workplace requires unique tools to perform their job to the best of their abilities. Portfolio Managers need a bird's eye view of every asset under their supervision that they can break down on a granular level. On the other hand, Workplace Managers need tools that allow them to keep their employees engaged and current with everything going on within their workplace and building.
Equiem One features a customisable, modular dashboard that gives each stakeholder instant access to only the tools they need.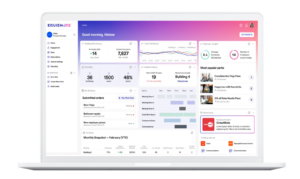 Equiem One's interface is modular and customisable according to each stakeholder's needs.
At a single glance, Portfolio Managers will now have access to all the analytics they need to judge the health of their overall portfolio, individual buildings, and even individual tenancies. Property Managers will be able to gauge the health of each tenancy; manage their building's amenities; and create and schedule upcoming content and events.
Those content and event scheduling tools are the same as those that feature within the Workplace Manager view, meaning that Workplace Managers and Property Managers can collaborate on events, articles, and newsletters as they're created for individual tenancies or the building as a whole.
Connect workers to their workplace
Equiem One also gives tenants and users intuitive access to everything their building has to offer. Within their unique view, they'll have instant access to the trending news and events in their building, bookable spaces, and even an easy-to-navigate eCommerce platform that will allow them to order directly from food and retail options within their building or local area.
It's one system to replace a dozen systems, designed to be shared among all stakeholders within a building. The result is greater transparency among and across teams; a richer environment for collaboration and innovation; and a more engaging experience for the people that work within the buildings.
Equiem One's vision is simple. It aims to create a more human workplace… a workplace that's truly built for people.