HqO Debuts EXPERIENCE Conference at CREtech New York in October 2021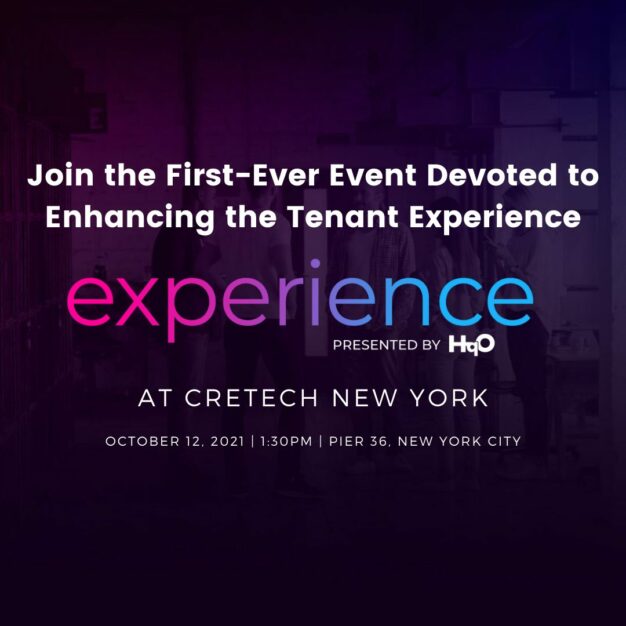 HqO Will Unpack the Future of the Office in Cutting-Edge Event Devoted Entirely to the Tenant Experience at Prestigious CREtech New York Conference on October 12
New York, NY (July 22, 2021) — CREtech, the world's leading community of professionals devoted to technological innovation in the real estate sector, and HqO, the premier end-to-end tenant experience provider for office buildings, today announced that HqO is debuting its marquee conference EXPERIENCE this fall at CREtech New York. Open to CREtech New York attendees and other CRE leaders, the HqO EXPERIENCE event is focused entirely on tenant experience.
With fundamental changes to the traditional office space following the COVID-19 pandemic, savvy landlords are now responding by creating digital experiences to address the needs of tenants. These include increasing flexibility, offering hotel-like amenities, and putting more investments into building operations. This half-day event will prepare CREtech New York attendees for the office of tomorrow and will dive deeper into how commercial real estate leaders are working to enhance the tenant experience.
"We are thrilled to support HqO's EXPERIENCE event, the day before our CREtech New York conference this fall," stated Michael Beckerman, CEO of CREtech. "HqO has always been on the forefront of digitally transforming the office space, and given the rapid changes and investments in office technology following the COVID-19 pandemic, this session could not come at a better time. It's the perfect way to kick off our first live event since 2019 and provides huge additional value to our attendees," Beckerman added. "HqO's leadership in enhancing the tenant experience is unparalleled, and we are so thrilled to partner with them to share insightful content on the future of the office at CREtech New York this fall," Beckerman concluded. 
Back bigger than ever before,  the New York conference is anticipated to bring together over 1,000 of the world's premier real estate professionals who share a passion for technology. CREtech New York attendees will be able to connect in-person with the most prestigious group of real estate tech professionals in the world while enjoying the Pier 36 venue, a state-of-the-art sports and entertainment facility located on South Street in Manhattan. The building boasts over 70,000 sq ft of space and has a 15,000 sq ft deck which overlooks the East River, and has views of downtown Manhattan, South Street Seaport, the Manhattan and Brooklyn Bridges, and the Statue of Liberty. 
Real estate executives from around the world will attend the conference to network, uncover new investment opportunities, and acquire cutting-edge products and services that are at the forefront of the industry's digital transformation. 
To register and learn more about CREtech New York, click here. 
To learn more EXPERIENCE, presented by HqO, click here. 
About HqO
The world's leading commercial real estate firms count on HqO to help them deliver a state-of-the-art tenant experience within their properties. Active in over 150 million square feet in 8 countries, HqO is known for its tenant experience platform comprised of an award-winning tenant app, analytics suite, and partner marketplace. Our solutions put experiences and a sense of community directly into the tenants' hands while helping property owners uncover insights and take intelligent action to differentiate their assets. For more information, visit www.hqo.com, and connect with us on LinkedIn, Twitter, and Instagram.
About CREtech
CREtech is Reimagining Real Estate. We are the largest international community of professionals devoted to technological innovation in the real estate sector. Our mission is to help the industry embrace, adopt, and future proof its businesses. Our streaming, live/virtual events, and consulting platform inspires the next generation of ideas, processes, and people to champion the world's largest asset class.
Learn More: cretech.com
To learn more about becoming a sponsor or register for upcoming events please visit www.cretech.com.