In Case You Missed It, Read Highlights From CREtech Talks: Tech-Enabled Capital Markets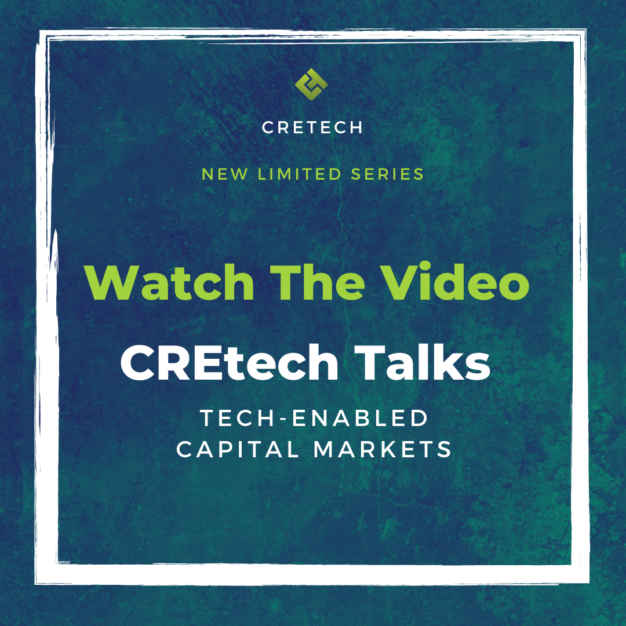 In the post-pandemic era of commercial real estate, there have been wholesale changes to how properties are bought, sold, and financed.  A true black swan event in modern economic history, today's leaders in real estate capital markets are rethinking and transforming their approach and strategies in today's economic environment.
In a recent CREtech Talks, Tech-Enabled Capital Markets, four commercial real estate capital markets leaders, Matt Reibling of Techsyn, Blake Nucci of Tishman Speyer, Andrea Jang of Ackman Ziff, and Adrian Mercado of B6 Real Estate Advisors, shared their near and long term perspectives on the impact of the pandemic and innovative solutions and technologies they are using, from finance and acquisitions to real estate strategies and tech-enabled solutions, to succeed into today's economic environment. The session was hosted and moderated by Ashkan Zandieh, Chief Intelligence Officer at CREtech.
The world has changed a lot, according to Jang.  "Unlike the credit crisis of 2008, there is an abundance of liquidity today, so that's some really good news." 
Over the last month, there have been numerous publications stating that there is over $350 billion in dry powder available for distress opportunities.  The abundance of liquidity may provide opportunities for investors to acquire assets and loans, especially as the market continues to evolve in a post-pandemic world.
However, in terms of opportunities owners like Tishman Spyer and others are segmenting their acquisition strategies, according to Nucci.
"In terms of new opportunities, we're looking at it across three different buckets.  There are publicly-traded REITs, and a lot of the REITs have sold down fairly substantially from pre-COVID highs.  And that an immediate actionable opportunity to really take advantage of the pricing discounts.  On the equity side, private equity side, it's a little bit more challenging to find opportunities. And the third side is the debt side, which is a little bit more active" according to Nucci.
In terms of technology, the panel was very bullish on innovation in commercial real estate and tech-enabled capital markets, and the opportunities it provides the industry especially when it comes to data.
"Make it more transparent.  Make it easier to understand," said Reibling
"In terms of finding the deal, I think there's all kinds of options out there," according to Reibling.  "For the owner-operator, we need something that's clear cut and easy to jump into and is encompassing more than one inefficacy that's out there."
While the pandemic has provided opportunities for debt brokers, it has taken the opposite effect on investment sales brokers.  However, today's leading brokerage firms are leveraging technology to provide access to deals and opportunities.  
"Finding information about deals is pretty hard," according to Mercado.  "I think one of the things that we've invested heavily, on the tech front, is really understanding 'who is buying what' and 'who wants to buy what.'"
Overall, the time may have arrived for innovation in commercial real estate capital markets, according to the panel. Many of today's must-have technologies, such as transparent access to data and tech-enabled processes, will become standards in the not so distant future.  And while digitization is going to become more preeminent, the recent pandemic has been a spotlight on future opportunities in a massive multi-billion dollar industry.