John Fitzpatrick of Blackstone and Brad Greiwe of Fifth Wall to Deliver Keynote Discussion at Major Real Estate Tech Conference in New York This Fall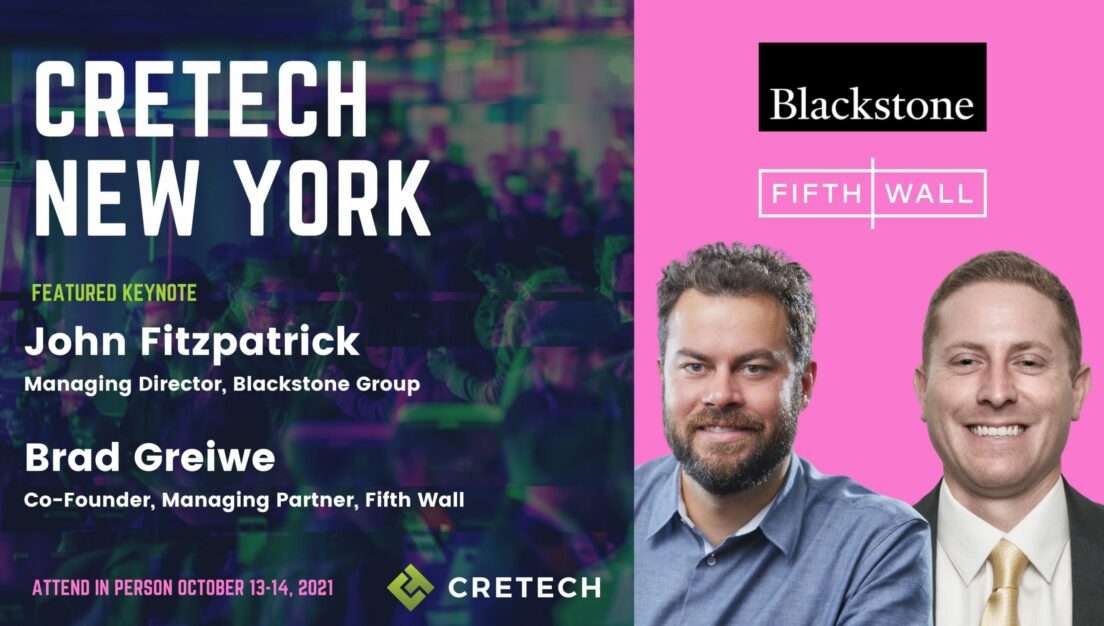 Blackstone's John Fitzpatrick will be Interviewed by Fifth Wall's Brad Greiwe on how Technology is Transforming The Real Estate Industry at CREtech New York this October 13-14 
New York, NY (July 8, 2021) — CREtech, the world's leading community of professionals devoted to technological innovation in the real estate sector, has announced that John Fitzpatrick, Managing Director and Chief Technology Officer of Alternative Asset Management Technology at Blackstone, will be interviewed by Brad Greiwe, Co-Founder and Managing Partner of Fifth Wall, in a Keynote discussion at CREtech's flagship New York conference this fall. The conference is anticipated to bring together over 1,000 of the world's premier real estate professionals who share a passion for technology. 
Based in New York City, Blackstone (NASDAQ:BX) is one of the world's leading investment firms, investing capital on behalf of pension funds, large institutions, and individuals. Through advanced software platforms, Blackstone builds cutting-edge technology that enables them to leverage world-class data to sharpen investment decisions and generate return for their partners. 
Fitzpatrick serves as the Managing Director and Chief Technology Officer of Alternative Asset Management Technology at Blackstone, and has played an integral role in advancing Blackstone's investments in targeted, early-stage, and technology-related opportunities. Prior to his current role, Fitzpatrick oversaw several initiatives across Blackstone's Technology and Innovations group. 
Greiwe is a Co-Founder and Managing Partner at Fifth Wall, where he guides the firm's strategic vision. Prior to starting Fifth Wall, Brad co-founded Invitation Homes (NYSE: INVH), a multi-billion dollar owner and operator of single-family rental properties originally backed by Blackstone. Brad is originally from Cincinnati, lives in Los Angeles, and graduated from Harvard University, where he received his BA in economics.
"We are thrilled to announce that John Fitzpatrick and Brad Greiwe have joined a distinguished line-up of Keynote speakers at our CREtech New York conference this fall" stated Michael Beckerman, CEO of CREtech. "Few firms in the world are utilizing technology in such innovative and effective ways as Blackstone, and unquestionably Fifth Wall is one of the largest and most impactful venture firms in the real estate tech space. This keynote discussion between John and Brad will undoubtedly be one of the most enlightening and informative sessions we have ever had on our CREtech stage," Beckerman concluded.
Back bigger than ever before, CREtech New York attendees will be able to connect in-person with the most prestigious group of real estate tech professionals in the world while enjoying the Pier 36 venue, a state-of-the-art sports and entertainment facility located on South Street in Manhattan. The building boasts over 70,000 sq ft of space, and has a 15,000 sq ft deck which overlooks the East River, and has views of downtown Manhattan, South Street Seaport, the Manhattan and Brooklyn Bridges, and the Statue of Liberty. 
Real estate executives from around the world will attend the conference to network, uncover new investment opportunities, and acquire cutting-edge products and services that are at the forefront of the industry's digital transformation. 
To register and learn more about the event, click here. 
To learn more about partnership and sponsorship opportunities, click here. 
About Fifth Wall
Founded in 2016 and based in Los Angeles, California, Fifth Wall, a Certified B Corporation, is the largest venture capital firm focused on technology-driven innovation for the global real estate industry. With approximately $2.5 billion in commitments and capital under management, Fifth Wall connects many of the world's largest owners and operators of real estate with the entrepreneurs who are redefining the future of the Built World. Fifth Wall is backed by a global mix of more than 70+ investors from 15 countries, including Acadia Realty Trust, Azora, BNP Paribas Real Estate, British Land, CBRE, Cushman & Wakefield, D.R. Horton, Equity Residential, Gecina, GLP, Hines, Host Hotels & Resorts, Hudson Pacific Properties, Ivanhoé Cambridge, Jamestown, Knight Frank, Lennar, Lowe's Home Improvement, Macerich, Marriott International, MERLIN Properties, MetLife Investment Management, Mitsubishi Estate, News Corp, MOMENI, Nuveen Real Estate, PGIM Real Estate, Pontos Group, Prologis, PulteGroup, Related Companies, SEGRO, Starwood Capital, Toll Brothers, Vanke, and others. Fifth Wall believes this strategic corporate consortium represents one of the largest groups of potential partners in the global Built World ecosystem, which can result in game-changing investments and collaborations in promising portfolio companies in retail, residential and multi-family, commercial, industrial, hospitality, and more. For more information about Fifth Wall, its partners, and portfolio, visit www.fifthwall.com.
About CREtech
CREtech is Reimagining Real Estate. We are the largest international community of professionals devoted to technological innovation in the real estate sector. Our mission is to help the industry embrace, adopt, and future proof its businesses. Our streaming, live/virtual events, and consulting platform inspires the next generation of ideas, processes, and people to champion the world's largest asset class.
Learn More: cretech.com
To learn more about becoming a sponsor or register for upcoming events please visit www.cretech.com.