Lessons learned while moving into the virtual world…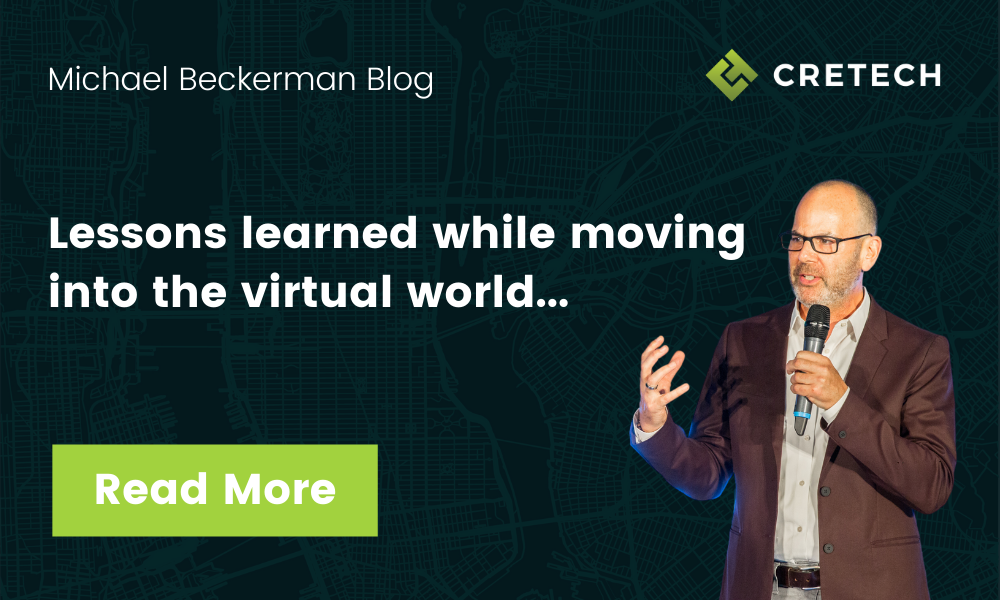 Exhausted… But inspired!
That's how I felt last Thursday night after our first four day virtual event concluded. Two full days focused on Europe and two days focused on U.S. content. But it was a different type of exhaustion. Not physical, but mental.
Let me start by saying programming a virtual conference is unlike anything I have ever done before. It provided us with tremendous programming opportunities and a much wider pool of C-Suite business leaders to be interviewed and so, like everything I do, I went for it big time with over 75 speakers in total. (As I write this I can see my friend Steve Weikal chuckling :). And as a result, my brain was overwhelmed - in a good way - by the amount of content that was presented and shared during the virtual event. There was no doubt it was the best content that we ever presented in the many years we have been running CREtech and FUTURE PropTech.
I was tuned in for literally every session and tried my best to process all of the extraordinary insights shared during each one. I am not ashamed to admit that I actually had to ask the team to send me the clips so I could watch and rewatch and literally pause the sessions and reflect on what was being said and presented. 
In the past, after a big live event, I was physically wiped out afterwards and needed a few days to recoup. Maybe it was the travel to the venue. Maybe it was the shitty hotel I was staying in. Or the lack of sleep from the pre-parties etc. But after this event, my body felt great but my mind was in need of a vacation!
And therein lies one of the key takeaways and discoveries for me as my company moves into a virtual platform for the foreseeable future. Like so many businesses affected by the pandemic and economic fallout, our company had to quickly adapt to a completely new reality given that the physical meeting and conference world came to a screeching halt in March. I am blessed to work with an extraordinary team of hard working, smart and resourceful professionals that were able to quickly minimize the financial damage from cancelling physical events in Austin, Texas and London, England and pivot to an all virtual platform. Based on the data from the event and from post event surveys, our first ever virtual conference, was a resounding success. And now with it under our belt, here are some of the main takeaways for me:
Content is still king!

Tired of that phrase yet, well get used to hearing it more often actually :) One of the great advantages of organizing a virtual conference is that

you can literally program the event of your dreams

. If you asked me pre COVID-19 if we would be able to get the CEO's of

JLL

,

Savills

,

Cushman and Wakefield

,

Greystone

and

Jamestown

, the CTO's of

CBRE

,

Nasdaq

and

Prologis

, the COO of

Oxford Properties

and many, many amazing speakers all at one event, I would have thought you were crazy. But that's exactly what happened at last week's event. Asking someone to be available for a 30-45 minute interview either live or pre-recorded is a much different request than asking them to jump on a plane and travel. Also the ability for people to comment and interact live during an event is a wonderful new feature we can offer our community by virtue of our virtual events.

I am now in the data business, too!

In the physical event world, I would walk the floors of our events, use my eyes and ears to sample the crowd and its engagement and make very unscientific judgements about how well we did or didn't do at a show. Now I have the hard data and it tells us more than we ever knew before. We knew which sessions were the best attended. Which booths had the highest engagement. Which product demos the audience liked the best. And we also know what tools worked and which didn't. This will only make us a better company as a result of having all of this data in real time and to be able to make decisions in the future that are based on science and not gut.

Our world is truly global.

It was so inspiring to see our community logging in and commenting from Austin to London, Mumbai to Paris and L.A. to Seol. It was amazing to me how expansive our real estate tech world has become as literally the entire global real estate sector is now engaged in real estate tech.

It was the largest event we ever staged

and that is extremely encouraging.

Doing business in the virtual world has many advantages but we still have a long way to go.

Yes, it was amazing to listen to incredible content without disruptions from the privacy of your home or office (ok, maybe my dogs were barking). Yes it's a terrific vehicle for tech companies to demo their products and showcase their top executives in thought leadership forums. But there are also challenges. Can you effectively network? Will people visit a virtual expo hall? Can transactions between customers and providers take place in a virtual forum? Using our data, we can clearly see that there are things we need to do better. As one of the largest events virtually staged of its kind, we are operating in a new frontier and we will get better with each event we stage as it has become clear that human behavior in a virtual setting is much, much different than doing so in a physical manner.

This is our industry's moment.

Speaker after speaker delivered the same key message that the pandemic has greatly accelerated the adoption of technology by like 10X. To hear

Christian Ulbrich, Global President and CEO at JLL

and

Lisa Picard, President and CEO of EQ Office

talk about their views on the future of work and office space was truly inspiring. Hearing

Bryan Koop, SVP and Regional Manager of Boston Properties

and

Brendan Wallace, Co-Founder & Managing Partner at Fifth Wall

talk about how the next decade presents the greatest opportunities for real estate to embrace sustainability and really make an impact on climate change for the good. Hearing

Lauren Dillard,

EVP & Head of Global Information Services for Nasdaq

and

Stephen Rosenberg, Founder and CEO of Greystone

talk about the extraordinary future ahead for our industry for those that embrace data. And on and on. Speaker after speaker. Watching the largest real estate companies in the world talking tech and innovation as not just talking points, but part of their company's future, should give everyone in our sector a renewed sense of hope, optimism and excitement for the future of real estate technology.
To the thousands that tuned in, to the 75 speakers that shared their insights and to the extraordinary sponsors and tech companies that made the event possible, thank you for taking the chance on our first virtual event and for helping us make history along the way.
P.S. - I would love to hear about your experiences so please feel free to take our survey or email me directly at michael@cretech.com and I will respond to every comment.