Nestio Announces It Has Raised $4.5 Million in Strategic Growth Capital From Some Of The Biggest Names In Real Estate
-- The industry's leading real estate marketing and leasing platform plans increased technology development and market expansion --
New York, NY — July 11, 2018 — Nestio, www.nestio.com,  the leading marketing and leasing platform for multifamily owners and managers, announced today it has secured $4.5 million in strategic growth capital, expanding the company's total amount raised to over $16 million. The round was co-led by Camber Creek and Trinity Ventures with participation from some of the most prominent names in real estate, including Rudin Ventures, Currency M - the venture investment arm of The Moinian Group, The Durst Organization, LeFrak Ventures - a LeFrak affiliate, and Torch Venture Capital – an affiliate of The Lightstone Group. Existing investors Freestyle Capital and Lazerow Ventures also participated in the financing.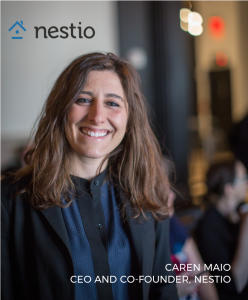 By heavily investing in product and tech for property owners and managers, Nestio has significantly increased its market penetration. Nestio's customers manage hundreds of thousands of units on its platform across major markets such as NYC, Boston, Chicago, Houston, Dallas and more. Nestio has facilitated nearly $600M worth of transactions and grown units on its platform in additional markets by over 250% in the past 12 months alone. This growth has been fueled by enabling clients using Nestio's software to increase portfolio visibility, drive more lead volume, expedite prospect follow-up and conversion, and ultimately reduce time to rent. On average, Nestio customers have been able to reduce days on market by more than 20%. Nestio will use this new capital -- and insights from some of the most experienced operators in real estate -- to deliver advanced leasing and marketing solutions even faster.
"Nestio in a unique position to bring much needed advancement and efficiency to real estate markets across the country," explains Caren Maio, the firm's founder and chief executive officer. "Our platform has massive ROI for our clients, and we have established ourselves as the leader in premium technology solutions for owners and managers that deliver real results. We are thrilled to be working closely with the top names in the industry and to continue growing our offerings, our market strength, and our team."
"Nestio has methodically focused on modernizing the marketing and leasing tech stack of multifamily owners and managers." said Jeffrey Berman, partner, Camber Creek. "Their recent enhancements and upcoming roadmap will extend their impact on the industry even further. We couldn't be more thrilled to be a part of it by co-leading this round of financing with Trinity Ventures, joined by some of the most influential firms in multifamily real estate."
"We are constantly looking for new companies that are forward thinking and that are tackling major inefficiencies in our industry in exciting and innovative ways," commented Michael Rudin, senior vice president, Rudin Management, "We have been a client of Nestio's for the past three years.  We were very excited when an opportunity arose for us to invest. We are looking forward to expanding our relationship with them and working with the other investors in this round -- some of the most forward-thinking companies in our industry."
"We are excited to be both a customer and investor of Nestio. Nestio's greatest value is its insight to the needs of prospective renters in the digital marketplace".
- Helena Durst, The Durst Organization
"Nestio's software has allowed us to increase our efficiencies in the way we market and lease apartments. It was a natural fit for our venture arm Currency M to invest in this technology as we see great synergy between Moinian's residential portfolio and the software. We are excited to take this partnership to the next level."
-Mitchell Moinian, The Moinian Group
"Nestio has become a key component of our residential operations and technology stack. Our team loves the software and we've experienced the value first-hand -- rolling it out within our portfolio was an easy decision and investing in the business was a no brainer."
-Shragie Lichtenstein, The Lightstone Group 
###
About Nestio
Nestio www.nestio.com is the industry-leading marketing and leasing platform for multifamily owners and managers. Backed by top investors from Silicon Valley and the real estate industry, Nestio is on a mission to transform the rental experience by building technology that streamlines the apartment marketing and leasing process, enabling multifamily professionals to generate more profits, efficiency and insight across their portfolios. Nestio's customers manage hundreds of thousands of listings on its platform across the nation's top real-estate markets, including New York, Boston, Chicago, Houston, Dallas and more.
#### 
Media Contact:
Kelly Kreth
Kreth Communications
kellykreth@hotmail.com
(201) 417-8691
Nestio Contact:
Caren Maio
Founder & CEO
caren@nestio.com
(877) 975-4077