Nestio Launches Next Generation Platform, Delivering a Modern Residential Leasing Experience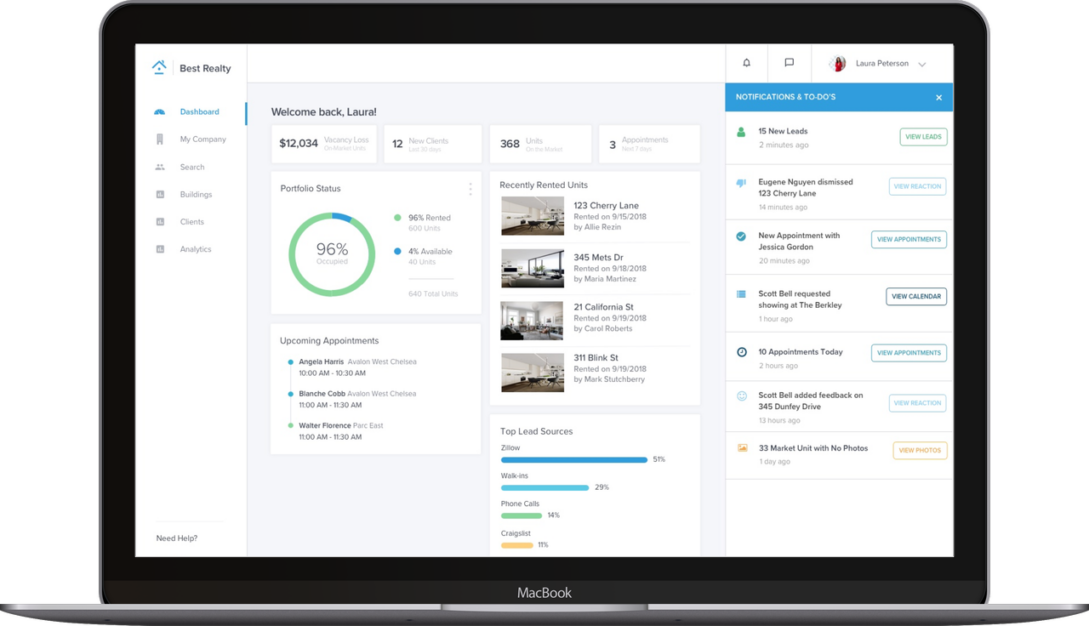 Enhanced platform enables multifamily owners and their operating partners to deliver a seamless, efficient and intuitive experience that hasn't previously been available
Nestio, the real estate technology company that unlocks a modern leasing experience for multifamily owners and operators, and their renters, today announced the launch of the next generation of its marketing and leasing automation platform. The new suite of enhancements and features elevates the rental process to meet the expectations of the modern consumer. Nestio now streamlines the entire rental process from start to finish with automated workflows, machine learning to expedite responses and real-time reporting all within a single, easy-to-use dashboard.
"As a renter, I built Nestio to deliver an experience we've all come to expect. With technology changing the way we shop, travel, dine and more, it was clear to me there was a major opportunity to transform the apartment renting process as well," said Caren Maio, CEO of Nestio. "Finding and renting an apartment should be easy, much like booking a hotel room or making a restaurant reservation. The experiences we expect as consumers need to be effortless, on demand and personalized. These core tenets drive the technology we build as we work hand-in-hand with our customers to empower them to deliver those experiences."
The enhancements take Nestio from an inventory management and syndication platform to an end-to-end marketing and leasing automation platform that encompasses the entire leasing process - distributing availability, tracking and managing leads; engaging, communicating with and touring prospective renters; along with advanced data and reporting to track and measure performance - in real time, from a single dashboard. The streamlined process allows owners and operators to become more efficient while concurrently making the process smoother and simpler for renters.
Nestio creates instant and personalized service for apartment hunters with 24-hour, on-demand response technology and apartment booking and touring tools. Machine learning also helps leasing agents automate some of the most common yet time consuming tasks, such as responding to commonly asked questions like "What is your pet policy?" The new suite also includes productivity tools, such as an integrated renter communications feature where renter emails and texts live in a single timeline-like feed making prospect communications seamless between renter and agent.
"We realized that the best way to improve the experience for the renter was to streamline the process for multifamily owners and their operating partners. Our users understand that in order to stay ahead of their competition, they need to satisfy their end user - the renter," said Maio. "Our platform is positioned to give our users that edge more than ever before."
Nestio recently raised $4.5 million from some of the most prominent names in real estate, including Rudin Ventures, The Moinian Group's venture arm Currency M, the Durst Organization, LeFrak Ventures and Lightstone Group affiliate Torch Venture Capital. The funding round, led by Camber Creek and Trinity Ventures, was a catalyst for launching the next generation of the platform.
About Nestio
Nestio is the industry-leading marketing and leasing platform for multifamily owners and operators. Backed by top investors from Silicon Valley and the real estate industry, Nestio is on a mission to transform the rental experience through technology, enabling multifamily professionals to delivery a modern leasing experience from a single dashboard. Nestio's customers manage hundreds of thousands of listings on its platform across the nation's top real-estate markets, including New York, Boston, Chicago, Houston, Dallas and more.