New Sessions and Speakers Announced for CREtech New York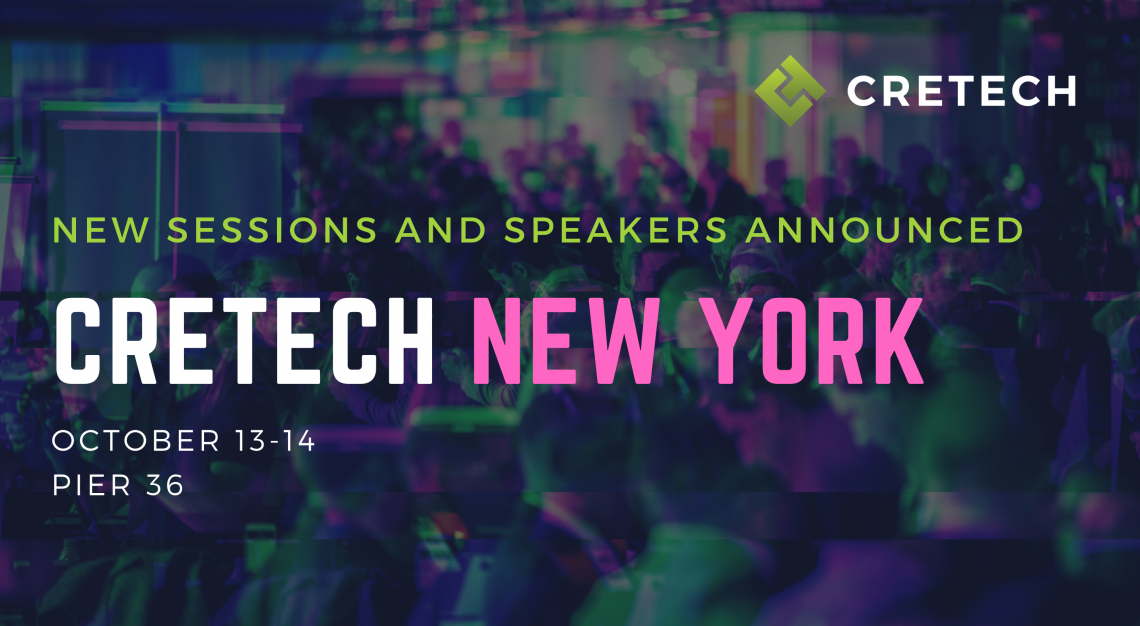 New York, NY (September 28, 2021) — CREtech, the largest international community of professionals devoted to technological innovation in the real estate sector, has announced new sessions and speakers confirmed for their flagship conference, CREtech New York. The 2021 conference will feature two stages full of cutting-edge content, a packed expo hall featuring real estate technology providers and CREtech's renowned Tech Connect Lounge which will host 1:1 meetings scheduled through the official event matchmaking app.

Just Released Sessions and Speakers:
Gaining the Competitive Edge with Data: Hear how all sectors of CRE are embracing data to gain a competitive edge in the marketplace and improve their overall business performance. 
Moderated by: Kyle Waldrep, CEO and Founder, Dottid

Nicholas Butterworth, Chief Digital & Technology Officer, CBRE

James Kurek, Chief Technology & Innovation Officer, Brandywine Realty Trust

Kevin Shtofman, COO, NavigatorCRE

Scott Evans, Chief Digital Officer, Related Companies




 
Embracing Innovation: How Leading Real Estate Companies are Embracing Technology: Learn how some of the leading-edge companies embrace technology - from strategy to implementation - as well how they create an internal culture that leans in on the innovation front. 
Moderated by: Sam Chandan, PhD Larry & Klara Silverstein Chair In Real Estate Development & Investment Academic Dean at the NYU SPS Schack Institute of Real Estate

Lauren Alpeyrie, Director, Global Innovation, PGIM Real Estate

Niraj Patel, Chief Information Officer, Greystone

Patrick McGrath, EVP, Chief Information Officer & Head of Client Technologies, Savills

Michael Rudin, Senior Vice President, Rudin Management
The Housing Crisis: Tech Solutions to Create Affordable Housing: Learn from those that are at the forefront of affordable housing. 
Moderated by: Tyler Thompson, Managing Partner, Second Century Ventures

Kunal Chothani, Vice President, The Michaels Organization

Sarah C Yaussi, VP, Business Strategy, National Multifamily Housing Council (NMHC)

Alison Novak,

Head of Sidewalk Urban Development, Sidewalk Labs
Leveraging Technology To Create Multifamily Experience of the Future: Hear from professionals who are leading the way in creating seamless multifamily digital experiences from leasing to building access, onsite amenities to property management and everything in between. 
Moderated by: Ben Hittman, Partner, Goodwin

Peter Weiss, Chief Real Estate Officer, Latch

Khushbu Sikaria, VP, Mid-Atlantic, Lincoln Property Company

Karen Hollinger, Senior Vice President, Strategic Initiatives, AvalonBay Communities

Bobby Aflatooni, CIO, The Howard Hughes Corporation
Measuring Physical Climate Risk: How CRE Professionals Can Manage the Impacts of Climate Change: Growing risks from climate change, such as wildfires, floods, and other hazards are demanding that professionals in commercial real estate change their decision-making processes both from an economic modeling perspective and a functional one.
Thomas LaSalvia, PhD, Senior Economist, Moody's Analytics | CRE

Natalie Ambrosio Preudhomme, Director, Moody's ESG Solutions
Act Now: We Must Decarbonize: Learn from CRE's most respected sustainability leaders on their respective company missions, drivers and strategies to decarbonize their portfolios.
Moderated by: Ginny Miller, Principal, 1Sharpe Ventures

Ramya Ravichandar, Vice President, Sustainability Products, JLL Technologies

Hewson Baltzell, President, Helios Exchange

Michael Aisner, SVP - Property Management, RXR Realty LLC

Natalie Teear, SVP, Innovation, Sustainability & Social Impact, Hudson Pacific Properties
The 2021 CREtech New York conference will be held on October 13-14 at Pier 36, and is expected to attract 1000+ leaders including tech startups, VCs, landlords, brokers and other key industry players. Real estate executives from around the world will attend the conference to network, uncover new investment opportunities, and acquire cutting-edge products and services that are at the forefront of the industry's digital transformation. 

To register and learn more about the event, click here.

About CREtech
CREtech is Reimagining Real Estate. We are the largest international community of professionals devoted to technological innovation in the real estate sector. Our mission is to help the industry embrace, adopt, and future proof its businesses. Our streaming, live/virtual events, and consulting platform inspires the next generation of ideas, processes, and people to champion the world's largest asset class.
Learn more: cretech.com