Partnership Between Second Century Ventures And CREtech To Be Unveiled At Upcoming Webinar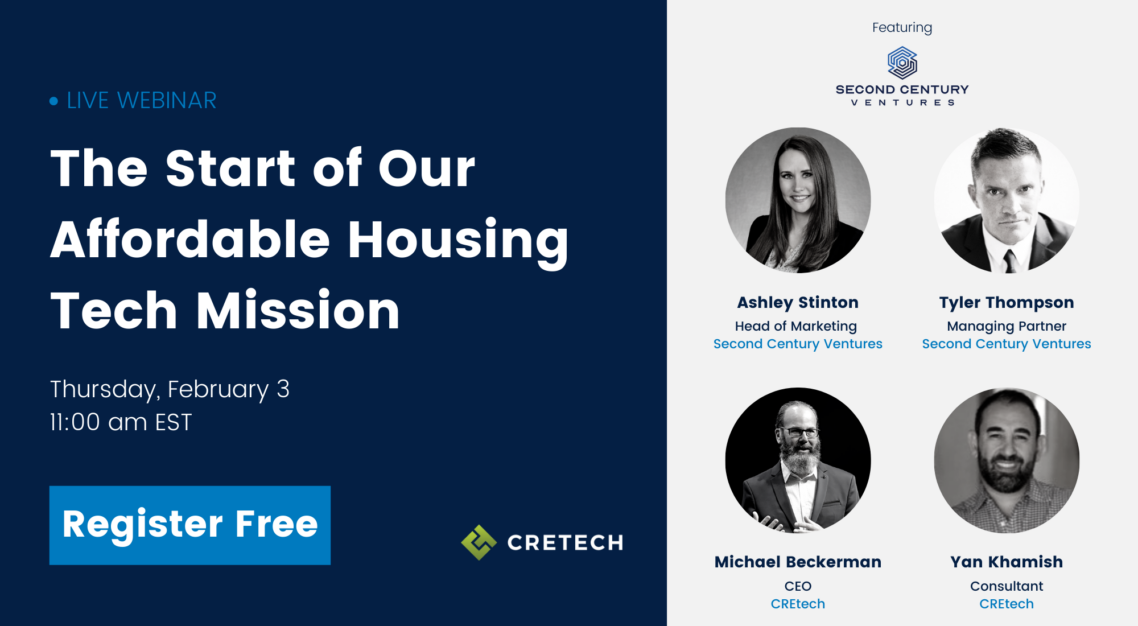 CREtech, the largest international community of professionals devoted to technological innovation in the real estate sector, has opened registrations for their first webinar of 2022 on Thursday, February 3rd. Joined by Second Century Ventures, one of the most respected and active PropTech investors in the industry, the webinar will unveil an extraordinary partnership between CREtech and Second Century Ventures that seeks to raise awareness of technology's role in solving the affordable housing crisis plaguing much of the world today.
Coming on the heels of CREtech's successful launch of their CREtech Climate initiative aimed at galvanizing the real estate industry to invest in decarbonization strategies, the CREtech/Second Century Ventures platform will also seek to raise awareness of the affordable housing crisis in the U.S. and how technology can play a vital role in solving this important issue.
Speakers: 
To register for the webinar, click here.
About CREtech
CREtech is Reimagining Real Estate. We are the largest international community of professionals devoted to technological innovation in the real estate sector. Our mission is to help the industry embrace, adopt, and future proof its businesses. Our streaming, live/virtual events, and consulting platform inspires the next generation of ideas, processes, and people to champion the world's largest asset class. Learn More: CREtech.com
About Second Century Ventures
Second Century Ventures (SCV), the strategic investment arm of the National Association of REALTORS®, is the most active global real estate technology fund. SCV helps scale its portfolio companies across the world's largest industries including real estate, financial services, banking, home services, and insurance. Second Century Ventures also operates the award-winning REACH technology growth program.  Learn More: scv.vc