Peter Scialla, President and Chief Operating Officer of Delos Joins Distinguished Line-Up of Speakers at CREtech New York Conference this Fall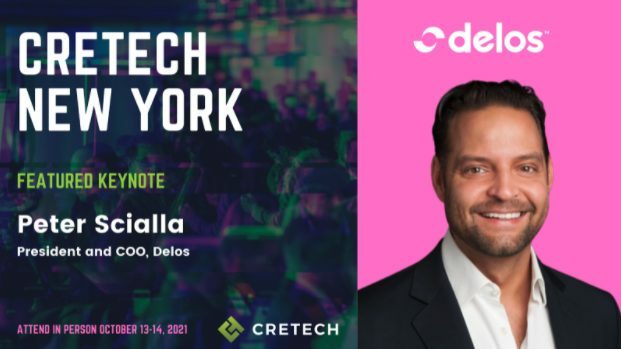 New York, NY (August 17, 2021) — CREtech, the world's leading community of professionals devoted to technological innovation in the real estate sector has announced that Peter Scialla, President and Chief Operating Officer of Delos, will be joining a distinguished line-up of speakers at CREtech's flagship conference, CREtech New York, this fall. With hundreds of real estate and tech professionals already registered for the event, this year's conference is expected to attract the most innovative real estate executives from around the world.
Delos is a market leading global wellness real estate and technology company with the mission to transform indoor environments into vehicles for health, well-being, performance and resilience. Delos has been merging the health sciences with the building sciences for nearly a decade. The company, known for its science, research and evidence based approach has long collaborated with leading experts from world-renowned institutions. Delos' wholly owned subsidiary, the International WELL Building Institute, administers the WELL Building Standard, the premier global standard for health and well-being in buildings. WELL programs are now deployed in over 90 countries and across over two billion square feet of real estate. Delos also founded the Well Living Lab in collaboration with Mayo Clinic, the first lab exclusively committed to research, development and testing of both new and existing innovations designed to improve the health and well-being of people.
Prior to joining Delos, Scialla served as a Partner for Goldman Sachs and led Goldman's U.S. Equity Derivatives Trading. During his eight years at Goldman, Scialla worked closely with leadership in Distribution, Investment Banking, Private Wealth, and Capital Markets with an emphasis on both Institutional Trading and Structured Corporate Repurchase. In total, Scialla enjoyed a distinguished career of over 18 years on Wall Street.
"Addressing health and safety within the Built World could not be more relevant as we emerge from one of the most deadly pandemics in our history" stated Michael Beckerman, CEO of CREtech, and newly launched initiative, CREtech Climate. "Peter's wide breadth of knowledge in approaching indoor health and well-being will prove to be immensely insightful to CREtech New York attendees," Beckerman added. "I am honored and thrilled that Peter will be sharing his highly regarded perspective with the CREtech community at our New York event this fall," Beckerman concluded.
"We know that real estate can have a tremendous impact on our health, well-being and safety, and the role of indoor spaces has now become more important than ever," said Scialla. "I'm excited to join CREtech to advance the conversation on health-focused technologies and innovations in real estate that can help improve the lives of people across the globe."
This year, CREtech New York attendees will be able to connect in-person with the most sought-after group of real estate tech professionals, while also enjoying two days of tech demos and keynote presentations from the best and brightest in the industry. Taking place at Pier 36, the venue boasts over 70,000 sq ft of space, and has a 15,000 sq ft deck which overlooks the East River, and has views of downtown Manhattan, the South Street Seaport, the Manhattan and Brooklyn Bridges, and the Statue of Liberty.
To register and learn more about the event, click here. EARLY BIRD sale ENDS Wednesday night!
To learn more about partnership and sponsorship opportunities, click here.
About Delos
Delos is a wellness real estate and technology company guided by the mission to be the world's leading catalyst for improving the health and well-being of people around the world by improving the indoor environments where they live, work, sleep and play. Informed by more than seven years of research and rigorous analysis of environmental health impacts on people, Delos and its subsidiaries offer an array of evidence-based technology and solutions for residential, commercial and hospitality spaces. Delos is the founder of the WELL Building Standard™, the premier standard for buildings, interior spaces and communities seeking to implement, validate and measure features that support and advance human health and wellness. Its subsidiary, the International WELL Building Institute, administers and continues WELL's development and drives market adoption. Delos' advisory board is comprised of leading professionals across real estate, government policy, medicine and sustainability. For more information about Delos, please visit www.delos.com.
About CREtech
CREtech is Reimagining Real Estate. We are the largest international community of professionals devoted to technological innovation in the real estate sector. Our mission is to help the industry embrace, adopt, and future proof its businesses. Our streaming, live/virtual events, and consulting platform inspires the next generation of ideas, processes, and people to champion the world's largest asset class.
Learn More: cretech.com