Technology First – London Mayfair Real Estate Investment to be sold by online execution with Blockchain anchoring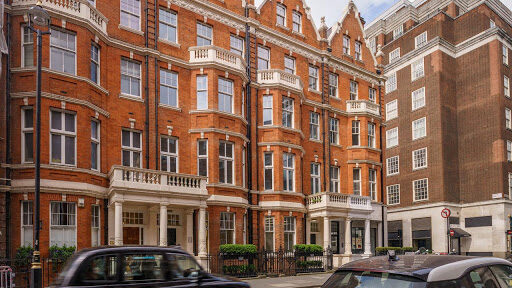 For the first time a prime property investment within London's affluent Mayfair is being offered for sale with the ability to purchase online by a "click"; it will also be the first time online execution of such a property will benefit from Blockchain technology.
Both UK and international parties will be able to purchase the prime investment online and compete equally, thereby a true international market empowered by the leading and proven technology of clicktopurchase®.
The property in question is 111-113 Park Street, Mayfair which is being sold by a Swiss trust.  This prime property has recently been refurbished to a high standard and let on a long lease to Landmark Space, a leading provider of professional, flexible and shared workspaces.  The recent letting at £860,000 per annum reflects a rent of £824.62 per square metre / £76.63 per square foot. The lease provides the attractive feature of rental uplifts in line with increases in the Consumer Price Index.  The property is available at a price of £23million.
The opportunity to acquire such a prime asset within prime Mayfair is rare.  The opportunity to enable worldwide investors to submit legal offers online is unique.  The property is being marketed by London agency Singer Vielle; the online execution is provided by the clicktopurchase® platform.
clicktopurchase® has already been used to execute online some £225m of real estate assets.  Purchasers submitting offers via the platform generate legally-binding digitally-encrypted signatures on an electronic contract note.  Acceptance of an offer results in an instant legal contract execution. The entire transaction audit trail and contract are anchored in Blockchain, providing an advanced level of security, trust and accountability unavailable elsewhere.
The high quality online marketing presentation for 111-113 Park Street is designed to enable an international audience to fully appreciate the investment opportunity easily, with videos, extensive photography and a virtual tour.  The execution platform then allows an investor's professional team to obtain and review the legal and associated documentation easily, enabling an investor to move quickly to submitting a legal offer.  
The United Kingdom government and Law Commission are well reported to be seeking ways to improve the real estate purchase process.  clicktopurchase® is once again leading the technological drive by empowering agencies, such as Singer Vielle, to deliver a leading marketing and execution service for the seller.  The technology equally empowers investors to engage quickly and easily, removing the uncertainties and delays commonly associated with the traditional purchase process.
For investors interested to review this prime Mayfair investment opportunity, full information can be found at singerviellesales.com.  Access to the online execution process can be found at clicktopurchase®.
With Blockchain recording the complete audit trail in a tamper-proof fashion, investors can take great comfort in being able to engage and purchase online, safe in the knowledge that their transaction activities are indexed securely and confidentially.  The clicktopurchase® Blockchain ledger can be viewed here.  
Contact details for the selling agency:
Singer Vielle:
Website – www.singerviellesales.com
Telephone - +44 207 935 7200
Contact – Neil Singer – neil@singervielle.co.uk ; Dale Henry dale@singervielle.co.uk ; Samantha Smith – samantha@singervielle.co.uk
Contact details for the vendor's solicitor:
Teacher Stern:
Website
Telephone - +44 207 242 3191
Contact – David Irwin – d.irwin@teacherstern.com; Sapna Shah – s.shah@teacherstern.com