The World's Leading Built World Sustainability Professionals Assemble in Stockholm for CREtech's Second Annual Global Leadership Summit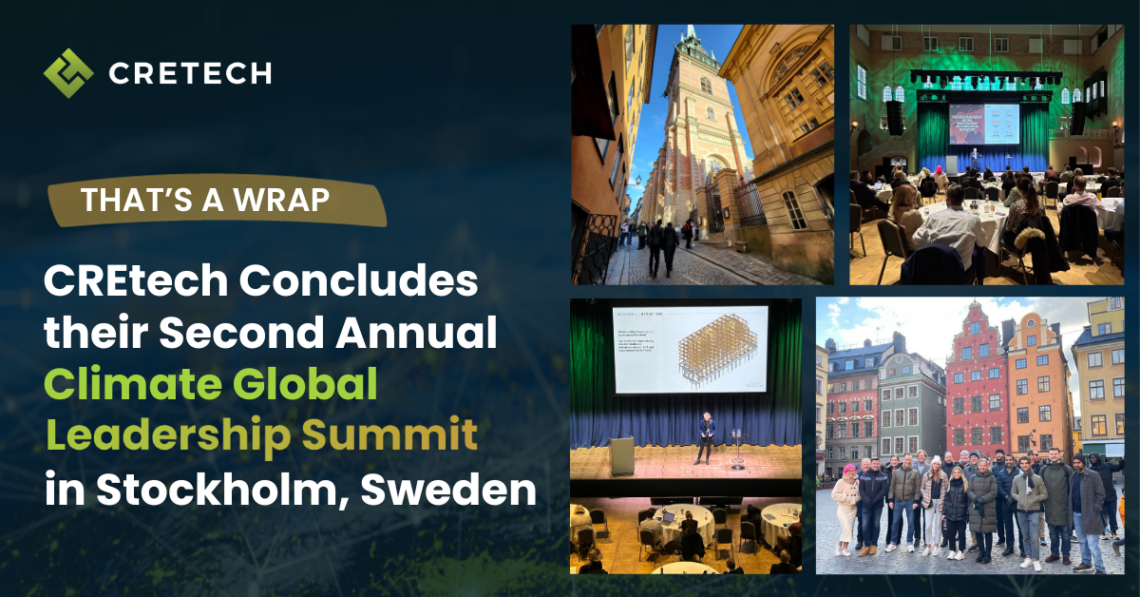 New York (October 27, 2023) — CREtech, the largest international community of professionals devoted to technological and sustainable innovation in the real estate sector, hosted their second annual CREtech Climate Global Leadership Summit in Stockholm, Sweden on October 23-25. The summit assembled an intimate group of the world's leading sustainability professionals to take real steps towards decarbonizing the real estate industry. 
Heeding the success of their inaugural summit in Copenhagen last year, CREtech took their next step in their race to net zero in sustainable Stockholm, a beacon of fossil-free and climate-positive initiatives. The Global Leadership Summit was held in Stockholm at the 5-star Grand Hôtel, situated in a waterfront location overlooking the Royal Palace and Gamla Stan, Stockholm's old town. 
The summit offered unique perspectives from a carefully curated, diverse group of built world sustainability thought-leaders. Focused and intimate, this event maximized networking and collaborative learning with an immersive program in an inspiring setting. The summit addressed the most urgent global climate issues impacting the real estate sector. 
Attendees of the CREtech Climate Global Leadership Summit had front row seats to high-level presentations from the biggest names in climate technology, focused collaborative sessions and a group walking tour of Stockholm, led by Rainbow Tours, a company of young entrepreneurs with an engineering background who share a passion for history. During the tour, attendees learned about the most important historical events and characters that contributed to Stockholm's development into a premier environmental hub.
The summit was chaired by Emily Wright, Head of Content at EG, and featured expert keynote speakers that shared unique insights on decarbonizing the built world including Alexandra Hagen, CEO, White Arkitekter, Annica Ånäs, CEO, Atrium Ljungberg and Developer of Wood City Stockholm, Birgitte Krohn, Senior Manager for Strategic Planning & Coordination, C40 Urban Planning & Design, Camilla Lindberg, Customer Success & Sustainability Manager, Mestro, Dr. Clea Kolster, Partner and Head of Science, Lowercarbon Capital, Ellen Westerlund, Chief Business Officer, Mestro, Erik Krüger, Director of Investments and Establishment, Invest Stockholm, Erik Landry, Director, Climate Change, GRESB, Helena Ulfsparre, Director for Environment, Familjebostäder, Jimmy Jia, Venture Partner, ESG, Pi Labs, and Juliette Morgan, ESG Consultancy Director, Global, Gensler.
All Session recordings from the Global Leadership Summit will be available to stream on demand via CREtech+.

CREtech's next step of its climate journey will take place at CREtech London on 8-9 May 2024 at Magazine London, which is returning as Europe's Premier gathering for built world innovation and enhanced sustainability initiatives.
For more information on CREtech London, visit the website here.

For more information on CREtech London sponsorship opportunities, please see here.

About CREtech
CREtech is Reimagining Real Estate. We are the largest international community of professionals  devoted to technological innovation in the real estate sector. Our mission is to drive tech adoption and innovation in the built world by organizing two large-scale conferences annually in New York and London.  Learn more: CREtech.com.