VTS announces the VTS marketplace, the industry's only end-to-end commercial real estate marketplace powered by 9 Billion SF of real-time data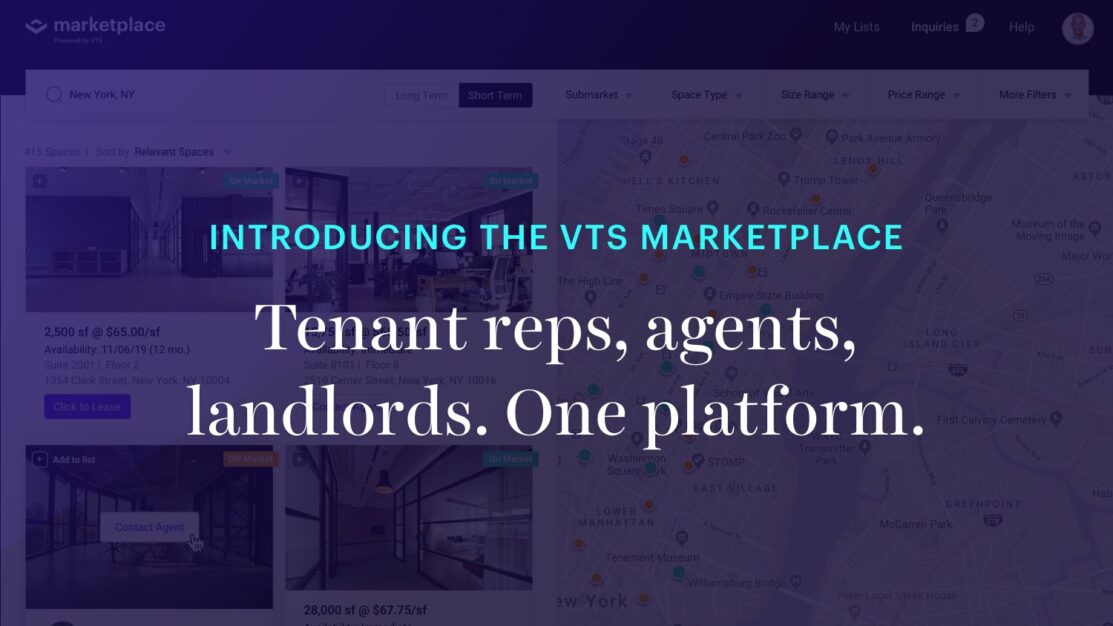 Built on the industry's #1 leasing and asset management platform, the VTS marketplace will provide the infrastructure for landlords, agency brokers, tenant reps, and tenants to complete large and small-scale leases online.
 New York, NY — November 28, 2018 — In a first for the global commercial real estate (CRE) industry, VTS, the leading leasing and asset management platform for CRE, today unveiled its plans for the VTS marketplace.With over nine billion square feet and nearly one-in-three office buildings in the US already managed using theVTS leasing and asset management platform, and between 75 and 90 percent average market share in the major U.S. Class A office markets, VTS is uniquely positioned to offer professionals the most accurate and comprehensive marketplace in the industry.
Built on the industry's #1 leasing and asset management platform, the VTS marketplace will provide the infrastructure for landlords, agency brokers, tenant reps, and tenants to lease online. Unlike almost all existing listing sites, the VTS marketplace will enable bothlandlords and brokers to dramatically improve the marketing and leasing of spaces. Agency brokers and landlords using the VTS platform and the VTS marketplace will be able to run the entire leasing process online using real-time market data to dynamically price their available space and lease negotiations. Tenant reps will be able to service their clients in an entirely new way with the ability to search for space both on the market, as well as off-market via VTS' "future supply" data.
"The VTS marketplace is the culmination of the VTS vision to transform commercial real estate, making every player in the ecosystem – landlords, agency brokers, tenant reps, and tenants – more efficient," says Nick Romito, CEO and co-founder of VTS. "VTS is already the system of record for inventory and deal management for landlords globally — there are currently more than 500,000 active deals in VTS, and over 500 million square feet of leases were executed in the VTS platform over the last year alone. Now, the VTS marketplace allows us to provide every player with the infrastructure to complete the full deal cycle for deals of all sizes, streamlining a process that has, for decades been highly inefficient and expensive for everyone involved. By modernizing such an old process everyone in the ecosystem wins."
In addition to its core customer base, which includes Blackstone, Brookfield, Hines, CBRE, JLL, and more, flexible workspace providers will also be leveraging VTS' marketplaceand technologyinfrastructure to capturetenant demand and helpmanage their transactionsonline. "The success and scale of VTS' core operating system make partnering with VTS tohelpdrive customer demand to our workplace locations a no-brainer. VTS is a proven partner to our landlord partners as well as the brokerage community, and the team has a clear visionof how technology can digitize the leasing process that we are verymuch aligned to," says Ryan Simonetti, Founder and CEO of Convene.
About the VTS marketplace
Until today, landlords have had to separate the marketing of their space from the process of managing a tenant through their pipeline and executing an actual lease. No software platform has automated and streamlined the end-to-end marketing, leasing, and transaction for an available space. Instead of an easy and simple process, landlords, tenant reps, and tenants today exchange phone calls, emails, and Word documents back and forth for weeks and months – hence the infamous phrase "time kills all deals."
The commercial real estate market is undergoing a sea change as tenants and their brokers expect to move from a slow and painful leasing experience to an easy, fast, and flexible leasing process with tenant needs as the key driver.
With the VTSmarketplace, landlords and agency brokers will be able to market, manage, strategize, negotiate and transact on their portfolios — all from within the VTS leasing and asset management platform. This will include the ability to:
Instantly publish availabilities, current or future, with one click.
Dynamically price inventory based on real-time market data.
Immediately provide marketing collateral including floor plans, images, videos, and space details to interested tenants or tenant reps.
Easily fieldinquiries, tours, and proposals that automatically input as deals on the VTS platform.
Leverage VTS MarketView™benchmarks and analytics to make smarter decisions based on market trends.
Centralize communication and negotiate directly in VTS, resulting in minimal downtime and an improved experience for tenants and tenant reps.
Approve, sign, transact, and store leases directly in VTS.
"Our tenants are demanding unprecedented levels of flexibility and service when leasing space. The VTS marketplace will enable us to deliver a market-leading experience to customers with ease, speed up the entire transaction process, and significantly reduce unnecessary downtime – a win for everyone," said Kevin Danehy, Global Head of Corporate Development at Brookfield.
Tenant rep brokers will be able to discover, plan, select, negotiate, and transact on spaces that best fit the needs of their tenants. This will include the ability to quickly and efficiently:
Access available spaces from over nine billion square feet of office, retail, and industrial properties, with the confidence of knowing that only truly available spaces are marketed.
Discover soon-to-be-available spaces that meet their criteria.
Connect with agency brokers and owners to quickly tour and view spaces, allowing tenants to find their ideal space and move in according to their target timeline.
Centralize communication and negotiate directly in VTS, resulting in a seamless experience.
Save time and effort by transacting the lease completely online.
"VTS' marketplace will be the first of its kind bringing tenants and tenant rep brokers into an ecosystem that is directly powered by landlords and their agency teams. The tenant rep broker is a stakeholder that is key to the market's evolution — bringing them specifically into the fold has always been core to our vision. Our goal is to provide them with an unprecedented view into future market conditions and a new way to communicate and transact with the supply side of the market," said Ryan Masiello, Co-Founder and Chief Strategy Officer of VTS.
Availability
The VTS marketplace will be made available in 2019.
About VTS
VTS is the commercial real estate industry's leading leasing and asset management platform. Landlords use VTS to maximize portfolio performance by transforming their leasing and asset management process, enabling them to acquire the right tenants faster, sign the right deals at the best economics, and optimize the renewal process—reducing costly downtime. Brokers can manage their deal pipeline and get tenants into empty spaces faster, collaborate across teams and work easily with their landlord clients using VTS for Brokers.
The VTS platform manages more than 9 billion square feet of commercial real estate and a user base exceeding 34,000 and boasts an impressive client roster that includes global leaders such as Beacon Capital Partners, Blackstone, LaSalle Investment Management, Hines, Boston Properties, JLL, and CBRE.
Media Contact:
Elizabeth Latino
Elatino@marinopr.com
(212) 889-0808
Megan Nealon
mnealon@marinopr.com
(857) 362-8897