Amenify Acquires MobileButler
MobileButler, a software company that builds custom applications for resident engagement in multifamily communities, was acquired by Amenify, a real estate technology company based in San Francisco with offices in Denver.
Per MobileButler's website, the company focuses on customized portals for rent payment, maintenance requests, bill payment, and manager communication. In a prepared statement, Jordan Wright, co-founder and CEO of MobileButler said, "We couldn't be happier about the acquisition of MobileButler by Amenify. They're an incredible company that is disrupting an industry we've had our eye on for years. We believe in Everett's vision and were impressed with the strong growth the Amenify team has achieved thus far. We're very excited about the future of Amenify and hope that MobileButler can help take the company even further."
Neither Amenify nor MobileButler would comment on the terms of the deal, but Amenify founder and CEO, Everett Lynn provided a statement: "We recently passed 25 active markets and needed a technology that could scale with thousands of properties in a national portfolio. The MobileButler team built a great product, which complements Amenify's white-label technology. This allows our team to continue focusing on a network of trusted providers, as the next generation of real estate will revolve around experiences."
Amenify is a technology platform focused on amenity services for multifamily portfolios. By plugging into existing software, Amenify is able to seamlessly connect resident demand with trusted local businesses. The core services for Amenify are fitness, pet care, cleaning, massage therapy, social events, and ridesharing services.
MobileButler's white-label applications for multifamily properties
The Amenify network consists of trusted, local businesses that must pass a 12-step qualification process. From there, each program is customized for each property. Amenify handles the heavy lifting required to support the marketplace, including:
Insurance
Scheduling
Billing
Logistics
Quality control
Support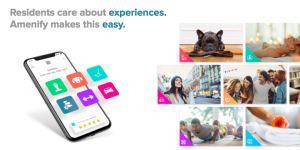 The Amenify marketplace is similar to AirBnB Experiences but for apartments, student housing, and condominiums.
According to Amenify, the primary goal is to benefit the property management team. "As a white-label solution, we work for the onsite staff. They are the most important people in our industry, so our job is to create a single point of contact to manage services."
Amenify has 22 employees in San Francisco (HQ), Denver, and has raised an undisclosed amount of capital from venture firms and strategic operators in the real estate industry.