C40 Cities, LaSalle, Miro and Willis Towers Watson Set To Join CREtech London Speaker Lineup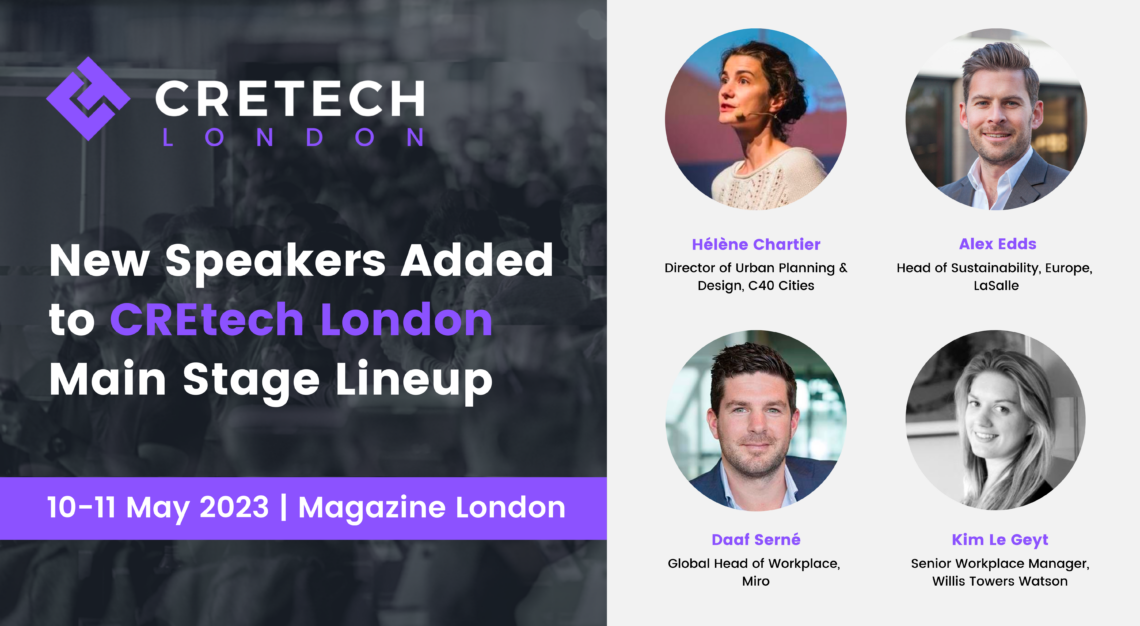 New York, NY (February 21, 2023) — CREtech, the largest international community of professionals devoted to technological innovation in the real estate sector, announced today that speakers from C40 Cities, LaSalle, Miro and Willis Towers Watson, will join the speaker lineup for Europe's largest real estate technology conference, CREtech London, this 10-11 May.
1,500+ leading real estate professionals, including owners, landlords, occupiers and other decision makers, are expected to attend CREtech London this Spring to network, uncover new investment opportunities, and acquire cutting-edge products and services that are at the forefront of the industry's digital transformation.
New speakers added to CREtech London's lineup include:
Hélène Chartier, Director of Urban Planning & Design, C40 Cities
Alex Edds, Head of Sustainability, Europe, LaSalle
Daaf Serné, Global Head of Workplace, Miro
Kim Le Geyt, Senior Workplace Manager, Willis Towers Watson
The two-day conference will feature world-class content with leading C-Suite speakers who are experts in built world innovation across three stages; the Main Stage, Innovation Stage, and Ask Me Anything Stage. The stages will educate and inspire attendees through a mixture of exclusive keynote presentations, panel sessions, fireside chats and interactive sessions.
CREtech London attendees will also be able to schedule 1:1 in-person meetings through CREtech's official event matchmaking app in the industry renowned Tech Connect Lounge, and an all-access pass to the expo hall packed with the latest real estate technology solutions.
To secure early bird tickets and learn more about the event, click here.
To learn more about partnership and sponsorship opportunities, click here.
About CREtech
CREtech is Reimagining Real Estate. We are the largest international community of professionals devoted to technological innovation in the real estate sector. Our mission is to help the industry embrace, adopt, and future proof its businesses. Our streaming, live/virtual events, and consulting platform inspires the next generation of ideas, processes, and people to champion the world's largest asset class. Learn more: CREtech.com