Chris Sacca, Founder of Lowercarbon Capital, and Shark Tank Legend, To Deliver Opening Keynote at CREtech Climate Day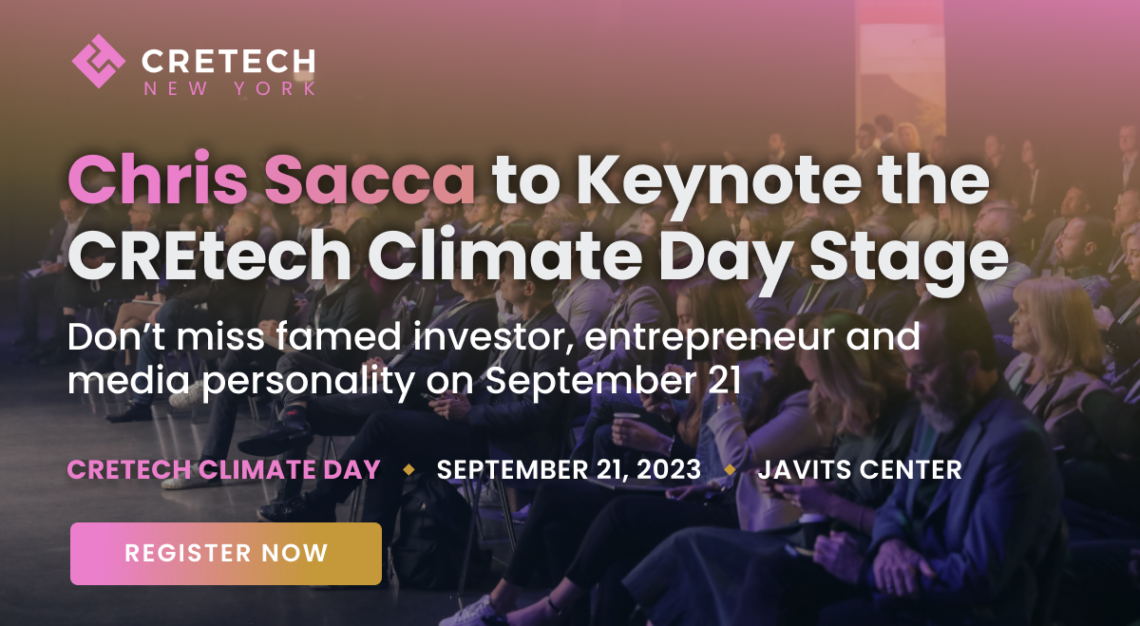 New York, NY (June 23, 2023) — CREtech, the world's leading community of professionals devoted to technological and sustainable innovation in the real estate sector, has announced Chris Sacca, Founder, Lowercarbon Capital, and Shark Tank Legend, to deliver opening keynote at CREtech Climate Day this September 21 at the Javits Center. Chris has identified the built world as one of the biggest investment opportunities for sustainable innovation and will share his insights why.
Following CREtech's flagship NYC conference, the inaugural CREtech Climate Day is an event dedicated to decarbonizing the built world and will take place after the CREtech New York conference and expo (September 19-20). The event will assemble 350+ of the greatest minds in sustainability that are leading the way in the decarbonization of the Built World.
Set to deliver the opening keynote, Chris Sacca, is the Founder of Lowercarbon Capital and an accomplished venture investor, company advisor, and entrepreneur, managing a portfolio of countless technology, communication, and consumer product startups through his firm Lowercase Capital. Alongside his wife Crystal, Chris grew Lowercase—primarily known for its investments in very early-stage technology companies like Twitter, Uber, Instagram, Twilio, Docker, Optimizely, Blue Bottle Coffee, and Stripe—into one of history's most successful funds ever.
The performance of the Lowercase funds made Chris one of the then youngest members of the Forbes Midas List in 2011 and vaulted him to the number two spot as well as earned him a spot on Vanity Fair's New Establishment list before his retirement from broad-based venture capital in 2017 to focus on healing the climate, restoring American democracy, promoting diversity within technology and venture capital, and reforming the criminal justice system among other activist, political, and philanthropic pursuits.
These days, Chris heads a science and investing team at Lowercarbon Capital pursuing the world's most ambitious solutions to the climate crisis that is threatening all life on the planet. Across the realms of energy, building materials, transportation, food, industrial chemicals, reforestation, and all of the underlying logistics, Lowercarbon is showing the world that focusing on climate solutions is just good business. In parallel with this work, Chris and Crystal have become some of the nation's most prolific supporters of non-profit climate research.
Notable leaders also set to join the Main Stage at CREtech Climate Day include, Parag Khanna, International Bestselling Author and CEO of Climate Alpha; Joseph Allen, Associate Professor, Harvard T.H. Chan School of Public Health; Susan Uthayakumar, MD, Chief  Sustainability and Energy Officer, Prologis; JP Flaherty, Global Head - Sustainability and Building Technology Innovation, Tishman Speyer.
Attendee's can expect content sessions featuring influencers and decision makers from government, policy, real estate, venture capital and tech to share best practices, then attendees will network at breakouts and the cocktail networking reception.
To register and learn more about CREtech Climate Day, click here.

To learn more about partnerships and sponsorships, click here.

About CREtech

CREtech is Reimagining Real Estate. We are the largest international community of professionals devoted to technological innovation in the real estate sector. Our mission is to help the industry embrace, adopt, and future-proof its businesses. Our streaming, live/virtual events, and consulting platform inspires the next generation of ideas, processes, and people to champion the world's largest asset class. Learn More: cretech.com