CREtech Announces Climate Museum As Official Charity Partner For Flagship Conference, CREtech New York, This October 12-13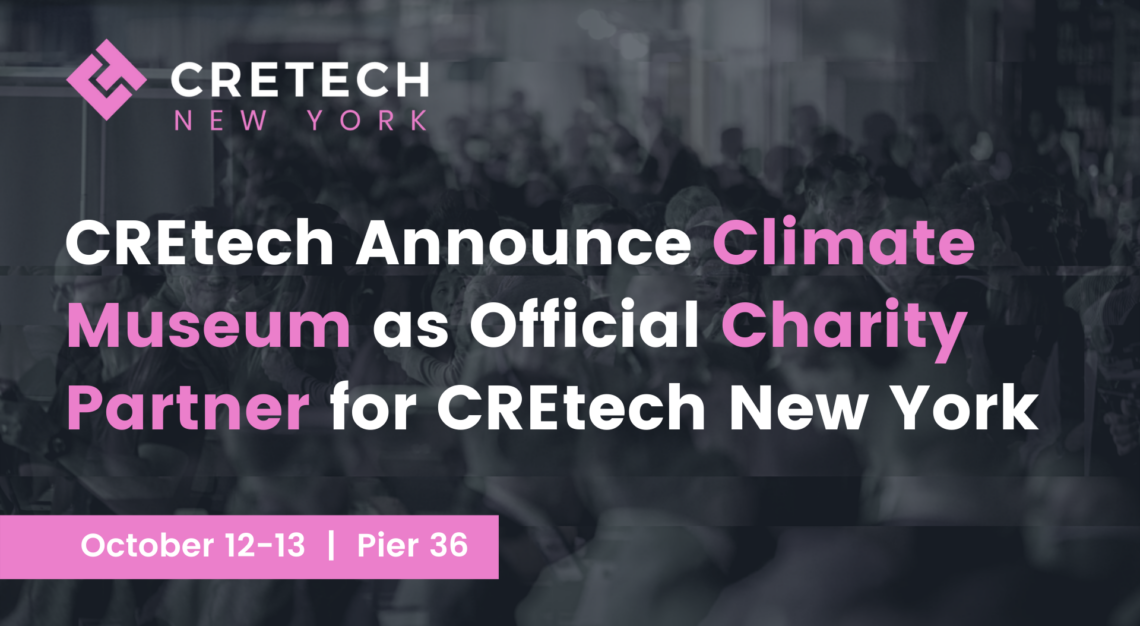 New York, NY (October 3, 2022) — CREtech, the world's leading community of professionals devoted to technological innovation in the real estate sector, has announced that the Climate Museum, the first museum dedicated to climate change in the United States, is their official charity partner for the CREtech New York conference, this October 12-13.

The American public supports strong climate policy by a 2:1 ratio. The Climate Museum mobilizes arts and cultural programming to invite visitors into active expression of that support through dialogue and civic action. Since its first year of public programs in 2018, the Museum has offered free, accessible exhibitions, interactive panels, youth programs, and more, drawing on the popularity and trust held by museums to reach 100,000+ visitors. Its interdisciplinary approach to climate emphasizes justice and inclusion.
This Fall, for the first time, the Climate Museum is launching a Manhattan pop-up. The show features a major new work of climate art and an action incubator and runs from October 8 - December 22, 2022 in Soho. A robust slate of special programs will explore the intersection of climate change and the arts, justice, science, human migration, philosophy, activism, comedy, and more with prominent journalists, activists, and thought leaders. The pop-up is the first step in the Climate Museum's initiative to scale up to a permanent, year-round presence in New York City, making its path-breaking work accessible to more people. Stay updated and learn more here.

CREtech will also be launching the all-new Climate Pavilion at CREtech New York, featuring leaders discussing technologies that support sustainability and ESG standards for the built world including Kelly Soljacich, Director of EST Innovation at LaSalle Investment Management, Ben Myers, Vice President, Sustainability at Boston Properties (BXP), Jonathan Flaherty, Global Head - Sustainability and Building Technology Innovation at Tishman Speyer Properties, and Rob Simpson, Senior Director, Sustainability at Ivanhoe Cambridge.
CREtech New York will bring together nearly 2,500+ industry leaders including tech startups, VCs, landlords, brokers and other key industry players who are eager to connect and get new deals done. The conference will feature exclusive keynote presentations and panels featuring the biggest names in the industry, the ability to schedule 1:1 in-person meetings through their event matchmaking app in CREtech's industry renowned Tech Connect Lounge, and an all-access pass to the expo hall packed with the latest real estate technology solutions.

To register for the can't-miss conference, click here.

To learn more about partnership and sponsorship opportunities, click here.

About CREtech

CREtech is Reimagining Real Estate. We are the largest international community of professionals devoted to technological innovation in the real estate sector. Our mission is to help the industry embrace, adopt, and future proof it's businesses. Our streaming, live/virtual events, and consulting platform inspires the next generation of ideas, processes, and people to champion the world's largest asset class.

Learn More: CREtech.com