Coen van Oostrom, Founder & CEO, Edge, to Deliver Keynote Presentation at CREtech London, this May 10-11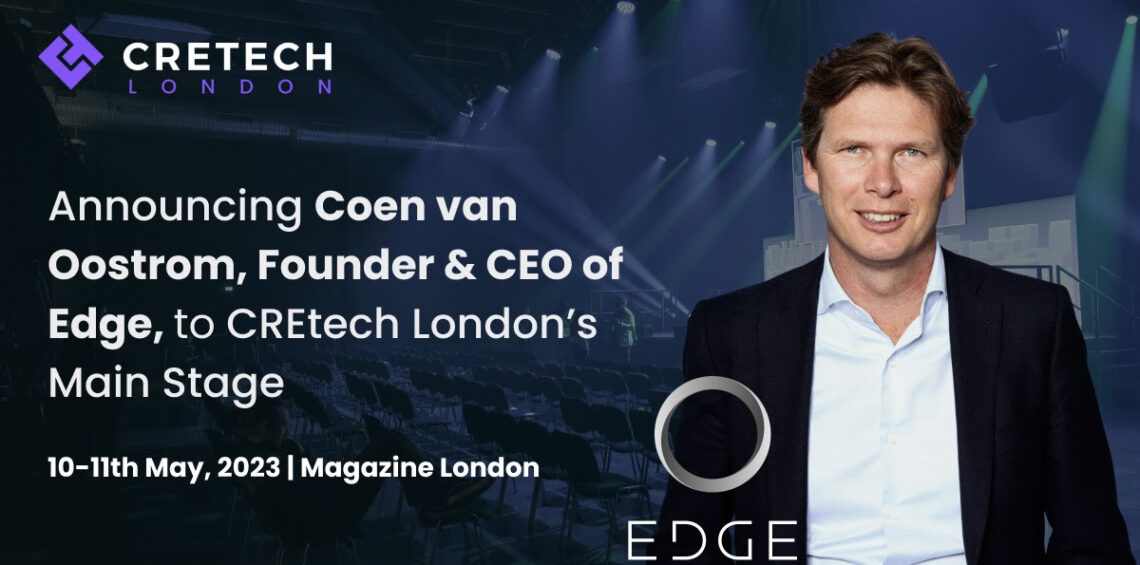 London (March 30, 2023) — CREtech, the largest international community of professionals  devoted to technological and sustainable innovation in the real estate sector, has announced that Coen van Oostrom, Founder & CEO, Edge, will take center stage at CREtech London, this 10th-11th May. 
Coen van Oostrom is a global leader in tech-enabled, sustainable & healthy building development in the real estate industry. He aims to radicalize sustainability through powerful innovations and seeks to effect further change in infrastructure and urban development.
Since founding Edge in 1997, Coen van Oostrom has built the company into the largest commercial property developer and investor in the Netherlands and one of the largest in Europe. He created dedicated entrepreneurial teams in the Netherlands, Germany, the United States and the United Kingdom and plans to build on the company's success through expansion into new markets around the world. Edge's clients include among others Deloitte, Unilever, Amazon, Vattenfall, Rabobank and ABN Amro.
In 2020, to further expand Edge's horizon, Coen launched EDGE Next: a ground-breaking technology platform that can make any existing building perform better, and EDGE Workspaces which offers a flexible office concept for quality seeking tenants of all shapes and sizes.

Over 1,500 leading real estate professionals, including owners, landlords, occupiers and other decision makers, are expected to attend CREtech London this spring to network, uncover new investment opportunities, and acquire cutting-edge products and services that are at the forefront of the industry's digital transformation. View all companies attending so far here.
The two-day conference will feature world-class content with leading C-Suite speakers who are  experts in built world innovation and sustainability across  two stages; the Main Stage and theInnovation Stage.. The stages will educate and inspire attendees through a mixture of exclusive keynote  presentations, panel sessions, fireside chats and interactive sessions. View speaker line-up here.

To learn more and register for CREtech London, click here. 
To learn more about partnership and sponsorship opportunities, click here. 
About CREtech 
CREtech is Reimagining Real Estate. We are the largest international community of professionals  devoted to technological innovation in the real estate sector. Our mission is to help the industry embrace,  adopt, and future proof its businesses. Our streaming, live/virtual events, and consulting platform inspires  the next generation of ideas, processes, and people to champion the world's largest asset class. 
Learn More: CREtech.com