CREtech Acquires PlaceTech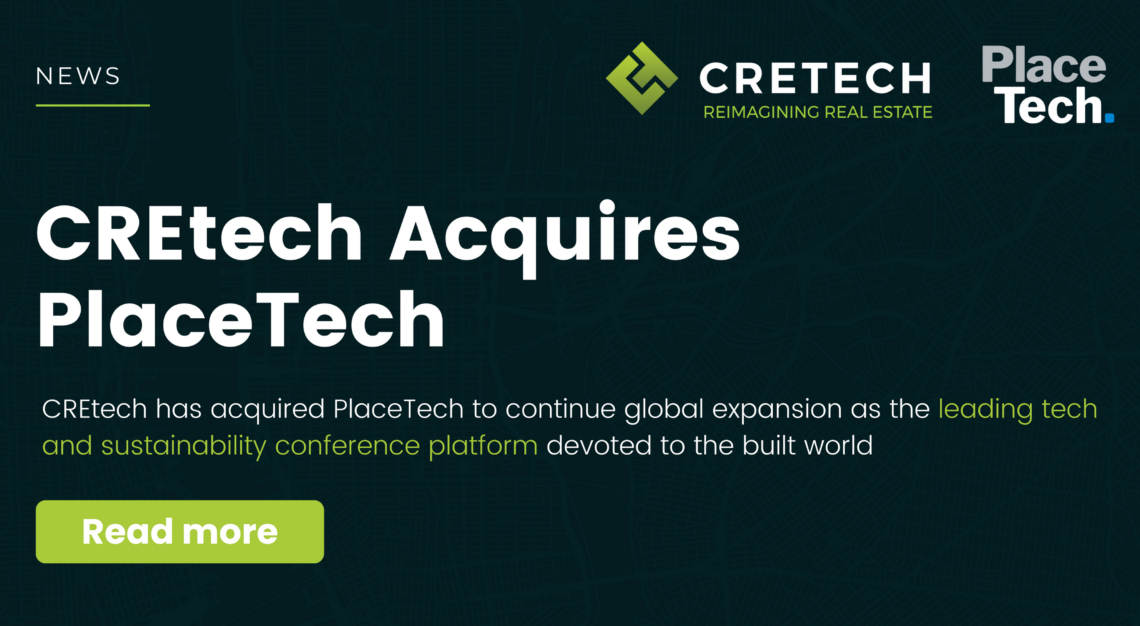 CREtech has acquired digital assets from PlaceTech as it seeks to consolidate its position as the global event host of choice for the real estate innovation and sustainability community.
Place North media group will now concentrate on the B2B stable of titles that covers property in the North of England.
Dino Moutsopoulos, commercial director of PlaceTech, said: "After five years of publishing global news, reviews and helping many proptech firms promote their innovations both in the UK and abroad, I am very pleased to announce we have sold the site's assets to CREtech, the leading global conference company devoted to innovation and sustainability in the built world. Their London and New York conferences, as well as the dedicated Climate Summit, have always been important destinations for PlaceTech and we are confident therefore that this is the perfect fit for our audience of PropTech and climate tech subscribers".
CREtech London 2023, Europe's largest real estate innovation and sustainability event, is due to be held on 10th and 11th May at Magazine London.
Michael Beckerman, CEO of CREtech & CREtech Climate, said: "I've had the pleasure of working with Dino and the PlaceTech team at our conferences in London and New York, and have been a big fan of their work." Beckerman added "We are thrilled to welcome PlaceTech to the CREtech community and look forward to continuing our global expansion as the leading tech and sustainability conference platform devoted to the built world."
1,500+ leading real estate professionals, including owners, landlords, occupiers and other decision makers, are expected to attend CREtech London next month to network, uncover new investment opportunities, and acquire cutting-edge products and services that are at the forefront of the industry's digital transformation.
The two-day conference will feature world-class content with leading C-Suite speakers who are experts in built world innovation and sustainability. CREtech London attendees will also be able to schedule 1:1 in-person meetings through CREtech's official event matchmaking app in the industry renowned Tech Connect Lounge, and an all-access pass to the expo hall packed with the latest real estate technology solutions.
Moutsopoulos added: "Last month we expanded our UK portfolio with the launch of Place North, featuring new titles Place Yorkshire and Place North East, that join our popular existing publication Place North West. If you are promoting your business in Manchester, Leeds, Newcastle or Liverpool or any other towns and cities in the North of England, we can help you get in front of the people that matter."
Moutsopoulos concluded: "I would like to take this opportunity to thank all the clients and contacts who have helped us since the launch of PlaceTech in Manchester in 2018."
About CREtech

CREtech is Reimagining Real Estate. We are the largest international community of professionals devoted to technological innovation in the real estate sector. Our mission is to help the industry embrace, adopt, and future proof its businesses. Our streaming, live/virtual events, and consulting platform inspires the next generation of ideas, processes, and people to champion the world's largest asset class. Learn more: CREtech.com