CREtech Announce International Access Control Village at CREtech London this 10th – 11th May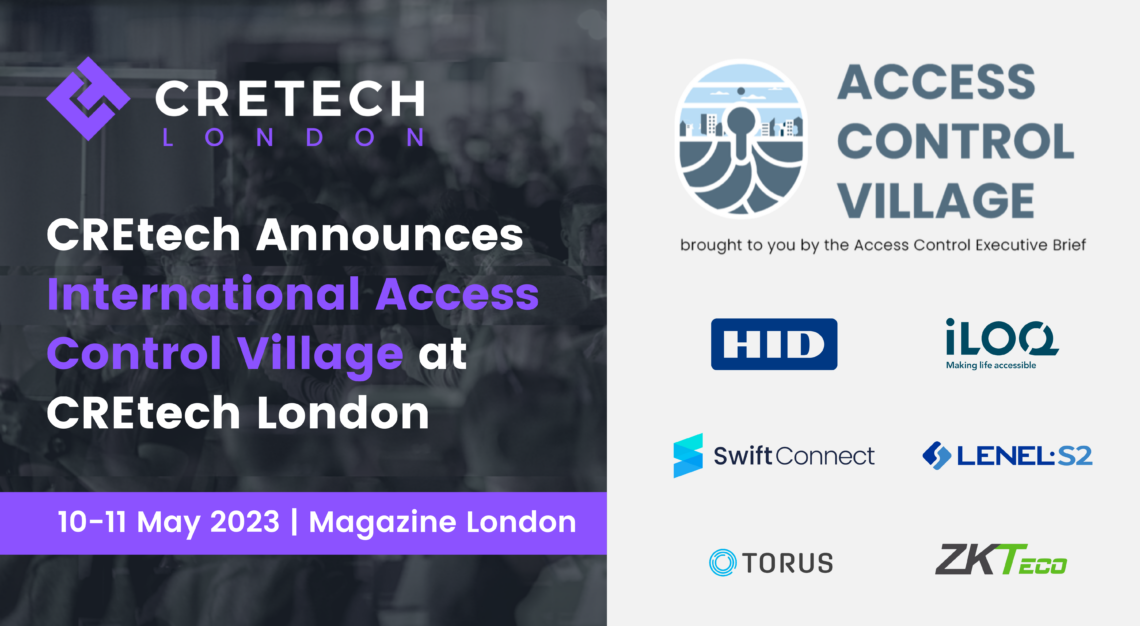 New York, NY (February 8, 2023) — CREtech, the largest international community of professionals devoted to technological innovation in the real estate sector, has added a new international pavilion dedicated to Access Control Technology at Europe's largest real estate technology and sustainability conference, CREtech London, this 10-11 May. 
Over 1,500 leading real estate professionals, including owners, landlords, occupiers and other decision makers, are expected to attend CREtech London this spring to network, uncover new investment opportunities, and acquire cutting-edge products and services that are at the forefront of the industry's digital transformation. 
The Access Control Village is organised by the Access Control Executive Brief and will feature leading  companies including: 
"I am keen to see the access control and smart lock industry come together to tell a rich user story. At most trade shows, the companies spread out and make it hard to understand a holistic value proposition to the built environment. However, as an industry, we go beyond keeping bad people out or locking and  unlocking and showing how we are a vital utility and enabler of so much more. The companies showcasing in the Access Control Village are leaders in this value creation story. I am honored to have  them partner with me at CREtech London," said Lee Odess, CEO of the Access Control Executive Brief.  
Along with an overall message of exponential value being brought together as an industry, each company in the access control village will highlight innovative solutions that separate them from the rest of the industry and make them ideal technology partners for CREtech London attendees.  
"The CRE industry is always at the technological forefront of making buildings smarter and more efficient. CREtech is a great opportunity to demonstrate how mobile access control has evolved to easily integrate into digital wallets and tenant experience apps to enhance not only user experience, but the operational engineering, maintenance and functioning of buildings," says Spencer Marshall, HID's Head of Europe for Physical Access Control.
"I am very pleased to showcase iLOQ's battery free digital locking system in the Access Control Village at CREtech London. Leading the technological revolution in the digital locking industry, it felt natural to be  part of the Access Control Village team." Ulf Jonasson, Country Manager, iLOQ 
"SwiftConnect are excited to play an important role in the inaugural Access Control Village as the  integration backbone that powers seamless experiences across disparate systems via our award-winning  AccessCloud platform," said James Kendall, European Regional Director at SwiftConnect. "Our platform automates credential provisioning and lifecycle management across these systems, buildings and workplace solutions, allowing users to effortlessly access any location with their smartphone, wearable, keyfob or plastic card. We enable a true self-service, on-demand and mobile-first access experience from street to seat, while mitigating the burden caused by costly hardware replacements and reducing manual  processes for tenant and landlord administrators." 
"Torus is delighted to be joining the Access Control Village at CREtech London. We are committed to  securing the world's workplaces with exceptional tech and will be demonstrating how Torus delivers user friendly control over physical keys. This can be achieved via an existing access control or visitor management system – providing users a seamless, easy experience. Poor management of physical keys  is often an overlooked problem which creates frustration and inefficiency for staff, contractors and visitors.  The risk of losing master keys and the resulting disruption and high cost of replacing locks and keys is all  too common. Torus elegantly solves this universal problem and delivers a surprising ROI (return on  investment)." Trent Loebel, CEO, Torus 
"ZKTeco is excited to be in CREtech London 2023 and display its Complete, Personalized and Dependable Physical Security solutions for the commercial real estate." Manish Dalal, President and Founder, ZKTeco  USA 
CREtech London attendees will get an all-access pass to the expo hall packed with the latest real estate technology solutions and the ability to schedule 1:1 in-person meetings through CREtech's official event  matchmaking app in the industry renowned Tech Connect Lounge. 
The two-day conference will also feature world-class content with leading C-Suite speakers who are  experts in built world innovation across three stages; the Main Stage, Innovation Stage, and Ask Me  Anything Stage. The stages will educate and inspire attendees through a mixture of exclusive keynote  presentations, panel sessions, fireside chats and interactive sessions.  
To secure early bird tickets and learn more about the event, click here. 
To learn more about partnership and sponsorship opportunities, click here. 
About CREtech 
CREtech is Reimagining Real Estate. We are the largest international community of professionals  devoted to technological innovation in the real estate sector. Our mission is to help the industry embrace,  adopt, and future proof its businesses. Our streaming, live/virtual events, and consulting platform inspires  the next generation of ideas, processes, and people to champion the world's largest asset class. 
Learn More: CREtech.com