CREtech Announces New Climate Summit Following CREtech New York, Dedicated to Decarbonizing the Build World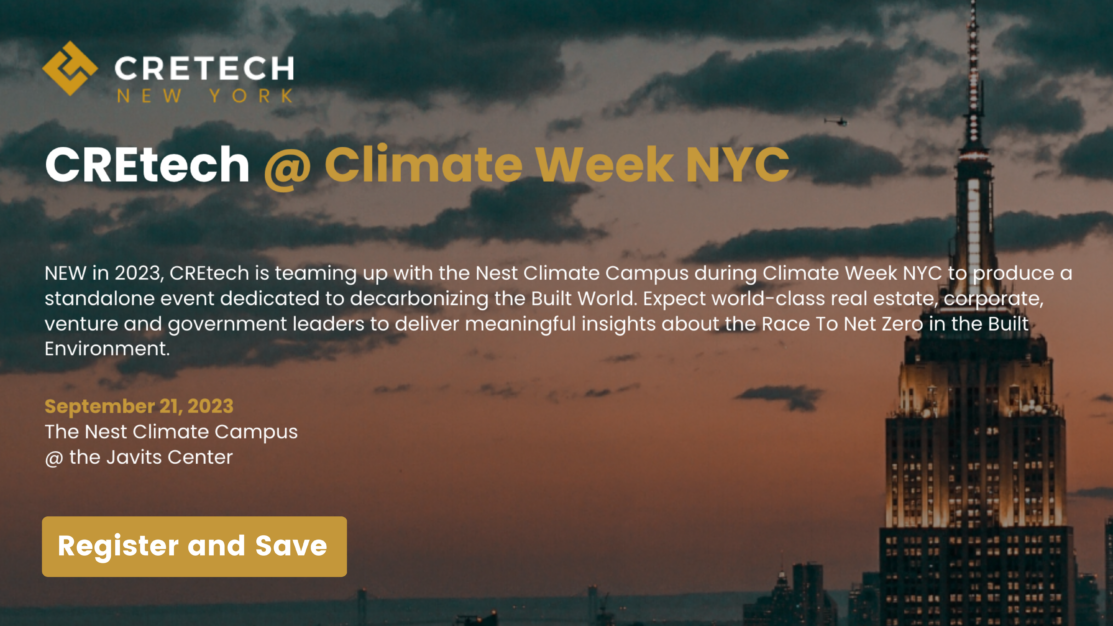 CREtech Partners With Nest Climate Campus During Climate Week NYC To Produce Standalone Event Dedicated To Decarbonizing The Built World

New York, NY (March 16, 2023) — CREtech, the largest international community of professionals devoted to technological innovation in the real estate sector, has announced they are teaming up with the Nest Climate Campus during Climate Week NYC to produce a standalone event dedicated to decarbonizing the built world, CREtech @ Climate Week NYC.
New in 2023, CREtech will be expanding their flagship conference, CREtech New York, to three days and will be moving to a bigger venue, the Javits Center, during New York Climate Week. The CREtech New York Conference & Expo will take place on September 19-20 and CREtech @ Climate Week NYC will take place on September 21.
CREtech @ Climate Week NYC will give attendees access to networking with the most influential climate professionals, main stage keynotes and panel sessions from world renowned leaders, special awards ceremony to honor the visionaries who are creating meaningful impact on sustainability, and an exclusive cocktail reception.
CREtech is anticipating 350+ global climate leaders to attend including technology startups building decarbonization solutions, the most active investors investing in climate tech solutions, Fortune 500 Heads of Real Estate and Sustainability and real estate companies leading the way towards building to net zero.
To register and learn more about sponsorship opportunities for CREtech @ Climate Week NYC, click here.
About CREtech
CREtech is Reimagining Real Estate. We are the largest international community of professionals devoted to technological innovation in the real estate sector. Our mission is to help the industry embrace, adopt, and future-proof its businesses. Our streaming, live/virtual events, and consulting platform inspires the next generation of ideas, processes, and people to champion the world's largest asset class. Learn more: CREtech.com