CREtech London Returns with Simon Carter, CEO, British Land, and Melanie Leech, CEO, BPF, Set To Deliver Keynote Conversation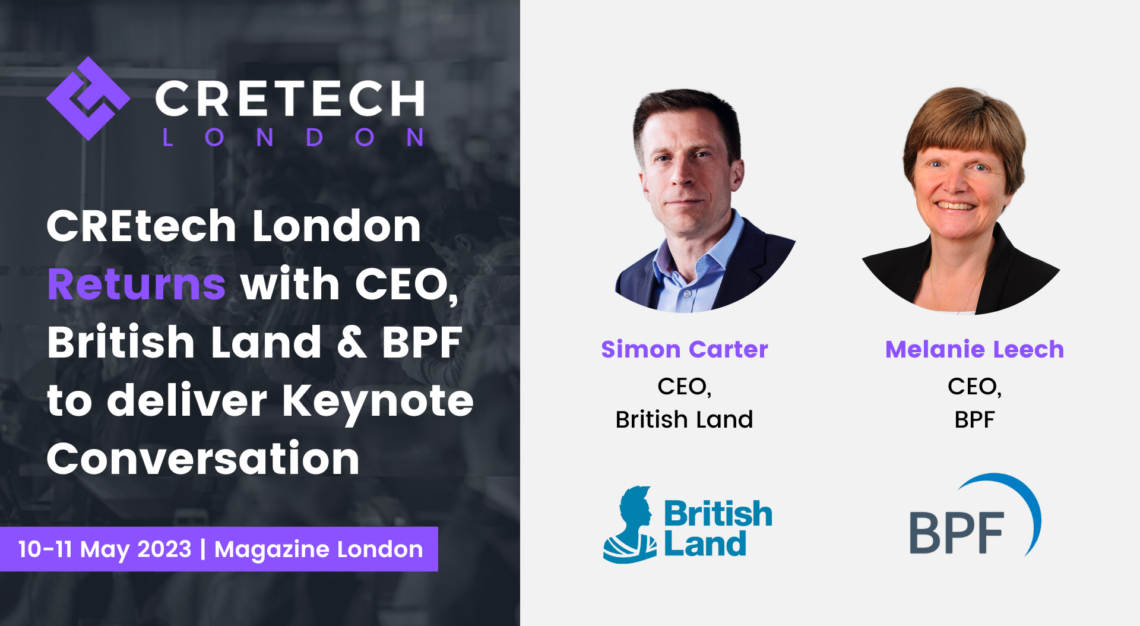 Europe's most important PropTech networking conference is back in London on 10-11 May, 2023


New York, NY (November 28, 2022) — CREtech, the largest international community of professionals devoted to technological innovation in the real estate sector, has announced the return of Europe's most important real estate technology networking conference, with Simon Carter, CEO, British Land, and Melanie Leech, CEO, British Property Federation, set to deliver a Keynote Conversation. CREtech London 2023 will take place on 10th-11th May at one of London's premiere event venues, Magazine London.
On the heels of CREtech's successful conferences in 2022 attracting over 5,000 delegates, CREtech conferences are recognized as the most important and forward-thinking events available in the real estate tech sector.

Attendees of CREtech London 2023 will get front row seats to exclusive keynote presentations and panels featuring the biggest names in the industry, the ability to schedule 1:1 in-person meetings through their event matchmaking app in CREtech's industry renowned Tech Connect Lounge, and an all-access pass to the expo hall packed with the latest real estate technology solutions.

On Day 1 of the London conference, Simon Carter, CEO, British Land and Melanie Leech, CEO, British Property Federation, will take center stage to deliver a keynote conversation. Simon has been CEO of British Land since November 2020. He joined British Land as CFO in May 2018 from Logicor, the European logistics specialist, where he had served as Chief Financial Officer since January 2017. Prior to joining Logicor, from 2015 to 2017 Simon was Finance Director at Quintain Estates & Development Plc. Simon previously spent over 10 years with British Land, working in a variety of financial and strategic roles. In May 2022, Simon was appointed to the Board of Real Estate Balance, a campaigning organisation working to improve diversity and inclusion in the real estate industry.
Melanie joined the British Property Federation in 2015, following nine years as Director
General of the Food and Drink Federation. Melanie began her working life as a Police Constable in the Metropolitan Police Service. She joined HM Customs in 1988 and subsequently held a number of senior roles in the civil service. Her role is to champion a diverse, successful and sustainable real estate UK real estate sector recognised for the positive benefits it delivers to communities across the Country. Melanie is also a Trustee of the property industry charity LandAid and a member of the Council of the University of Essex. She was awarded a CBE in 2015 for services to the food and drink industry.
CREtech London 2023 will bring together 1,500+ industry leaders including tech startups, VCs, landlords, owner/developers, occupiers, brokers and other key industry players who are eager to connect and get new deals done.

To secure super early bird tickets and learn more about the event, click here.

To learn more about partnership and sponsorship opportunities, click here.

About CREtech

CREtech is Reimagining Real Estate. We are the largest international community of professionals devoted to technological innovation in the real estate sector. Our mission is to help the industry embrace, adopt, and future-proof its businesses. Our streaming, live/virtual events, and consulting platform inspires the next generation of ideas, processes, and people to champion the world's largest asset class. Learn more: CREtech.com