CREtech New York Returns in 2023 Bigger and Better with an Expanded 3-Day Schedule at the Javits Center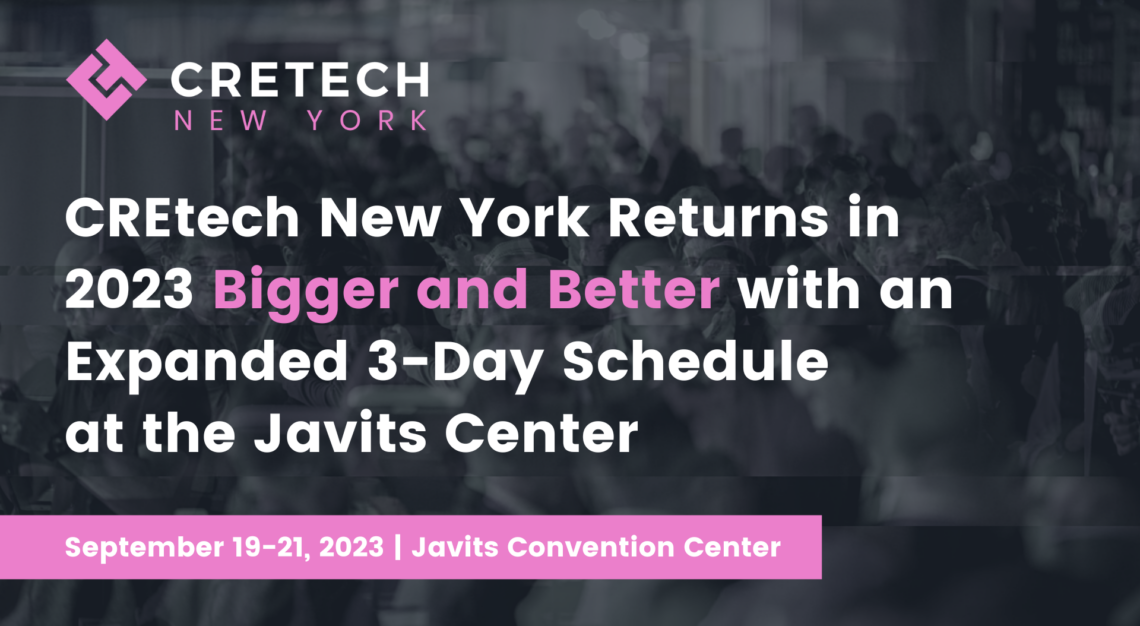 The largest US PropTech event is back in New York on September 19-21, 2023

New York, NY (December 9, 2022) — CREtech, the largest international community of professionals devoted to technological innovation in the real estate sector, has announced the return of its flagship conference, CREtech New York, taking place on September 19-21, 2023.

On the heels of the largest PropTech event in US history, CREtech New York 2022, which brought together nearly 2,500 real estate and technology professionals, CREtech will be expanding their 2023 flagship conference to 3 days and will be moving to a bigger venue, the Javits Center during New York Climate Week. The Javits Center is one of the largest event venues in the US located in the heart of Manhattan, with the new conference space boasting 90k sq ft in space.

Lindsey Imperatore, President of CREtech, said: "Following the huge success of CREtech New York 2022, we are thrilled to be returning in 2023 bigger and better than ever before. With the relocation to Javits,we look forward to bringing together even more real estate technology professionals, world-class content and a larger showroom floor featuring the most innovative technology solutions."

Attendees of CREtech New York 2023 will get front row seats to exclusive keynote presentations and panels featuring the biggest names in the industry, the ability to schedule 1:1 in-person meetings through their event matchmaking app in CREtech's industry renowned Tech Connect Lounge, and an all-access pass to the expo hall packed with the latest real estate technology solutions.
Attracting over 5,000 delegates at CREtech events in 2022, CREtech conferences are recognized as the most important and forward-thinking events available in the real estate tech sector.

To learn more about the CREtech New York 2023 and to register your interest, click here.

To learn more about partnership and sponsorship opportunities, click here.

About CREtech

CREtech is Reimagining Real Estate. We are the largest international community of professionals devoted to technological innovation in the real estate sector. Our mission is to help the industry embrace, adopt, and future-proof its businesses. Our streaming, live/virtual events, and consulting platform inspires the next generation of ideas, processes, and people to champion the world's largest asset class. Learn More: CREtech.com