Inaugural CREtech Climate Day to Emphasize Innovation and Sustainability in the Real Estate Industry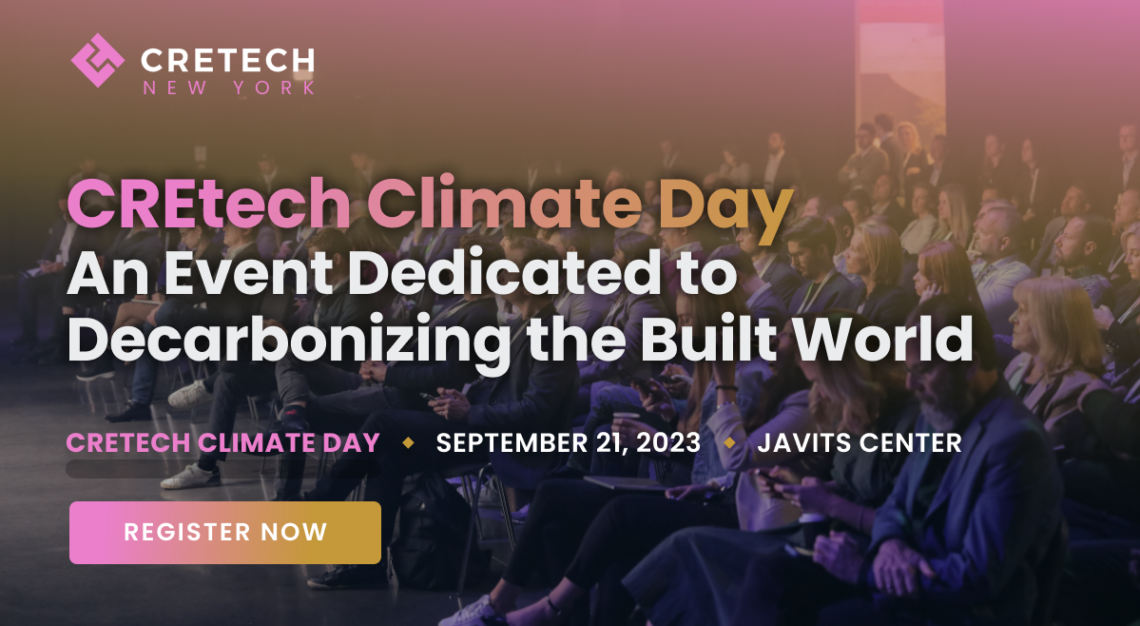 World renowned investor Chris Sacca to deliver opening keynote and other prominent real estate and climate tech leaders to present at CREtech Climate Day during NYC Climate Week

New York, NY (July 24, 2023) — CREtech, the world's leading community of professionals devoted to technological innovation and sustainability in the real estate sector, today announced its agenda at a glance and speakers for its CREtech Climate Day event, dedicated to Decarbonizing the Built World, on September 21, 2023, following its flagship CREtech New York conference and expo (September 19-20). This event will bring together industry leaders, innovators, and sustainability advocates to explore the intersection of technology, venture capital, real estate, government policy and climate change.
Taking place at the Nest Climate Campus at the Javits Center, CREtech Climate Day will bring together 350+ of the greatest minds in sustainability that are leading the way in decarbonizing the real estate industry. Content sessions feature influencers and decision makers from government, policy, real estate, venture capital and tech to share best practices.
Notable speakers include Chris Sacca, Managing Partner of Lowercarbon Capital, Parag Khanna, International Bestselling Author, Jonathan Flaherty, Managing Director and Global Head of Sustainability and Building Technologies for Tishman Speyer, Susan Uthayakumar, MD and Chief Sustainability and Energy Officer for Prologis and Joseph Allen, Associate Professor at Harvard's School of Public Health.
"With climate change creating unparalleled challenges to the built environment and contributing to 40% of greenhouse gas emissions within real estate, it is critical for the industry to rise to the occasion," said Michael Beckerman, CEO of CREtech and CREtech Climate. "By embracing innovative solutions that promote sustainability and resilience, Climate Day aims to act as the catalyst for change, fostering collaboration and inspiring actionable strategies that will shape the future of real estate in a climate-conscious world."
From technology startups building decarbonization solutions to the most active investors for ClimateTech solutions, from Fortune 500 Heads of Real Estate and Sustainability to real estate companies leading the way towards building to NetZero, CREtech Climate Day is bringing together the most influential group of experts ever assembled for the only dedicated climate event for the Built World during NYC Climate Week.
Attendees will have the opportunity to engage in thought-provoking discussions at CREtech's exclusive cocktail networking reception. The near final agenda can be viewed by clicking here, and CREtech will release further updates in the coming weeks.
"The expertise and visionary thinking of our keynotes, along with other industry leaders, will ignite discussions and spark transformative ideas that propel the industry towards adopting sustainable practices, reducing emissions, and building resilient communities," continued Beckerman.
To register and learn more about CREtech Climate Day, click here.
To learn more about sponsorships, click here.
About CREtech

CREtech is Reimagining Real Estate. We are the largest international community of professionals devoted to technological innovation and sustainability in the real estate sector. Our mission is to help the industry embrace, adopt, and future-proof its businesses. Our streaming, live/virtual events, and consulting platform inspires the next generation of ideas, processes, and people to champion the world's largest asset class. Learn More: cretech.com
For media inquiries:
FischTank PR
cretech@fischtankpr.com