International Bestselling Author, Parag Khanna, To Deliver Keynote Presentation at CREtech Climate Day, This September 21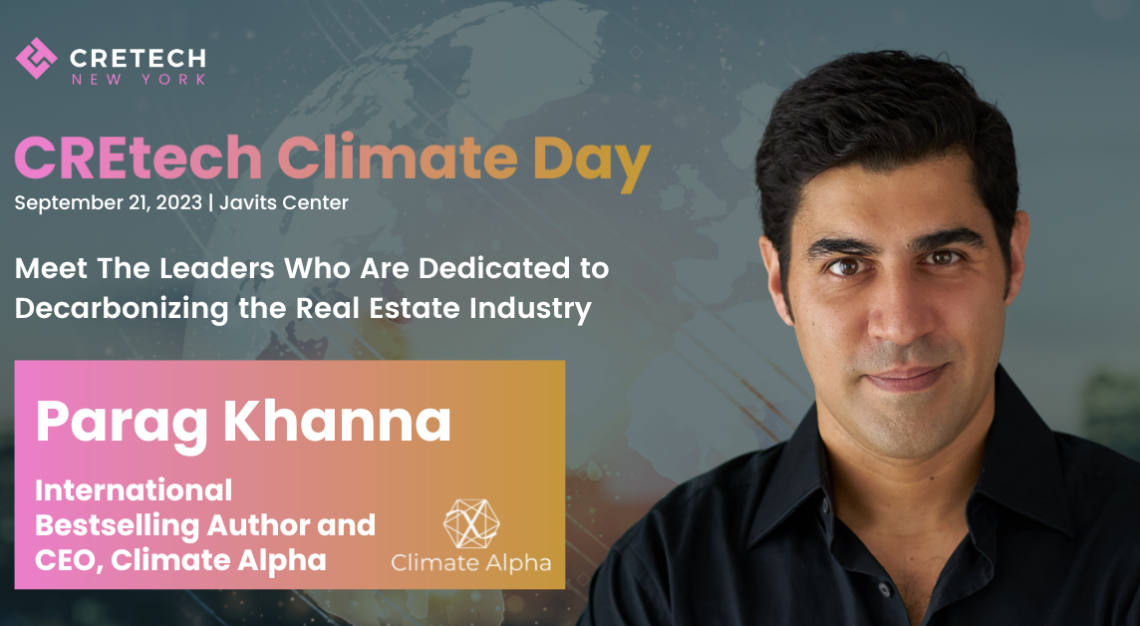 New York, NY (June 30, 2023) — CREtech, the world's leading community of professionals devoted to technological and sustainable innovation in the real estate sector, has announced International Bestselling Author, Parag Khanna, will deliver a Keynote Presentation at CREtech Climate Day, this September 21, at the Javits Center.

Parag Khanna is a leading global strategy advisor, world traveler, and bestselling author. He is Founder & CEO of Climate Alpha, an AI-powered analytics platform that future-proofs global investments, and Founder & Managing Partner of FutureMap, a data and scenario based strategic advisory firm.
Parag's latest book is MOVE: Where People Are Going for a Better Future (2021), which was preceded by The Future is Asian: Commerce, Conflict & Culture in the 21st Century (2019). He is author of a trilogy of books on the future of world order beginning with The Second World: Empires and Influence in the New Global Order (2008), followed by How to Run the World: Charting a Course to the Next Renaissance (2011), and concluding with Connectography: Mapping the Future of Global Civilization (2016). He is also the author of Technocracy in America: Rise of the Info-State (2017) and co-author of Hybrid Reality: Thriving in the Emerging Human-Technology Civilization (2012).
Parag was named one of Esquire's "75 Most Influential People of the 21st Century," and featured in WIRED magazine's "Smart List." He holds a Ph.D. from the London School of Economics, and Bachelors and Masters degrees from the School of Foreign Service at Georgetown University. He has traveled to more than 150 countries and is a Young Global Leader of the World Economic Forum.
Attendees of CREtech Climate Day can expect networking with the most influential climate professionals, main stage keynotes and panel sessions from world renowned leaders, and an exclusive cocktail networking reception.

CREtech is anticipating 350+ of the greatest minds in sustainability that are leading the way in the decarbonization of the Built World to attend CREtech Climate Day. Attendees can expect content sessions featuring influencers and decision makers from government, policy, real estate, venture capital and tech to share best practices, networking breakouts and an exclusive cocktail networking reception.
To register and learn more about sponsorship opportunities for CREtech Climate Day, click here.

About CREtech

CREtech is Reimagining Real Estate. We are the largest international community of professionals devoted to technological innovation in the real estate sector. Our mission is to help the industry embrace, adopt, and future-proof its businesses. Our streaming, live/virtual events, and consulting platform inspires the next generation of ideas, processes, and people to champion the world's largest asset class. Learn More: cretech.com