Stephanie Hyde, Chief Executive UK, JLL and Raj Singh, Managing Partner, JLL Spark, Set To Join CREtech London Main Stage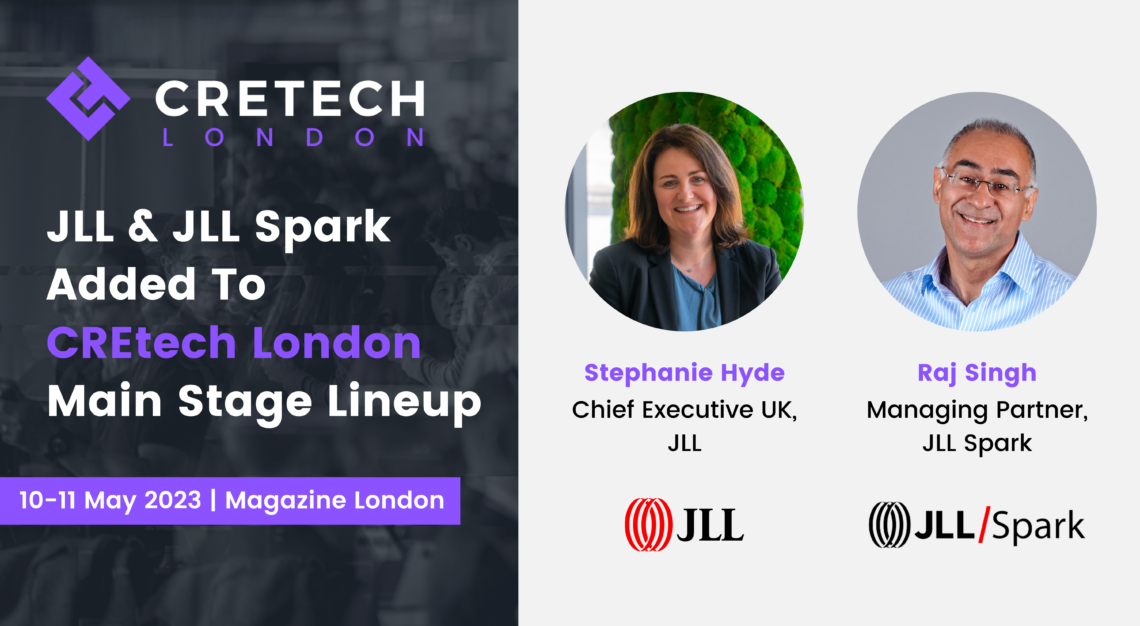 London (April 3, 2023) — CREtech, the largest international community of professionals  devoted to technological and sustainable innovation in the real estate sector, announced today that Stephanie Hyde, Chief Executive UK, JLL, and Raj Singh, Managing Partner, JLL Spark, will join the Main Stage speaker lineup for the Built World's largest innovation and sustainability conference series, CREtech London, this 10th-11th May.
Stephanie Hyde is the Chief Executive for JLL's UK business, leading over 8,000 real estate professionals. She is responsible for reinforcing JLL's position as a market leading advisor.
Since joining in April 2021, under her leadership, the UK business has renewed its commitment to its sustainability strategy and goals, with the expansion of its sustainability team and services alongside the introduction of a new sustainability framework. Stephanie believes that to achieve net zero carbon commitments, businesses must move beyond words, from strategy to implementation to deliver measurable actions.
Stephanie is passionate that JLL has the best comprehensive end-to-end offering that ensures clients are supported, understanding the opportunities that are available to them now and in the future. She is also a strong advocate for employee wellbeing and has pushed forward a number of policies aimed at creating a positive and supportive work environment.
Raj is Managing Partner of JLL Spark Global Ventures, the corporate venture capital group of Jones Lang LaSalle, focused on strategic proptech investments. Previously he was interim Co Head, and Managing Director, Head of Investments at JetBlue Technology Ventures, the CVC of JetBlue Airways.
Earlier, he was CEO and co-founder of London-based Sooqini, an on-demand economy task delegator for small businesses.
As a GP and co-founder of Pervasive Technology Ventures, and also as a Principal for the New York based VC arm of Investcorp, Raj sourced, negotiated and closed investments in tech start-ups.
1,500+ leading real estate professionals, including owners, landlords, occupiers and other decision makers, are expected to attend CREtech London this Spring to network, uncover new investment opportunities, and acquire cutting-edge products and services that are at the forefront of the industry's digital transformation.
The two-day conference will feature world-class content with leading C-Suite speakers who are  experts in built world innovation and sustainability across two stages; the Main Stage and the Innovation Stage. The stages will educate and inspire attendees through a mixture of exclusive keynote presentations, panel sessions, fireside chats and interactive sessions.
CREtech London attendees will also be able to schedule 1:1 in-person meetings through CREtech's official event matchmaking app in the industry renowned Tech Connect Lounge, and an all-access pass to the expo hall packed with the latest real estate technology solutions.
To learn more and register for CREtech London, click here.
To learn more about partnership and sponsorship opportunities, click here.
About CREtech 
CREtech is Reimagining Real Estate. We are the largest international community of professionals  devoted to technological innovation in the real estate sector. Our mission is to help the industry embrace,  adopt, and future proof its businesses. Our streaming, live/virtual events, and consulting platform inspires the next generation of ideas, processes, and people to champion the world's largest asset class. Learn more: CREtech.com