Nearly 1,500 Real Estate & Technology Professionals Attend CREtech's Third Annual CREtech London Conference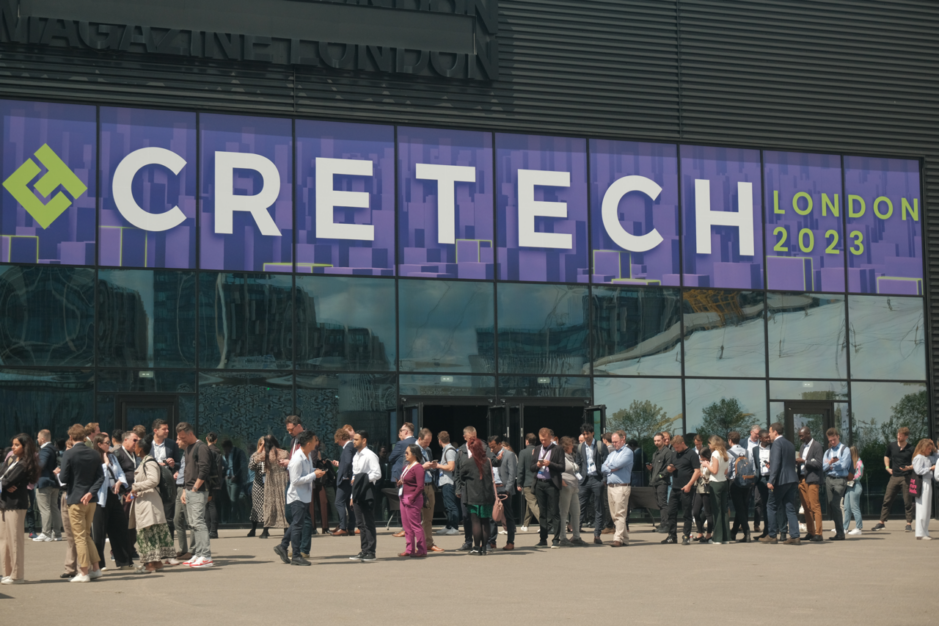 London (May, 12 2023) — CREtech, the largest international community of professionals devoted to technological and sustainable innovation in the real estate sector, assembled nearly 1,500 real estate and technology professionals at their third annual CREtech London conference, on May 10th and 11th, which has seen extraordinary reviews and feedback.
The two-day conference was held at Magazine London and featured two stages full of world-class content, C-suite speakers and an expo hall packed with the most innovative technology solutions. Attendees of the conference used CREtech's exclusive matchmaking app to set up 1,000+ 1:1 meetings hosted in their industry renowned Tech Connect Lounge, powered by Smart Spaces.
The conference's 75+ speakers hailed from global brokerages, major landlords, developers, venture firms and leading startups. Industry leaders on the Main Stage included Shobi Khan, CEO, Canary Wharf Group, Simon Carter, CEO, British Land, Stephanie Hyde, CEO UK, JLL, Raj Singh, Managing Partner, JLL Spark, Lisa Picard, Partner, Sway Ventures and Charlie Green, Co-Founder, The Office Group.
"CREtech London 2023 exceeds all our expectations. From the quality of attendees, exceptional speakers, and orchestration of the show, there's nothing like it. In an industry with plenty of proptech shows that love to tout 'we are the largest,' I'll take CREtech anytime, anywhere. See you in New York." - Lee Odess, CEO, Access Control Executive Brief
"CREtech London 2023 inspired myself and colleagues - as advisors, we walk away full of ideas that will help us have more progressive conversations with our clients." - Frank Lee, Associate Director, PwC Real Estate Advisory
"The quality of the speakers and knowledge shared at CREtech will keep me returning every year. The networking opportunities also give me a great return on my investment in attending." - Lucas Cusack, Strategic Lead for Asset Management, Glider Technology

"CREtech London was a fantastic event! We spent two exciting days meeting dozens of visitors and partners. Proud to present an innovative solution that meets the challenges of flexibility and efficiency sought by the entire real estate sector." - Sébastien Degrave, CMO, Trigrr
CREtech will return to Europe on October 23-25 for the CREtech Climate Global Leadership Summit hosted in Stockholm, Sweden, at 5 star hotel, Grand Hotel. The intimate gathering is aimed to foster relationship building with leading professionals from every corner of the sustainability spectrum. For three days, attendees will get to participate in high-level presentations and strategy solutions from the biggest names in climate technology through focused collaboration sessions and immersive experiences. The goal is to build a cohesive, organised coalition of built-world leaders who will work together beyond the event to create meaningful change in the climate crisis.
If you missed the CREtech London Conference, all sessions will be available to stream on CREtech+ soon.
If you are interested in getting involved as a sponsor in future CREtech events, click here.
To view upcoming CREtech events, click here.
About CREtech
CREtech is Reimagining Real Estate. We are the largest international community of professionals  devoted to technological innovation in the real estate sector. Our mission is to help the industry embrace,  adopt, and future proof its businesses. Our streaming, live/virtual events, and consulting platform inspires  the next generation of ideas, processes, and people to champion the world's largest asset class. Learn More: CREtech.com