Nearly 3,000 Professionals Attend the World's Leading Real Estate Innovation and Sustainability Conference, CREtech New York and Climate Day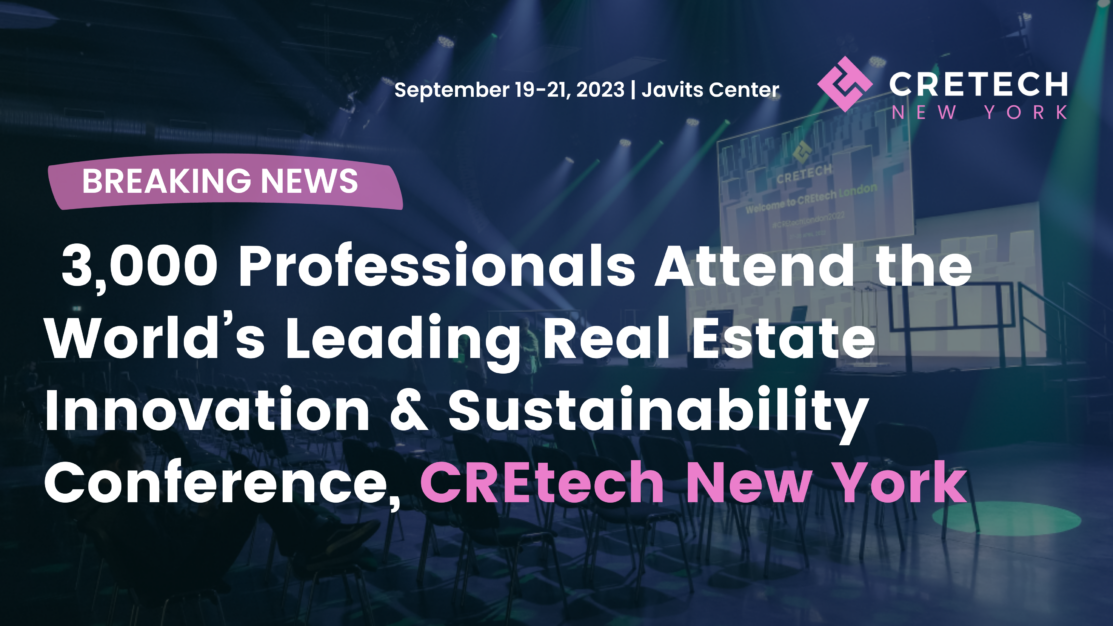 New York (September 22, 2023) — CREtech, the largest international community of professionals devoted to technological and sustainable innovation in the real estate sector, assembled nearly 3,000 real estate and technology professionals at their annual flagship New York conference and new Climate Day event on September 19th-21st, which has received extraordinary reviews and feedback.

The three-day conference expanded their presence with nearly 90k sq ft of space in the Javits Center, one of the largest event venues in the US located in the heart of Manhattan. The first two days of CREtech New York featured five stages full of world-class content, C-suite speakers and an expo hall packed with the most innovative technology solutions. Attendees of the conference used CREtech's exclusive matchmaking app to set up nearly 5,000+ 1:1 meetings hosted in their industry renowned Tech Connect Lounge.
In addition to the annual CREtech New York program, CREtech teamed up with the Nest Climate Campus at the Javits Center during Climate Week NYC to produce the first ever CREtech Climate Day on September 21. CREtech Climate Day hosted 500+ leaders in government, venture, real estate, technology, as well as academia. Content sessions feature influencers and decision makers from government, policy, real estate, venture capital and tech to share best practices.
"Our 2023 flagship New York City conference was one for the record books," stated Lindsey Imperatore, President, CREtech. "Our record attendance of real estate companies, including landlords, developers, occupiers, and other decision makers, who attended the three-day conference reflects the fact that tech is in great demand in the real estate industry today," Imperatore concluded.
CREtech New York brought the CEOs of the biggest real estate companies to their stages including, Scott Rechler, Chairman & CEO of RXR, Benjamin Schall CEO and President of AvalonBay Communities, Andrew Mathias, President, SL Green Realty Corp, MaryAnne Gilmartin, Founder and CEO, MAG Partners, Joanna Zabriskie, President & CEO of BH, Jonathan Rose, President of Jonathan Rose Companies.
CREtech Climate Day brought leaders in academia, government, venture, real estate, and technology to its stage, including legendary venture investor Chris Sacca of Lowercarbon Capital, Parag Khanna, CEO of Climate Alpha, Joseph Allen, Associate Professor at T.H. Chan School of Public Health, Clare Newman, President & CEO at Trust for Governors Island, Dana Robbins Schneider, Senior Vice President, Director of Energy, Sustainability & ESG at Empire State Realty Trust, as well as countless other industry leaders. To see all speakers, click here.

For their next event, CREtech will return to Europe on October 23-25, 2023 for the CREtech Climate Global Leadership Summit hosted in Stockholm, Sweden, at 5 star hotel, Grand Hotel. The intimate gathering is aimed to foster relationship building with leading professionals from every corner of the sustainability spectrum. For three days, attendees will get to participate in high-level presentations and strategy solutions from the biggest names in climate technology through focused collaboration sessions and immersive experiences. The goal is to build a cohesive, organized coalition of built-world leaders who will work together beyond the event to create meaningful change in the climate crisis.

If you missed the CREtech New York Conference, all sessions will be available to stream on CREtech+ soon.

If you are interested in getting involved as a sponsor in future CREtech events, click here.

To view upcoming CREtech events, click here.

About CREtech

CREtech is Reimagining Real Estate. We are the largest international community of professionals devoted to technological innovation in the real estate sector. Our mission is to drive tech adoption and innovation in the built world by organizing two large-scale conferences annually in New York and London. Learn more: CREtech.com.