NEW Climate Session Announced for CREtech New York Conference Featuring Boston Properties (BXP), Ivanhoe Cambridge, Tishman Speyer Properties, LaSalle Investment Management and ALM Global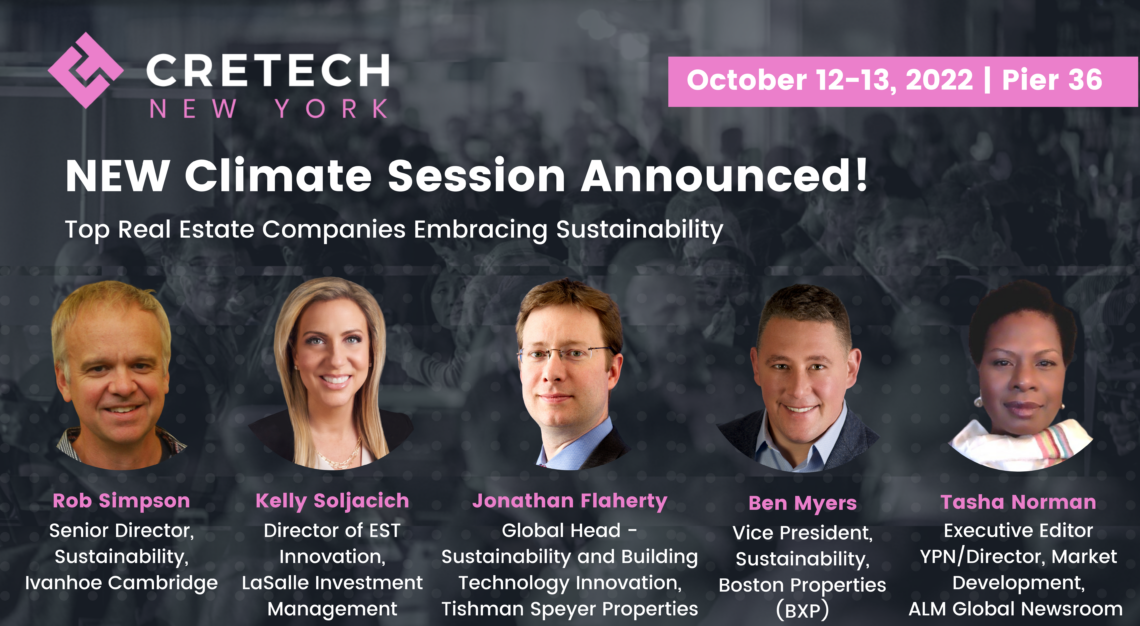 New York, NY (September 26, 2022) —  CREtech, the largest international community of professionals devoted to technological innovation in the real estate sector, has announced a new Climate Panel session for its upcoming flagship conference, CREtech New York, on October 12-13. The panel session 'Top Real Estate Companies Embracing Sustainability' will take place on Day 2 of the conference at the all-new Climate Pavillion from 1pm - 1:40pm.

The Climate Pavilion will feature leaders discussing technologies that support sustainability and ESG standards for the built world. Trailblazers joining the 'Top Real Estate Companies Embracing Sustainability' panel to discuss their respective company missions, drivers and strategies leading the way in embracing sustainability include:

Rob Simpson, Senior Director, Sustainability, Ivanhoe Cambridge

Jonathan Flaherty, Global Head - Sustainability and Building Technology Innovation, Tishman Speyer Properties

Ben Myers, Vice President, Sustainability, Boston Properties (BXP)

Kelly Soljacich, Director of EST Innovation, LaSalle Investment Management

Moderated by Tasha Norman, ALM Global Newsroom, Executive Editor, YPN | Director, Market Development, ALM Global
Headlining the conference as featured Keynote speakers include Bjarke Ingels, Founder and Partner of BIG - Bjarke Ingels Group, Laura Hines-Pierce, Co-CEO, Hines, Willy Walker, Chairman & CEO, Walker & Dunlop, Sonny Kalsi, Co-CEO, BentallGreenOak, Michael Phillips, President, Jamestown, Michael Turner, President, Oxford Properties and Richard Croft, Executive Chairman, M7 Real Estate Ltd. To view the full lineup of speakers, click here.
The two-day conference will also feature world-class content with leading C-Suite speakers who are experts in built world innovation across five stages; The Main Stage, Innovation Stage, and all-new Ask Me Anything Stage and Climate & Affordable Housing Pavilions. The stages will educate and inspire attendees through a mixture of exclusive keynote presentations, panel sessions, fireside chats and interactive sessions. View the agenda here.

CREtech New York attendees will also be able to schedule 1:1 in-person meetings through CREtech's official event matchmaking app in the industry renowned Tech Connect Lounge, and an all-access pass to the expo hall packed with the latest real estate technology solutions. 
To register and learn more about the event, click here.
To learn more about partnership and sponsorship opportunities, click here.

About CREtech
CREtech is Reimagining Real Estate. We are the largest international community of professionals devoted to technological innovation in the real estate sector. Our mission is to help the industry embrace, adopt, and future proof it's businesses. Our streaming, live/virtual events, and consulting platform inspires the next generation of ideas, processes, and people to champion the world's largest asset class.

Learn More: CREtech.com