NEW CREtech San Diego Panel Announced: "How ConTech Leads to Better Outcomes for GCs, Owners, & Beyond"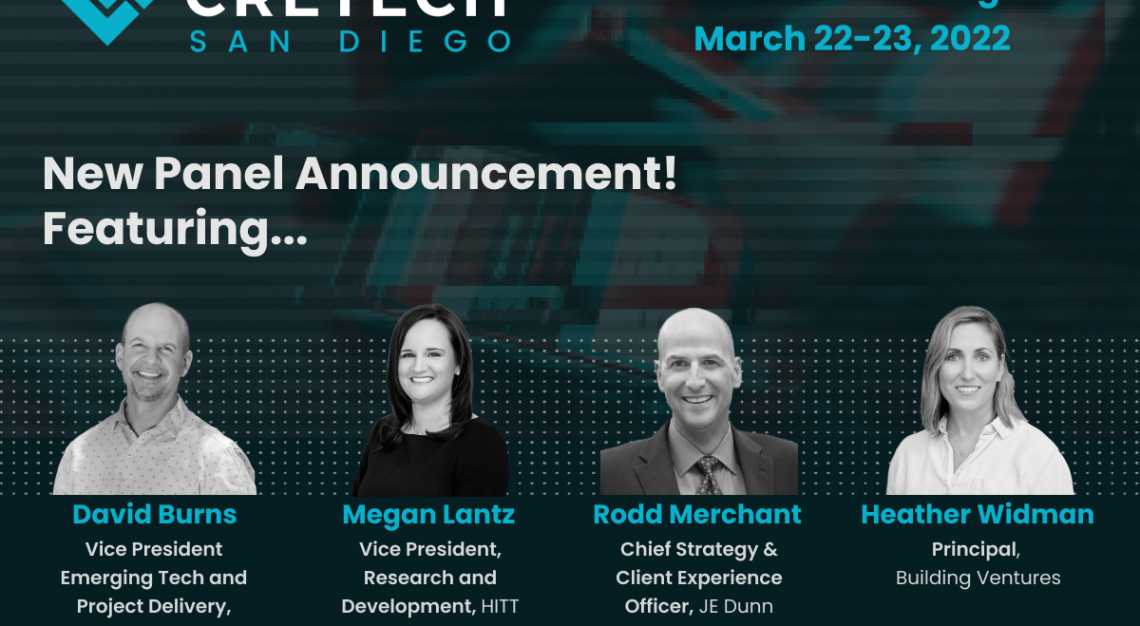 New York, NY (January 27, 2022) — CREtech, the largest international community of professionals devoted to technological innovation in the real estate sector, has announced a new construction panel and its speakers for CREtech's debut West Coast conference in 2022, CREtech San Diego, taking place in-person on March 22-23. The session, 'Productivity & Profitability: How ConTech Leads to Better Outcomes for GCs, Owners, & Beyond' will take place on Day 2 of the conference on the Main Stage.

Attendees will hear directly from the leaders of three top general contractors and explore their approach to innovation through ConTech. Speakers include Heather Widman, Principal at Building Ventures, David Burns, Vice President Emerging Tech and Project Delivery at McCarthy Building Companies, Inc. Megan Lantz, Vice President, Research and Development at HITT Contracting Inc. and Rodd Merchant, Chief Strategy & Client Experience Officer at JE Dunn Construction.

The panelists will discuss their process for reviewing new tech, the successes they've seen, the challenges they're still looking to solve, and the benefits of ConTech that extend to the owners and occupiers. Heather Widman of Building Ventures, the VC firm dedicated to supporting early-stage construction and real estate technology startups, will lead the panel, centering the discussion on the increased focus, activity, and adoption of the current ConTech market.

The 2022 conference will feature two stages full of cutting-edge content, a packed expo hall featuring real estate technology providers and CREtech's renowned Tech Connect Lounge which will host 1:1 meetings scheduled through the official event matchmaking app. Over 1,000 real estate executives from around the world will attend the CREtech San Diego conference to network, uncover new investment opportunities, and acquire leading-edge products and services to enable digital transformation for the largest industry in the world.

To purchase CREtech San Diego 2022 conference tickets, click here.
To learn more about partnerships and sponsorships, click here.
About CREtech

CREtech is Reimagining Real Estate. We are the largest international community of professionals devoted to technological innovation in the real estate sector. Our mission is to help the industry embrace, adopt, and future proof its businesses. Our streaming, live/virtual events, and consulting platform inspires the next generation of ideas, processes, and people to champion the world's largest asset class. Learn more: cretech.com