CREtech Announce New Speakers From Openpath, Pi Labs, Prescriptive Data and Alpaca VC to CREtech New York Conference Lineup this October 12-13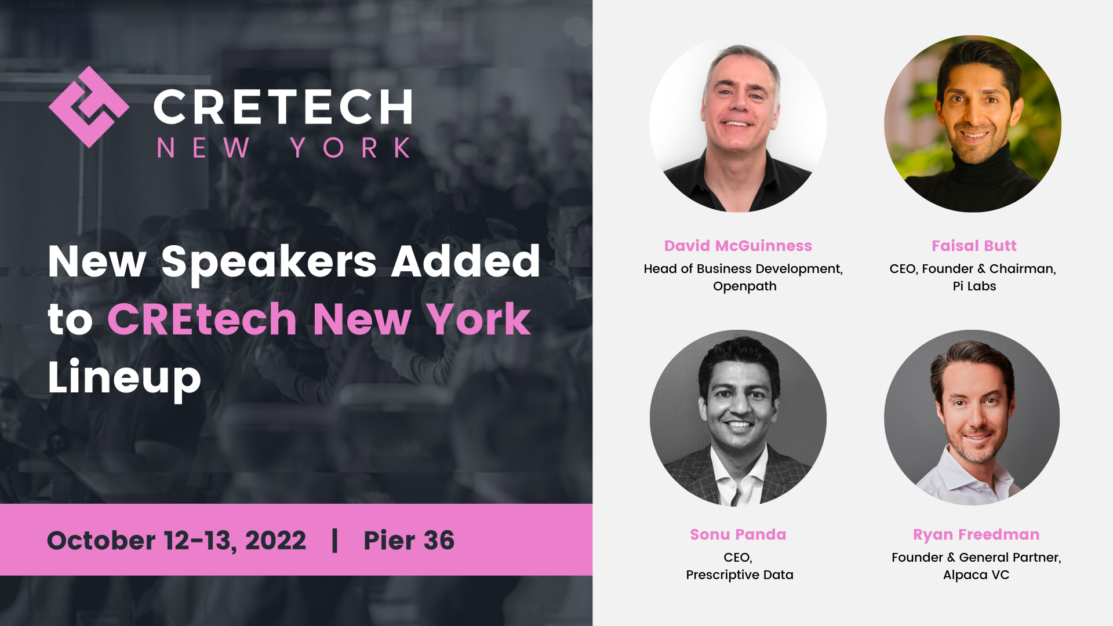 New York, NY (July 18, 2022) — CREtech, the largest international community of professionals devoted to technological innovation in the real estate sector, announced today that speakers from Openpath, Pi Labs, Prescriptive Data and Alpaca VC will join the speaker lineup for CREtech's flagship conference and largest real estate technology conference, CREtech New York, this October 12-13.
Over 1,500 real estate tech professionals from around the world are expected to attend CREtech New York this fall to network, uncover new investment opportunities, and acquire cutting-edge products and services that are at the forefront of the industry's digital transformation.

New speakers added to CREtech New York's lineup include: 
David McGuinness, Head of Business Development, Openpath

Faisal Butt, CEO, Founder & Chairman, Pi Labs

Sonu Panda, CEO, Prescriptive Data

Ryan Freedman, Founder & General Partner, Alpaca VC

See all confirmed speakers

here
The two-day conference will feature exclusive keynote presentations, panel discussions, and demos from the biggest names in the real estate technology industry. Headlining the conference as featured Keynote speakers are Laura Hines-Pierce, Co-CEO, Hines, Willy Walker, Chairman & CEO, Walker & Dunlop and Sonny Kalsi, Co-Chief Executive Officer, BentallGreenOak.
CREtech New York attendees will also be able to schedule 1:1 in-person meetings through CREtech's official event matchmaking app in the industry renowned Tech Connect Lounge, and an all-access pass to the expo hall packed with the latest real estate technology solutions.

To secure super early bird tickets and learn more about the event, click here.
To learn more about partnership and sponsorship opportunities, click here.

About CREtech
CREtech is Reimagining Real Estate. We are the largest international community of professionals devoted to technological innovation in the real estate sector. Our mission is to help the industry embrace, adopt, and future proof it's businesses. Our streaming, live/virtual events, and consulting platform inspires the next generation of ideas, processes, and people to champion the world's largest asset class.

Learn More: CREtech.com