Ryan Marshall, President and CEO of PulteGroup, Inc and Brad Greiwe, Co-Founder and Managing Partner of Fifth Wall Added to the CREtech San Diego 2022 Lineup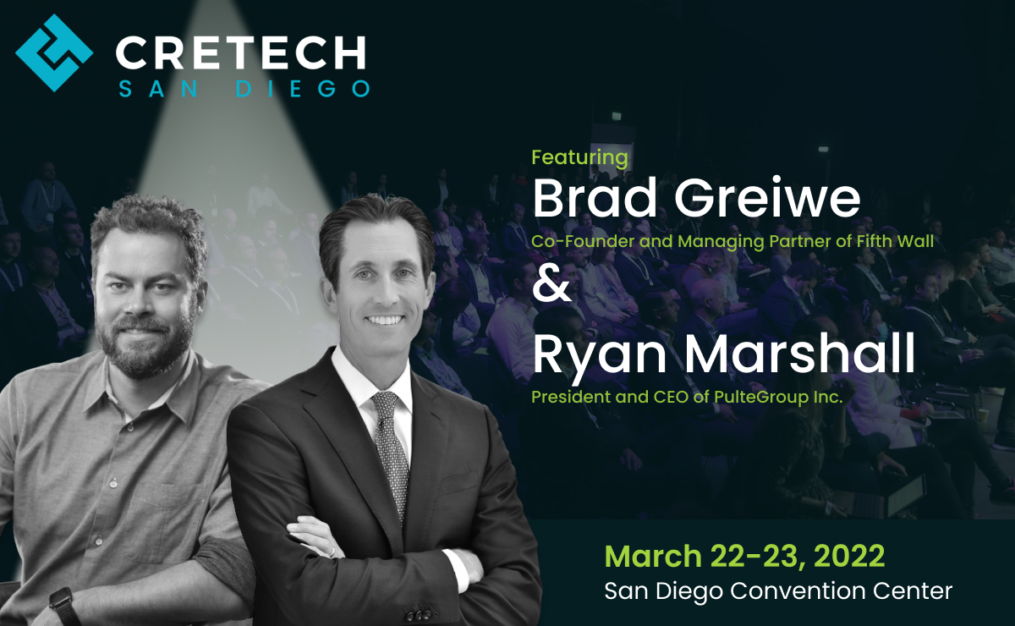 March 22 and 23rd In-Person Conference Will Be CREtech's Sole West Coast Conference In 2022
New York, NY (December 13, 2021) — CREtech, the largest international community of professionals devoted to technological innovation in the real estate sector, has announced that President and CEO of PulteGroup, Inc. (NYSE: PHM), Ryan Marshall, and Co-Founder and Managing Partner of Fifth Wall, Brad Greiwe, will take center stage at CREtech San Diego 2022 for a Fireside Chat discussing how PulteGroup embraces technology and innovation in the residential sector.
"The addition of Ryan Marshall and Brad Greiwe to our Keynote stage at CREtech San Diego reflects not only our continued ability to attract the leading C-Suite executives to our stages, but also our expansion into the residential real estate sector," stated Michael Beckerman, CEO, CREtech. "This exclusive 1:1 between Ryan and Brad will provide our audience with important insights as to how one of the world's leading homebuilders embraces innovation and adopts technology throughout its operations and developments," Beckerman added.
PulteGroup is currently the nation's third largest homebuilder in terms of homes delivered annually and maintains an operating platform that spans over 40 major cities.  Since being founded in 1950, PulteGroup has delivered almost 750,000 homes throughout the United States.
In September 2016, Ryan R. Marshall was promoted to President and Chief Executive Officer of PulteGroup, Inc., among the nation's most geographically and product-diverse homebuilders with operations in 26 states. The Company serves all major consumer groups through its family of national brands which include Pulte Homes, Centex, Del Webb, DiVosta Homes and John Wieland Homes and Neighborhoods.
Fifth Wall is the largest venture capital firm focused on technology-driven innovation for the global real estate industry.

Brad Greiwe is a Co-Founder and Managing Partner of Fifth Wall, where he guides the firm's strategic vision. Prior to starting Fifth Wall, Brad co-founded Invitation Homes (NYSE: INVH), a multi-billion dollar owner and operator of single-family rental properties originally backed by The Blackstone Group. As CTO, he positioned Invitation Homes as the dominant technology-forward brand in the single-family rental category, developing a proprietary technology stack to support the valuation, acquisition, rehabilitation, leasing, and professional management of over 80,000 homes in 17 major markets, serving 120,000 residents across the U.S.

Brad started his career in investment banking at UBS in the real estate, lodging, and leisure group, where he tallied over $33 billion of M&A advisory work and $1 billion of debt and equity financing, including the sale of Hilton Hotels to The Blackstone Group for $26 billion—the largest hotel privatization in history. He then worked in real estate private equity at Tishman Speyer and Starwood Capital, where he executed over $30 billion of acquisitions, debt financing, and development projects.

Over 2,000 real estate executives from around the world will attend the CREtech San Diego conference to network, uncover new investment opportunities, and acquire leading-edge products and services to enable digital transformation for the largest industry in the world. Attendees of CREtech's debut in San Diego will discover the most innovative technology solutions, whilst connecting in-person with the most prestigious group of real estate tech professionals in the world.

To purchase super early bird conference tickets, click here.

To learn more about partnerships and sponsorships, click here.
About CREtech

CREtech is Reimagining Real Estate. We are the largest international community of professionals devoted to technological innovation in the real estate sector. Our mission is to help the industry embrace, adopt, and future proof its businesses. Our streaming, live/virtual events, and consulting platform inspires the next generation of ideas, processes, and people to champion the world's largest asset class.
Learn more: cretech.com