CREtech New York Returns with Willy Walker, Chairman and CEO, Walker & Dunlop, Set to Deliver Keynote Presentation this October 12-13, 2022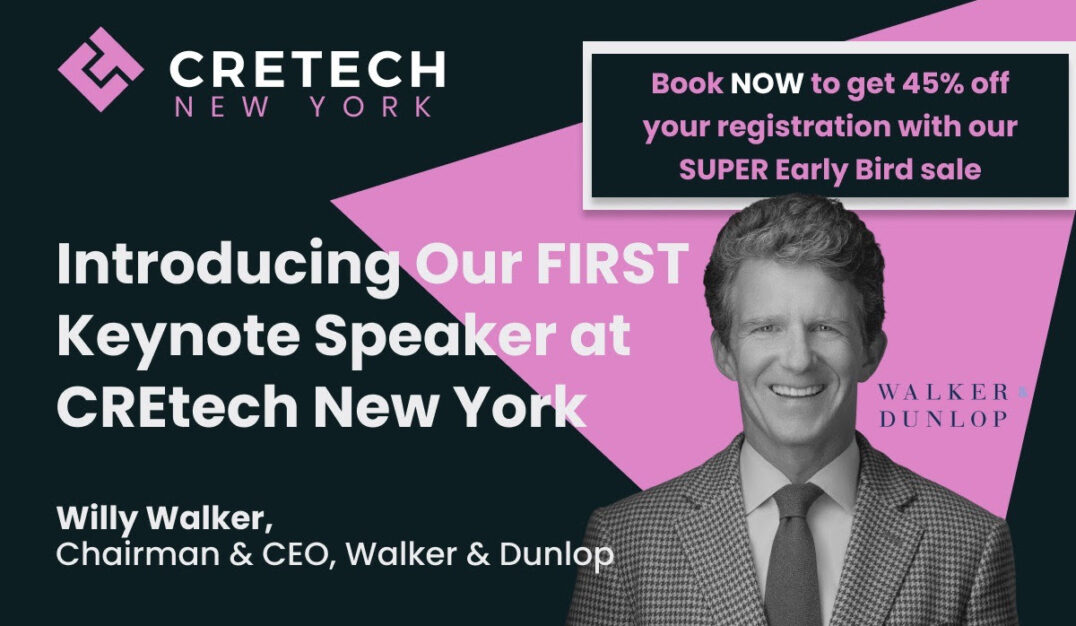 The world's most important real estate tech networking event is back in New York this Oct. 12-13, 2022
New York, NY (May 17, 2022) — CREtech, the largest international community of professionals devoted to technological innovation in the real estate sector, has announced the return of its flagship conference and largest PropTech event in its 2022 conference series, CREtech New York. Willy Walker, Chairman and CEO, Walker & Dunlop, is set to deliver a Keynote Presentation at CREtech New York 2022, which will take place on October 12-13 at Pier 36, a state of the art sports and entertainment facility located on South Street in Manhattan.

Over 1,500 real estate tech professionals from around the world are expected to attend CREtech New York this fall to network, uncover new investment opportunities, and acquire cutting-edge products and services that are at the forefront of the industry's digital transformation.

Willy Walker will take center stage on October 13 to deliver a keynote presentation on how their CRE lending and investment sales company is differentiating itself in the marketplace and emerging as a technology-enabled business.

Willy Walker is Chairman and Chief Executive Officer of Walker & Dunlop. Under Mr. Walker's leadership, Walker & Dunlop has grown from a small, family-owned business to become one of the largest commercial real estate finance companies in the United States. Walker & Dunlop is listed on the New York Stock Exchange, and in its first ten years as a public company has seen its shares appreciate over 800%. The firm was also #17 on Fortune's 2017 list of "Fastest Growing Public Companies", and has been named a Best Workplace for five of the past six years by the Great Place to Work® Institute. Mr. Walker received the Ernst & Young Entrepreneur of the Year award in 2011 and was named "Financier of the Year" in 2017 and 2020 by Commercial Mortgage Observer.
Attendees of CREtech New York 2022 will get front row seats to exclusive keynote presentations and panels featuring the biggest names in the industry, the ability to schedule 1:1 in-person meetings through their event matchmaking app in CREtech's industry renowned Tech Connect Lounge, and an all-access pass to the expo hall packed with the latest real estate technology solutions. 
To secure super early bird tickets and learn more about the event, click here. 
To learn more about partnership and sponsorship opportunities, click here.
About CREtech
CREtech is Reimagining Real Estate. We are the largest international community of professionals devoted to technological innovation in the real estate sector. Our mission is to help the industry embrace, adopt, and future-proof its businesses. Our streaming, live/virtual events, and consulting platform inspires the next generation of ideas, processes, and people to champion the world's largest asset class. Learn More: CREtech.com