Bjarke Ingels, World-Renowned Architect and Designer, to Keynote at the Inaugural CREtech Climate Global Leadership Summit in Copenhagen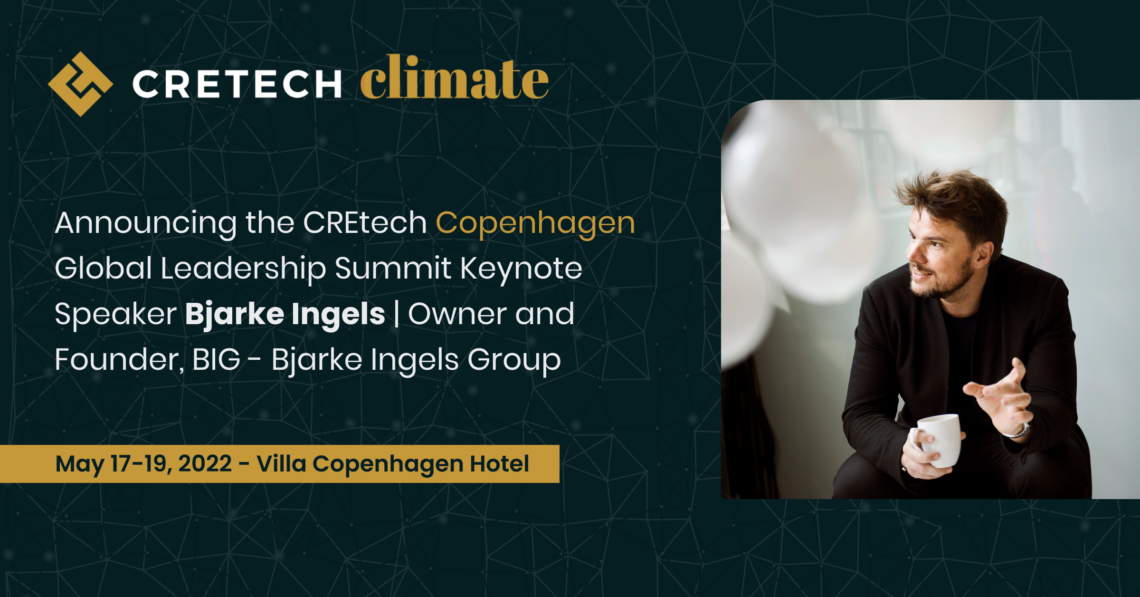 CREtech launches first of its kind CREtech Climate Global Leadership Summit in Copenhagen, May 17-19, to address the most urgent global climate issues impacting the real estate sector.
New York, NY (February 28, 2022) — CREtech, the world's leading community of professionals devoted to technological innovation in the real estate sector, has announced that world-renowned architect and designer, Bjarke Ingels, will take center stage to present a Keynote presentation on Day 1 of the CREtech Climate Global Leadership Summit in Copenhagen. The inaugural Summit will take place on May 17-19, 2022 at Villa Copenhagen Hotel, one of the most eco-friendly five-star hotels in the world's most sustainable city.

The CREtech Climate Global Leadership Summit will gather 200 of the world's leading professionals from every corner of the sustainability spectrum for three days of high-level presentations and strategy solutions from the biggest names in climate technology through focused collaboration sessions and immersive experience.

Featuring a mix of visionary "state of the climate" special addresses and high-level leadership sessions focusing on critical collective climate challenges, the agenda will mobilize heads of state and government, business leaders, international organizations and civil society to share their outlook, insights and plans to address the global climate crisis.

Bjarke Ingels started BIG - Bjarke Ingels Group in 2005 after Co-Founding PLOT Architects in 2001 and working at the Office of Metropolitan Architecture in Rotterdam, The Netherlands. Through a series of award-winning design projects and buildings, Bjarke has developed a reputation for designing buildings that are as programmatically and technically innovative as they are cost and resource conscious.
Bjarke has received numerous awards and honors, including the Danish Crown Prince's Culture Prize in 2011, the Golden Lion at the Venice Biennale in 2004, and the Urban Land Institute (ULI) Award for Excellence in 2009. In 2011, the Wall Street Journal awarded Bjarke the Architectural Innovator of the Year Award. Architizer awarded BIG as Firm of the year. In 2016, Time Magazine named Bjarke one of the 100 most influential people in the world today.
Expert speakers amongst the lineup sharing unique, world-renowned perspectives on decarbonizing the built world include Mikkel Bülow-Lehnsby, Co-founder and Chairman at NREP and 2150 and Parag Khanna, Founder and Managing Partner of FutureMap.
"For me personally having Bjarke Ingels speak at one of our CREtech conferences has always been one of my top goals and the fact that he is going to be delivering a Keynote at our inaugural climate event is truly a dream come true for me." stated Michael Beckerman, CEO, CREtech and CREtech Climate. "Few real estate industry leaders globally have had the impact on sustainability that Bjarke and his team have had and done it with such flair, originality and purpose that his work has inspired people around the world to think like BIG," Beckerman concluded.

Attendees will walk away with concrete ideas, inspiration and important new connections to inspire real and meaningful change in the race to net zero. Tickets include a two night stay at the 5-star Villa Copenhagen Hotel, an all-access conference pass to attend all sessions, workshops and networking functions, dinner hosted by co-sponsor, NREP and much more. After the event, attendees will receive a full attendee list, an exclusive attendee-only whitepaper, video recordings from all sessions and early priority access to register for the 2023 Summit.
For more information and to attend the historic event, click here.
To learn more about partnership and sponsorship opportunities, click here.

About CREtech
CREtech is Reimagining Real Estate. We are the largest international community of professionals devoted to technological innovation in the real estate sector. Our mission is to help the industry embrace, adopt, and future-proof its businesses. Our streaming, live/virtual events, and consulting platform inspires the next generation of ideas, processes, and people to champion the world's largest asset class.
Learn More: CREtech.com

About CREtech Climate

CREtech Climate serves as the "voice" of the real estate industry's commitment to climate tech by developing a global consortium of thought-leaders, policy makers, venture capitalists, startups, and real estate companies. The overriding goal of CREtech Climate is to significantly reduce the industry's carbon footprint by driving investments and encouraging the adoption of climate technologies as well as ESG/Sustainability initiatives.

Learn More: CREtechClimate.com