Coliving's Historic Rise to Modern Prominence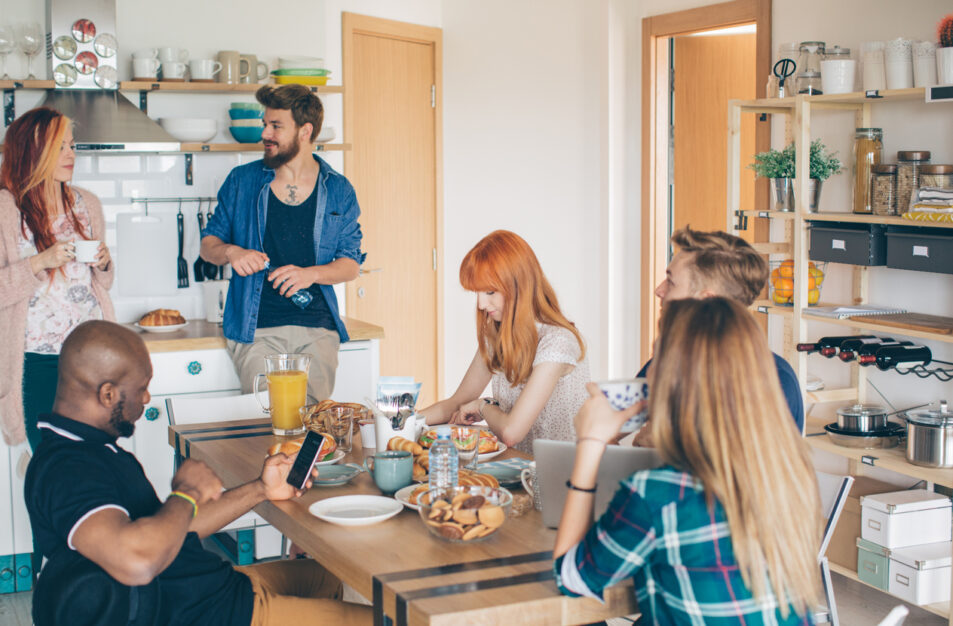 While many used to sneer at the concept of co-living, not any longer. Forms of cohabitation have been happening from the beginning of time—spiritual ashrams and monasteries, tribal villages, boarding houses, residential hotels, and communal kibbutzim, to start. While the desire for increased privacy and space have ruled housing trends for centuries, coliving has always had a base, and it's only getting stronger as the success of companies like Airbnb provide modern solutions to a range of issues. It turns out that as prices continue to rise in major metros throughout the country and world, salaries haven't kept up. Then there's the sheer dilemma of how to house more people in desirable urban city-centers. Combined, these issues form the driving force behind the rapid growth of coliving establishments.
And make no mistake: The growth has been rapid.
JLL research indicates that "this is an emerging market: Of the total U.S. investment grade  coliving inventory, 55% was delivered in 2018." Cities are struggling to cope with affordability and declining mental health. They're struggling to keep pace with swift shifts as more people move to urban centers.
Spawning a New Asset Class
Coliving provides a ready solution; it enables more residents to occupy less square footage in areas where physical space is at a premium and property values are high. "Ten tenants willing to share a living room, after all, means they need less relaxing space in their unit, leaving more room for other units, which can in turn, be rented by more tenants," says journalist Kate Worthington. More bedrooms and higher density mean that, "on average, coliving asset floorplates hold nearly twice the number of bedrooms than comparably sized conventional multi-family assets," according to JLL research, and that "coliving assets can capture a more than 30% net rent premium* p.s.f. compared to conventional apartments."
Another aspect of coliving contends with the effects of solo living and the breakdown of communities. Gillian Morris, founder of the Gramercy House in NYC, which was previously covered in the New York Times, is a strong believer in the merits of communal living:
"By pooling resources and sharing chores, I save thousands of hours and dollars a year. But the practical benefits are only a small part of the story. I've met friends, lovers, and business partners through the commune network, and feel like my life is immeasurably richer for having shared it with a larger community. And in a world where we're going to continue to have more people and finite resources, we could all afford to get better at sharing."
There are vast opportunities unfolding within coliving right now, and we are seeing the rise of a new real estate asset class for the first time in a very long time. Coliving's strong basis in historical housing norms, coupled with modern issues plaguing urban centers, indicates real staying power and massive room for growth within this asset class. Coliving represents a means to increase NOI per square foot, a type of communal living experience that is and will be sought, and a path toward addressing what many believe to be societies' great risk: loneliness. The impact of this new asset class cannot be understated.
The primary categories within the coliving asset class include:
Fraternities / Sororities: While these buildings are technically multi-family, they deserve a category of their own due to their historical significance and brand. For most people, this was their first experience with coliving before the sector materialized into a known thing.
Communes / Shared Single Family: Gillian Morris "use[s] 'commune' to describe a set of adults living together by choice rather than economic necessity, where any 'profits' made are shared by the community." Communes exist across the U.S., with locations such as Gramercy House in New York City and The Embassy in San Francisco. Not quite a commune (depending on the definition you use), Bungalow turns single family homes with 3+ bedrooms into coliving operations—Bungalow finds roommates for tenants and for homeowners represents reliable revenue, no turnover/vacancy, and long term professionals as tenants. More formally, Cohousing Association of the United States "advances cohousing by assisting forming and existing communities through a robust network of resources and access to technical assistance; and educating the public about the benefits of cohousing, from resource conservation and sustainability to resilient communities and healthy families."
Multi-Family: This is where the majority of the new money is being invested and represents a modern version of the houses that have dotted Greek Row at college campuses for over a century. The difference here is the lack of a "unifying" value set that unites residents. Multi-family cohousing developments are often—though not always—used out of economic necessity more than anything else.
Another boon for the re-emerging coliving market is the indication that developers are willing to look at the market and adapt to the needs of the current crop of coliving-inclined people. Anil Khera, Founder and CEO of Node, noted that "few people want to spend over [$1,120/]€1,000 per month, live in 100 square feet, and share a kitchen with 10 other people. There has to be a co-living model that embraces communal living and the sharing economy, but with slightly larger private spaces for sustainable independent living too."
Capital Markets and Lending
Money drives movements. The capital markets side of the business is vital to coliving's overall success. Tech can actually increase the value of a physical asset by increasing NOI with operations and on-demand services.
Acceptance from lending institutions is extremely important to future prospects—it allows for the trading of coliving assets like multi-family. To that end, the multi-family sector is thinking along entirely new lines and it's shaking up everything once considered givens within multi-family developments.
The Collective and Ollie (which recently raised $50 million) are underwritten as multi-family, not student housing. Ollie also manages ALTA LIC, the largest ground up coliving building in the country, which Simon Baron Development recently acquired the vast majority stake in for $313.2/£240.8 million at a multi-family valuation. Meanwhile, The Collective's Old Oak property went through a $162.5/£125 million refinancing backed by Deutsche Bank.
Big investments elsewhere include a $300/£230.6 million deal for Quarters by Medici Living Group, Europe's leading coliving developer, to bring 1,300 units online in the United States (not to mention the $1 billion raised to put 6,000 beds in Europe). PMGx, which has more than $3 billion in real estate assets under management, also plans to offer up to 7,000 beds in 3,500 U.S. apartments over the coming years.
Matthew Polci from Mission Capital Advisors said the "higher rents that co-living units can achieve typically translate into an operating margin [that's] 30 to 50 percent higher than conventional multi-family."
There's already massive capital flowing into the market. JLL research shows that "global fundraising in the coliving space leapt by 182% in 2018; [and there was] $300.0 million secured in early 2019 with $283.0 million in pipeline." As more deals are closed, built, and leased up—and as outsized returns accumulate—the growth rate of this new asset class will only increase.
Trends Propelling the Coliving Movement
If money is a key pillar driving movements, social and market trends are a second key pillar propelling the rise of the modern coliving movement. Coliving has become a viable asset class on the back of these four trends.
Rising Rental Costs // A Fork at the Affordability Table
Housing in U.S. cities is simply not affordable for most people. Homelessness epidemics have swept across cities such as Seattle and San Francisco and populations displaced by gentrification have few affordable options available. It's so large a problem that Salesforce CEO Marc Benioff donated $30 million to UCSF to study the issue. Many government officials (such as those in Virginia) are throwing money at the problem, but it's simply not enough.
City officials in New York—the nation's largest city—have pledged support for the coliving movement and aim to use the ShareNYC pilot "to create new models of shared housing that will bring down construction costs and incentivize the creation of more affordable units." The core goal being to ease the crunch on the "more than 436,000 single adults living in New York in 2015 [who] were rent-burdened (30%+ spent on rent) … according to an analysis by New York University's Furman Center." Gunther Schmidt, Medici's CEO, notes "the cost of living in a co-living dwelling is about 10-20% lower than the price of a studio apartment."
Success in Core Urban Markets
As noted, coliving has been around since the beginning of humanity, but its recent re-emergence has begun to prove out its own viability. Initial players have already entered housing-stressed urban markets across the country. The Tishman and Common partnership to build Kin, a coliving space designed for families, is a prime example of new developments taking place right now. WeLive is another newer option offered within two core urban areas (New York and Washington, DC) that "seems like it's finding success in a core market of long-term dwellers and some unexpected success as a high-end, medium-duration hotel," according to Alex Richardson.
Eventual Integration with Coworking
As coliving, coworking, and retail inevitably integrate, the industry will have an entirely new meaning for "mixed-use." WeWork and WeLive are the public brands behind this shift, but they are far from alone. Sun and Co. is the first coliving and coworking community in the whole Mediterranean Coast and Outsite similarly combines coworking and coliving in locations scattered across the U.S. and abroad. Aligning coliving with the digital nomad trend, AngkorHUB offers coliving, accommodation, and community with the click of a button in Siem Reap, Cambodia. Meanwhile, Selina is a Panama-based hotel startup that just raised $100 million to apply this concept to travel lodgings for the budget crowd by mixing high-end hotel units with multiple bed dormitory rooms, coworking space, and local eateries in the same building.
The Loneliness Epidemic
There's no shortage of studies showing that people are lonelier than ever. For many, lack of a social atmosphere and community is a major contributing reason. The Health Resources & Services Administration found that "the average household size in the U.S. has declined in the past decade, leading to a 10 percent increase in people living alone. According to the U.S. Census Bureau, over a quarter of the U.S. population—and 28 percent of older adults—now live by themselves." This trend is not healthy. Research shows that social isolation and the resulting loneliness can be as damaging to health as smoking 15 cigarettes a day.
The success of Airbnb (and before that, Couchsurfing) has been a major indication and social proof that people are willing to stay with others—and pay to stay there, in the case of Airbnb. And homing in on this willingness might be the best way to address the loneliness epidemic through thoughtfully-designed coliving spaces that place value on communal living above simply cost-savings. Brigham Young University professor Julianne Holt-Lunstad, who testified before the U.S. Senate in April, 2017, has noted that "one in five say they feel lonely or socially isolated" and this problem is "structural as well as psychological."
It's obvious: This is a challenge in need of multiple solutions. Coliving is one of many tools ready to play its part.
Coliving Pioneers Pushing Forward
As the coliving asset class takes hold, there is tremendous potential. "Solopreneurs, start-ups, real estate developers, REITs, VC's, hotel operators, and more all have an opening to create something new in this market or enter on a level that makes sense for their expertise, financial resources, product mix, or long-term strategic plan," says writer Kristin Wilson.
Ollie: Offering fully furnished studios and shared suites with hotel-style services, curated events, and extraordinary amenities, Ollie partners with landlords to deliver the highest and best use for their assets.
Starcity: A network of coliving buildings in San Francisco and Los Angeles. Starcity is a developer, owner and operator of coliving communities. Starcity's core product delivers much-needed places to live to the backbone economy workers that make a city run - the teachers, police officers, firefighters, hospitality workers, students, and entrepreneurs. They develop value-add and ground up projects. Starcity is building the world's largest coliving apartment complex in San Jose, California.
XCommunities: This partnership between PMG and Raven Capital Partners plans to build over $1 billion in co-living units.
Bungalow: Bungalow is rethinking the residential real estate market by providing renters with a convenient, flexible, and communal living solution and offering private bedrooms for renters with roommates they love in beautifully furnished homes across ten major cities.
The Collective: Mirroring the development of Old Oak, a 546-bed residential development in West London, The Collective has "purchased lot at 555 Broadway, on the border of Williamsburg and Bushwick, for a $450 million, 350,000-square-foot development, the biggest ever devoted exclusively to co-living in the five boroughs." In addition to coliving developments, the non profit arm, The Collective Foundation, focuses on economic opportunity, social integration, health and wellbeing, and environmental sustainability to extend its mission beyond buildings and into the nearby neighborhoods and cities.
Common: As the largest community-driven residential company in the U.S., Common is a national property manager that designs, operates, leases, and brands multi-family properties to appeal to today's renters. Common operates all-inclusive homes, bringing community, convenience, and flexibility to housing. Since launching in October 2015, Common has opened more than a dozen homes across New York; San Francisco; Oakland; Washington, DC; and Chicago.
WeLive: WeWork's coliving initiative, WeLive, is built upon core tenets of community and flexibility. In operation in New York City and Washington, DC, growth has been slower than expected—Seattle's planned location has yet to be opened.
Medici: The largest co-living provider in Europe, Medici promotes both digitalization and customer service to create additional value for landlords and tenants.
Node: This curated coliving concept re-imagines community living, offering tenants the chance to connect with neighbours locally and globally while enjoying the privacy of living in individually furnished rental apartments with communal areas and a vibrant community life.
Padsplit: By converting single-family homes to "by-the-room" rentals in Atlanta, they "re-purpose and enhance the utilization of existing housing stock for landlords. "Its software facilitates renovations, room marketing, management and rental payments. Since PadSplit works with existing landlords rather than acting as the developer or operating partner, the model is asset-light compared to many other co-living companies, reducing its capital costs," according to MetaProp.
A Glimpse to the Future
As urbanization remains a massive trend across the globe, its impact will only grow in the coming years. Leading investors are closely following the trend. "With increased density in large urban areas, we'll likely begin to see more movement towards technology and innovation trends related to categories such as co-living and micro units," according to Fifth Wall's Roelof Opperman.
A range of developments in the sector will proliferate in cities around the world and growth in coliving niches, specifically, will also mark major growth. The potential for families preferring to live in urban hotspots is a huge underserved sector with few affordable childcare options. Shared strollers, car seats, vans, toys, and even cribs may be one of the few areas where coliving's true "sharing economy" roots will succeed, rather than turn into a rent economy driven by profits.
Coliving marks a major opportunity for fractionalized ownership to take hold. Providing tenants the option to buy small percentages of ownership will decrease both churn and maintenance costs by giving those living in the units a vested interest in the long term asset. With billing capability for an entire building's tenant roster, coliving operators will have a captive audience that fractional ownership marketers only dream of within other niches.
Also, while capital requirements are extremely high, Common CEO Brad Hargreaves notes that "to scale, you really have to do ground-up [development]" due to the complexity of unique floor plans. Retrofitting is expensive, and redoing walls and bathrooms and kitchens comes at a cost. Blank-slate development is where the most cutting edge innovation occurs. Coliving is no different.
But what happens when the market downturn occurs? When the delta between apartment rental prices and coliving units shrinks, at some point, it stands to reason that tenants will opt for paying slightly more for private quarters.
There's little doubt the prospect of increased prices per square footage will continue to push new inventory online. Is the movement really simply squeezing ROI out of physical assets? Or is it truly revolutionary for the future of affordability and loneliness? Let's hope it's the latter, for society's sake.