Coworking Sector is Ripe with Opportunity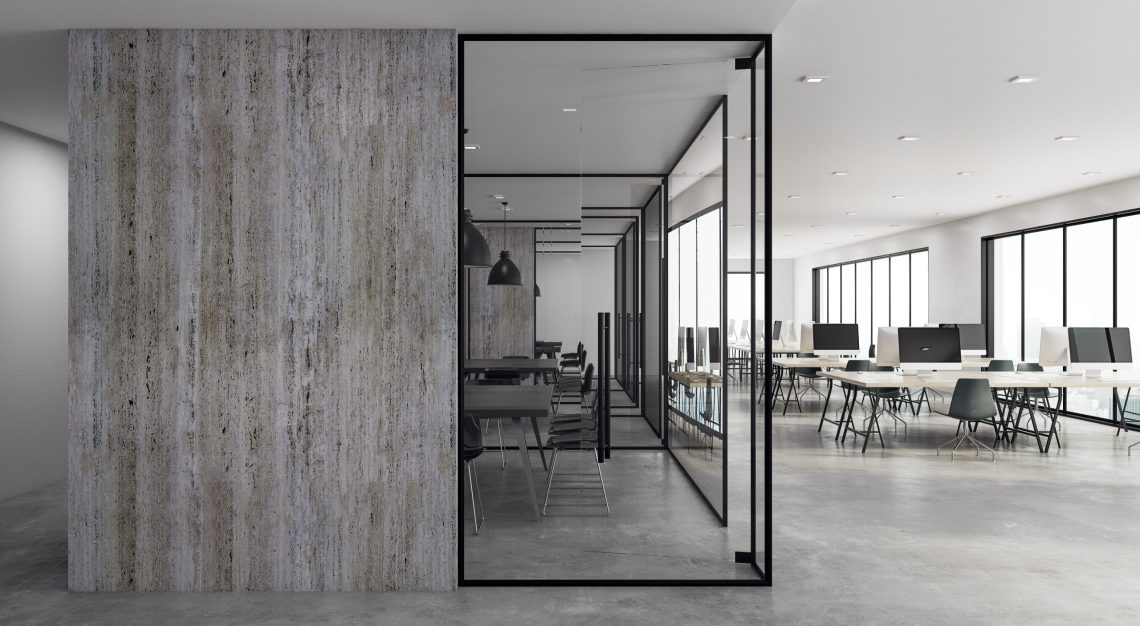 The Future of Office Space As A Service
It was less than 10 years ago when "shared- office space" was a dirty word. If you didn't have your own lease, you wouldn't dare risk telling clients as they would question your legitimacy of being a real business. Then came WeWork.
Today, coworking has transcended the generational divide and stigma of what it means to be in business. Once thought of as only for nomadic freelancers, coworking has become big business attracting some of the largest real estate companies. Coworking spaces—also known as flexible workspaces—are proliferating across the country at a breakneck pace with no sign of stagnation. Companies are transforming existing spaces, adding value across sectors outside of the office, and boutique approaches to coworking have proven that niche communities are ready to gather around a coworking brand that promises connection and community.
According to JLL, only 5% of office space in the U.S. is currently managed by independent flexible office providers. However, since 2010, the sector has grown an average 23% per year, and in 2018 accounted for nearly two-thirds of the country's office market occupancy gains. Flexible workspace and shared amenity spaces are projected to reach 30% of the U.S. office space market by 2030.
The market reaches far outside of the U.S. GeekWire reported that the Global Coworking Unconference Conference projected that there will be more than 30,000 coworking spaces by 2022, with 5.1 million members.
Additionally, Colliers' 2019 U.S. Flexible Workspace Outlook Report highlights the staggering global growth:
"The number of coworking spaces in the U.S.—the birthplace of the movement—has soared from less than 300 in 2010 to more than 4,000 at the end of 2017, for a compound annual growth rate of almost 50%. Growth outside the U.S. has been even faster, climbing from less than 200 to more than 10,000 during the same time period, for an annual growth rate exceeding 80%. Growth continues to be strong globally, though the pace has been slowing as the market matures. Last year the number of coworking spaces rose 16% in the U.S. and 36% outside the U.S."
Market penetration is on a particularly strong growth trajectory in major U.S. cities. In researching 20 U.S. metro office markets, research from Yardi Matrix found that "43.5 million square feet of office space was being rented as of the fourth quarter of 2018. This represented a 62% increase in shared space over the previous year and 1.7% of the total inventory."
Market drivers in both urban markets (representing 2.2% of total stock) and suburban submarkets (1.2%) include "increase in 'gig economy' independent workers and employers' desire to deploy more workers remotely, attract talent and gain more flexibility for their space," according to Yardi Matrix's research.
Coworking is also the driving force behind the space as a service (SPaas) shift sweeping the industry. "WeWork didn't invent the concept of coworking (far from it), but it surely mastered it. By bringing SPaaS to the office sector of the real estate industry, suddenly, everything was now up for discussion: lease terms, space form and function, and even running office spaces more like hotels than those traditional sprawling offices of the 1950s."
With a huge proportion of office space concentrated in several tech markets, it should come as no surprise that New York City is a coworking powerhouse. Colliers estimates that market alone represents about 40 percent of the total flexible office space market in the U.S. followed by San Francisco, Silicon Valley, Austin, and Boston. Coworking is such a large market now that marketplaces like Coworker exist to find the best nearby space either for remote workers looking for a place to touchdown for a day or two, or for locals to find a permanent yet flexible office.
What does this mean for Landlords?
The densification of communal office space is big business. In the U.S., leading landlords of prime office space have turned to coworking companies to boost profits and increase occupancy.
Additionally, some landlords, including EQ Office (a Blackstone company) and Rubenstein Partners have turned to hotel style management agreements to partner with leading coworking operators. The assumed advantage is more financial upside for both landlord and operators by avoiding fixed rent payments and long term leases.
While yet to be proven, the assumption for landlords is that there is long term upside in profit-sharing partnerships with coworking firms as they rapidly absorb office space in New York, San Francisco, Chicago and elsewhere.
The Defining Players
Venture-backed behemoths like WeWork, Knotel, Industrious, and Convene dominate the market, at least in the eyes of the media. But a range of other players define and complete the landscape. This includes 30-year incumbent International Workplace Group (formerly Regus) and social change agent Impact Hub. Hyper local boutiques such as Hera Hub in San Diego have carved out a niche, and even traditional landlords/operators such as Tishman Speyer and CBRE have eyes on cornering a piece of the growing market.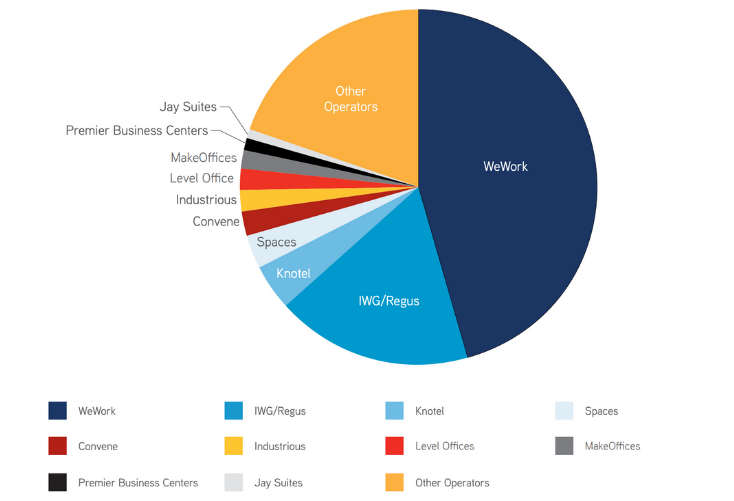 2019 U.S. FLEXIBLE WORKSPACE REPORT | COLLIERS INTERNATIONAL
Let's look at a few of the prominent players in more detail.
International Workspace Group's ("IWC") is the world's largest provider of flexible workspace.  In 2017, revenue reached £2,352.3 million with a network of more than 2.5 million people. IWG owns and operates several coworking brands, including Regus, Spaces, No 18, Open Office, Base Point, and Signature.
Year founded: 1989
Total square footage: x square feet
Locations: 3,000+
Market Cap: £1,486 (Reuters as of 2/19)
CREtech Outlook: Founded in 1989 in Brussels, the company went public on the London Stock Exchange in 2000 and it now offers more than 3,000 locations worldwide. Despite the media ignoring them in favor of the tech darling childs, they are clearly a force to be reckoned with.
Flexible space operator, designer and builder that got their start appealing to startups but have expanded into all corners of the industry.
Year founded: 2010
Total square footage: 10,000,000+
Locations: 425
Geographic coverage: 27 countries
Total funding: $12.8 / €11.29 billion (Crunchbase)
Company Outlook: Assuming we keep up our personal growth as a company, as individuals and as a company, there is no limit. Businesses, neighborhoods, cities — there are new cities being built around the world, and we want the call from those cities. -- Adam Neumann, co-founder and CEO (New York Times)
CREtech Outlook: With "45 percent of the flexible office market in the U.S." (Colliers), they are the clearcut category king. They recently rebranded the company to We Company, and if they have a weakness, it's their breadth of products/services -- which could signal a lack of focus.
The flexible space provider has built their business with a focus on the enterprise. Acquired 42Floors last year, and has plans to "utilize blockchain to organize crowdsourced information on office spaces and reward contributors with the decentralized currency."
Year founded: 2016
Total square footage: 3,000,000+
Locations: 200+
Geographic coverage: U.S. (New York City, San Francisco, Los Angeles), South America (Brazil), Europe (London, Berlin, Paris and)
Total funding: $160 / €141.09 million
Company Outlook: "Knotel's strategic focus is to help businesses succeed by becoming their flexible office partner of choice, eliminating the expense, friction and uncertainty associated with commercial real estate.
To accomplish this, we will add hundreds of locations in our markets around the world, cultivate a global team dedicated to serving our clients, and build organizational excellence to seamlessly deliver the flexibility that modern businesses require." -- Eugene Lee, Global Head of Real Estate & Business Development
CREtech Outlook: Knotel continues to secure spaces, recently signing for a 5-floor spread near Herald Square and their first lease in Los Angeles. Their growth is staggering and ambition virtually unmatched.
Provides custom-designed spaces for the enterprise and hospitality-driven workplace experiences with flexible lease terms and national network. Its Workplace Experience platform pairs custom-designed spaces with hospitality-driven services & amenities. Has helped 1000s of companies scale while maintaining high NPS scores.
Year founded: 2013
Locations: 60
Geographic coverage: 34 cities
Total Funding: $142 / €125.22 million (Crunchbase)
Company Outlook: "Industrious is where companies come to thrive. We are hyper-focused on providing an amazing workspace experience for our members so that they can focus on growing and scaling their business.  
Industrious also believes in working with landlords.  We are moving away from traditional leases in favor of management agreements that allow both sides to operate symbiotically and share in the upside." - Jamie Hodari, co-founder and CEO
CREtech Outlook: With their latest partnership agreement with Coretrust Capital Partners for 22,275 square feet in the Citigroup Center, the company is showing no signs of a slowdown.
Workplace solutions provider that brings premium meeting and event spaces, flexible workspaces, hospitality amenities, and curated experiences; all connected by technology. Recently added white labeled solution for Class-A office landlords and owners to help them design, build and manage flexible work and amenity spaces.
Year founded: 2009 (10 years in November)
Total square footage: Approx. 700K square feet (as of January 2019)
Locations: 23
Geographic coverage: 6 U.S. cities (NYC, Philadelphia, DC, Boston, LA, Chicago); London coming soon
Total funding: $260 / €229.28 million (recent Series D funding was $152M in 2018)
Company Outlook: "Convene is focused on growing our network of premium places to work, meet, and host inspiring events in 2019. This includes expanding into new markets and geographies, scaling our existing products and services, and building a network of best-in-class hospitality, wellness, retail, and technology partnerships to serve our customers near and far." -- Ryan Simonetti, CEO and Co-Founder
CREtech Outlook: Convence started with a focus of shared amenities and operating communal conference rooms inside existing buildings, which is a differentiated and compelling market entry-point.
Enterprise Power
The growth potential in the coworking office space sector lies far beyond from simply freelancers and startups. Many established players industry are doubling down on courting enterprise clients through features such as custom builds for clients.
Industrious staked its claim on partnering with owners and operators with the support of Fifth Wall. WeWork also has a growing enterprise focus that now includes custom build-out capabilities.
Michael Beckerman has noted that the "same landlords who once ridiculed WeWork's business model, giving it a laughable "unicorn status," are now actively competing for SPaaS enterprise tenants." These providers are scouting locations, signing leases (and taking on the corresponding risk), and doing the design and physical build.
Several of the largest landlords have also spun out their own flexible space brands and initiatives. Notable among these landlords are Studio by Tishman Speyer and Hana by CBRE. In CBRE's case, "partnership agreement[s] with landlords enable Hana to co-invest in the cost of building out and managing the space, and then share in the revenue." They recently announced their first location in Dallas' PwC Tower in partnership with Metropolitan Life Insurance Co.
The Boutique Promise
Despite the titanic growth of the market leaders, a range of boutique approaches are also thriving around the country. These boutique spaces take a different approach, focusing more on their community while running broader businesses. The specifics are crafted to the local community needs, so that looks like the OSC Tech Lab in Akron, OfficeNomads in Seattle, and Beauty Shoppe in Pittsburgh.
Fresh off a $15 million raise, The Riveter is a female-founded and focused provider with ambitions to open 100 locations by 2022. Meanwhile, with a core focus/differentiator of "social impact," Impact Hub already has more than 100 locations across 50 countries.
While many residential sales agents use coworking spaces as office space, the founder of the Berthold Building in Atlanta, Jennifer Kjellgren, highlights how a partnership with Nest Realty Atlanta has allowed real estate brokers to invest in the local community via a flexible workspace of their own.
Community is the common byword and promise of boutique coworking spaces. Members of these spaces expect more than an opendesk and fast wifi. Courtney Watts, a member of Beauty Shoppe, said she loves her coworking space it because "people want to talk to each other. People want to know what the other person is up to."
Bottom line: Remote workers and locals are looking for real connection outside of cookie-cutter corporate settings.
Retail Transformation
It's well known that commercial retail is undergoing seismic shifts. Coworking offers a ray of light to fill and monetize spaces going dormant as old school retailers close up shop.
According a JLL retail report, there are 4 types of coworking spaces, one of which is the "Retail Launchpad" (the other three are Telework Hub, Business Booster, and Creative Coalition). "Top malls are perfect for retail launchpads. . . . There is generally good vehicular accessibility, ample parking, and a large concentration and variety of retailers under one roof. Malls are also exceptional testing grounds for Launchpads where micro-retailers and startups are introduced to the public."
Macerich was the first mall owner to secure a major deal with a shared-office provider. Macerich is an LP in Fifth Wall's fund and Industrious is a portfolio company, creating a behind-the-scenes link that marks the first of a nascent but growing trend. In San Francisco, Westfield's Center on Market Street now rents space to a coworking company called Bespoke.
Some estimates indicate more than 200 million square feet of retail space has either closed or will close, and many of those closed locations were once large box retailers like Sears, JCPenney, and Sports Authority. Cowork at the Mall took over a large space in Chicago's Water Tower Place. Formerly a Sports Authority, the 15,000 square-foot space sat vacant for years but will now feature shared offices, event spaces, and even customized pop ups for up-and-coming brands to market new products.
For shopping centers, it makes sense on all sides. As JLL's report also noted, "Retail-based coworking spaces are successfully integrating work and play, bringing makers, workers, and consumers together and bringing new life and experience to retail locations."
Malls are not the only places looking for unconventional tenants. Spacious is another innovative model aimed at transforming restaurants into coworking establishments. Gyms are increasingly adding coworking (there's also a range of spaces with on-site gyms).
This is just the tip of the iceberg of coworking/retail collaboration opportunities. Amazon Lofts are a hint at the future.
The First Inning
Consolidation in the coworking sector is inevitable as profits are driven down by increasing competition that now includes Cobo turning individual's homes into flexible workspaces. We're starting to see this play out in the urgent care sector, the "coworking of medical," with CityMD's acquisition of STAT Health Urgent Care. With nationwide flexible space operators maximizing profit, boutiques will continue to thrive by attracting locals seeking community with a local flavor. Niche coworking backed by corporations is a trend we expect to play out (following Amazon's lead).
This is a real blending of the commercial and residential sectors.
Why doesn't ESPN back a sports tech coworking establishment?
Why hasn't Spotify funded a network of spaces for musicians?
The industry is ripe with opportunity. Sit up, pay attention, and take advantage of the opportunities presented.