CREtech Consulting Report: How the Construction Sector is Embracing Technology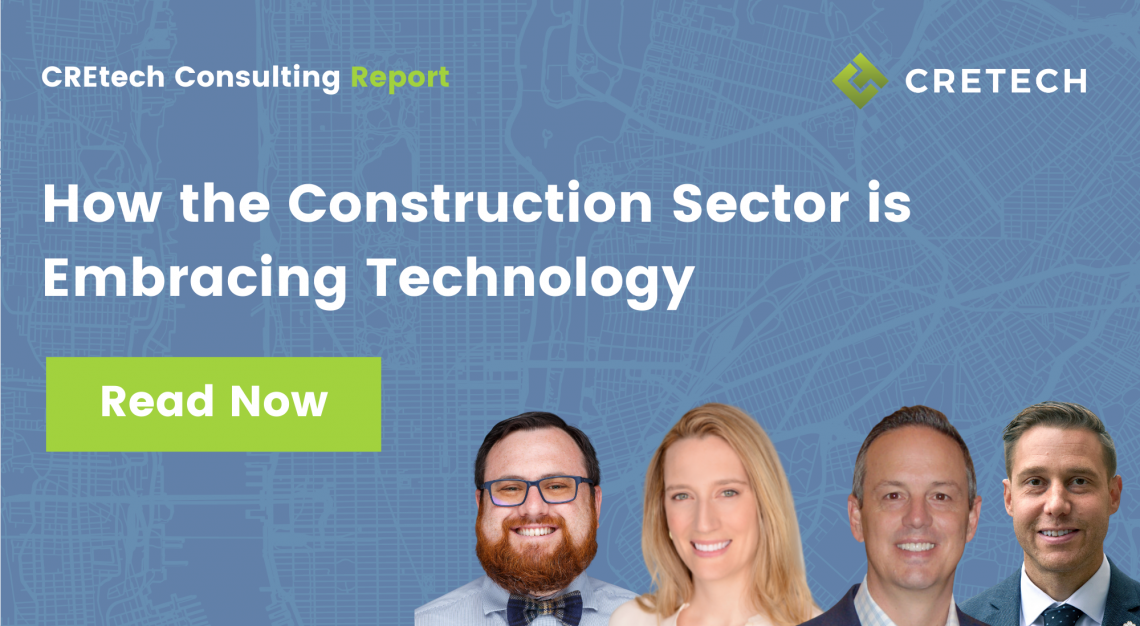 CREtech is proud to introduce our new monthly content series focused on our Global Innovation Consulting Practice. Each month we will take a deep dive on an important trend in the world of real estate technology and innovation. These themes, which are carefully selected by our world-class team of Consultants and Advisors, will then be released to our community through a series of insightful webinars, blogs and market research.
CREtech Consulting Report: How the Construction Sector is Embracing Technology
If there's one certainty in this world, it's that construction is a gigantic industry—it represents 13% of the world's GDP. According to Thomas Bigagli, Leonor Alarcon, and Simon Abboud from Plug and Play, with the world population set to "reach 8.5 billion by the end of the decade, more than 13,000 buildings must be constructed at a daily pace, along with the supporting infrastructure." To reach that level of build, something had to give. 
Enter Covid-19. The pandemic accelerated the construction sector's embrace of technology and innovation because of the physical implications of designing, planning, and developing real estate projects in a highly restrictive construction environment. Companies also expedited projects that were shelved during lockdowns and now feel tremendous financial pressure to meet the economic moment with efficiency and cost effectiveness as the bywords of their business models.Thanks to the pandemic, construction—once the last frontier of the real estate sector adopting technology—is now one of the most active segments embracing tech. 
Bigagli, Alarcon, and Abboud elaborate:
... proactive actions will be the cornerstone of the sparking [sic] a new chapter. Bold short to long-term strategies will have to be defined, keeping in mind our present realities around skilled labor shortage, resources scarcity, and environmental impacts. The historical legacy of the construction ecosystem has barely changed over the centuries. Nevertheless, there may be a way to scale the industry responsibly and, finally, take advantage of the occasion by the adoption of design-to-make production principles alongside rising digital technologies.  
As digitization infiltrates every aspect of the construction sector, increased productivity and profitability will create a feedback loop encouraging even more opportunities for enhanced productivity and higher profitability. As we noted last year, construction has long been among the "most underserved markets in the real estate industry due to its cash- and capital-heavy nature. However, as new technologies emerge to meet the rising developer demands for speed and efficiency, the construction sector will surely have its moment in the spotlight."
That spotlight is here. Construction Tech (ConTech) is poised to be one of the biggest areas of focus for real estate investment, innovation, and adoption in the future. 
LAST FRONTIER
The data bears out assertions that construction is among the last sectors anywhere to adopt tech. "The McKinsey innovation index ranks [it] 21st among the 22 business sectors examined," according to Plug and Play.
Many working in the industry have noted that ConTech is a relatively new focus for many owners. But that is changing. On our recent ConTech webinar, Clelia Peters, venture partner at Bain Capital, noted that in many cases, owners have now hired Chief Innovation Officers—a clear sign they are prioritizing it. Meanwhile, she has found that many big general contractors have pushed harder on investing in innovation and building out internal venture wings, or becoming LPs in specialized funds.
According to CB Insights research:
From 2015 to 2019, investors allocated $5.1B to construction tech startups across 571 deals. Global deal activity in the space grew from 2015 to hit 130 deals in 2018.

Deal activity in 2020 year-to-date (YTD) is on track to come in at its lowest volume since 2016, a 19% decline year-over-year (YoY) at the current run rate.

Funding, on the other hand, is showing clear signs of growth and is expected to reach $1.3B in 2020, a 56% increase YoY.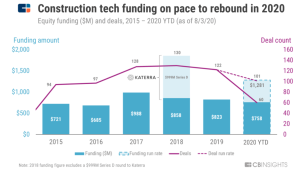 COVID-19 ACCELERANT
While industry disruption caused by the pandemic is largely driving tech adoption, these winds of change were blowing long before the novel coronavirus. Now, however, they are being dramatically scaled and on a far shorter timeline than ever seemed possible even just a year ago.
Bloated meetings hamper productivity in every sector, but even more so in construction. In most companies, attendees are already at the office; in construction, many attendees commute to a job site for a single meeting. That norm has been upended according to Skender Executive Vice President Clay Edwards, who told Bisnow: "Social distancing requirements on construction sites means that we've accelerated our use of construction technologies to increase efficiency and reduce the number of employees needed on a job."
More often than not, site meetings are now "conducted via VR headset, drones are instrumental to project monitoring, and robots are digging foundations and remotely piloting heavy equipment," according to BisNow. None of that is new. It's just happening at a scale never before witnessed.
On top of that, Peters highlighted that there has never been a better time for owners to remotely monitor job sites.
During the CREtech recap webinar, Erin P. Roberts, Assurance Partner and Global Engineering & Construction Leader at EY, mentioned the biggest reason he's excited about ConTech is that a convergence has happened; "we can start to improve the health and wellbeing of the folks in the job site and at the same time we are enhancing productivity using these same technologies."
The proof's in the pudding. Bisnow reported that potential customer interest has doubled since March for Built Robots' technology that can be "retrofitted to existing machinery, such as excavators and bulldozers, and allows machines to work without a human operator."
Swinerton is another example. Vice President Peter Hau told Bisnow that the firm is "receiving daily inquiries from clients asking about the firm's mass timber practice, which [he] chalked up to economic pressure to complete jobs more efficiently in the current climate."
And, according to Deloitte's 2020 Engineering and Construction Industry Outlook, "The US transportation and infrastructure upgrade initiative and the rise of smart city mega-projects" are two trends that engineering and construction firms stance to benefit from.
Tech writer John Biggs sees this trend panning out across the board, noting that "construction's sluggish start to widespread tech adoption has given way to surging growth, with the construction technology market projected to reach more than $2.7 billion by 2023."
THE STARS
Leaders like Suffolk and Skanska have been way out in front of the sector alongside standout investors like Brick and Mortar Ventures, NavitasCap, and Bain Ventures.
Skanska "is one of the world's leading construction and project development companies, focused on selected home markets in the Nordic region, Europe, and USA."  Founded in 1887 and now employing 34,000, the company is "working on many exciting opportunities including drones, robotics, and 3D printing. By using new technology [the company] can deliver projects faster, safer, at lower costs, and using fewer resources."
For instance, Flying Factories, a key Skanska project, "provides offsite lean manufacturing and industrialisation, using temporary and versatile factories." The results of phase one implementation at the Battersea Power Station redevelopment project are clear: redevelopment efforts led to a 44% cost saving, 65% reduction in time, and 75% fewer defects.
Meanwhile, Suffolk, the Boston-based general contractor powerhouse, has been busy the last couple of years building L.A. Smart Lab. It's one of seven labs the firm has constructed; the others are in Boston, New York, Miami, Tampa, San Francisco, and Dallas. These innovative labs rethink the essential in office space construction and integrate a number of ConTech innovations, including a "12 foot by 7 foot touch-enabled Data Wall; an adjacent sister wall-size monitor with jobsite live streams; … and a "Virtual Reality CAVE" …  where advanced digital visualization of virtual construction site models and immersive 3D experiences help Suffolk plan pre-construction and site logistics."
[embed]https://www.youtube.com/watch?v=8z4zkF9Po2o[/embed]
Procore is another breakout star in the sector. Pushing off its IPO plans due to the pandemic, the company raised $150 at a nearly $5 billion valuation back in April, according to Bloomberg
On the venture side, "construction tech is one of three real-estate-tech trends that Bain Capital Ventures is watching in 2020," according to Merritt Hummer, a partner at Bain Capital Ventures. The firm's belief is that "the best construction-tech investments are with companies that aren't trying to totally 'overhaul' the existing ways that construction is done but are instead 'shaving off cost and time'," according to real estate technology reporter Alex Nicoll. Given the highly fragmented nature of the industry, the chances that one company can execute across an entire ground-up project are minimal.
Alpaca VC, formerly known as Corigin Ventures and also an active investor in construction tech, operates with a thesis that a "big source of inefficiency stems from the industry's poor flow of capital." They believe there are three key ways value is currently being exchanged:
"Payments

are slow and create strain on businesses throughout the construction value chain.

Insurance

is an expensive source of cost for businesses in the construction industry with premiums expected to rise.

Lending

is a crucial lifeline in construction, and liquidity is a constant constraint for businesses."
Looking ahead, this ConTech star envisions better tracking, management, and utilization for industry inputs (e.g., inventory, labor) so that industry outputs (e.g., projects, investments, profitability) are more controllable and optimized. In Alpaca's full whitepaper, they concluded that "FinTech products in construction need to offer verticalized solutions to drive success of adoption."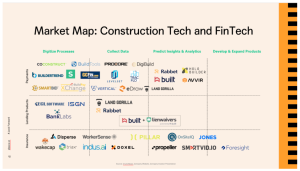 A NEW FUTURE FOR CONTECH
According to Deloitte's 2020 Engineering and Construction Industry Outlook, "To remain competitive, industry leaders will likely continue to define a new vision and map a comprehensive digital blueprint to realign their business and operational processes to reflect the opportunities that innovation and technology provide. And a persistent theme throughout all of this is the value of partnerships within and across the ecosystems in which these firms coexist." Alpaca also sees numerous more innovative opportunities as financial technology begins to better address the "core challenges of more productively and efficiently converting inputs into industry outputs."
ConTech is no longer a stagnant space and we're likely to see the rapid and constant innovations technology has brought to other real estate sectors. That means expanding further into obvious areas ripe for change—the financial side of ConTech and project management have attracted the most significant investment and adoption—while also looking toward what's next: Innovation in materials is expected to explode in growth in the near term.
Bigagli, Alarcon, and Abboud noted that "the AEC sphere is in need of innovative building materials in order to meet the complex ecological and economic requirements of our current era." Engineered timber buildings and modular construction methods are now coming into play in the U.S. "Combining these two trends in future office developments could kickstart a new era of cost-effective, sustainable buildings that help cities achieve their zero-carbon goals," according to JLL.
Also on the horizon: The sheer possibilities available when ConTech begins to synthesize and analyze data collected by technology firms. AI learning has become a differentiator for technology in other sectors, and ConTech will follow suit. 
Likewise, exoskeletons, which add "superhuman" strength and endurance to the human body, are ripe for growth in a sector not on the public radar. They "dramatically improve their bottom line by reducing the number of laborers needed on-site as well as reduce lost man-hours from injury," according to Interesting Engineering. ABI Research predicts the robotic exoskeleton market will reach $1.8 billion in 2025, up from $68 million in 2014."
[embed]https://www.youtube.com/watch?v=Z_pdZ1LW5iw[/embed]
The fact is, "technology has become a disruptor in the construction industry," according to CREtech consultant Jarrett LiBuono. "The integration of technology results in improved efficiency, elevated project insights, transparency, reduced risk, reduced rework, and better quality control. Construction technology should be a focus of all business owners' involved in a project, ranging from property owners, developers, to contractors, suppliers, and consultants, in order to successfully drive informed decisions, increase profitability of a firm, and maximize the ROI of a project."
CREtech Consulting Talks Recap Webinar featuring Clelia Warburg Peters of Bain Capital, Erin Roberts of EY, Jarrett LiBuono of CREtech Global Innovation Consulting Practice and moderated by Kris Lengieza of Procore Technologies. With special guest emcee Bradford Lin of CREtech Global Innovation Consulting Practice
Watch now >>
[embed]https://www.youtube.com/watch?v=lxqayVHxwsQ[/embed]
WE HAVE CURATED THE MOST EXPERIENCED TEAM OF REAL ESTATE TECH CONSULTANTS IN THE WORLD TO HELP YOU 
FUTURE PROOF YOUR BUSINESS.
We understand your company's unique tech objectives, analyze current practices, and recommend new solutions that will accelerate your tech adoption and overall operational efficiency. We also offer onboarding solutions to ensure a smooth transition, train your employees and make the process as simple as possible for you.
contact us at consulting@cretech.com to learn more or visit www.cretech.com/consulting