Speaker Spotlight: Karen Hollinger, SVP, Strategic Initiatives, AvalonBay Communities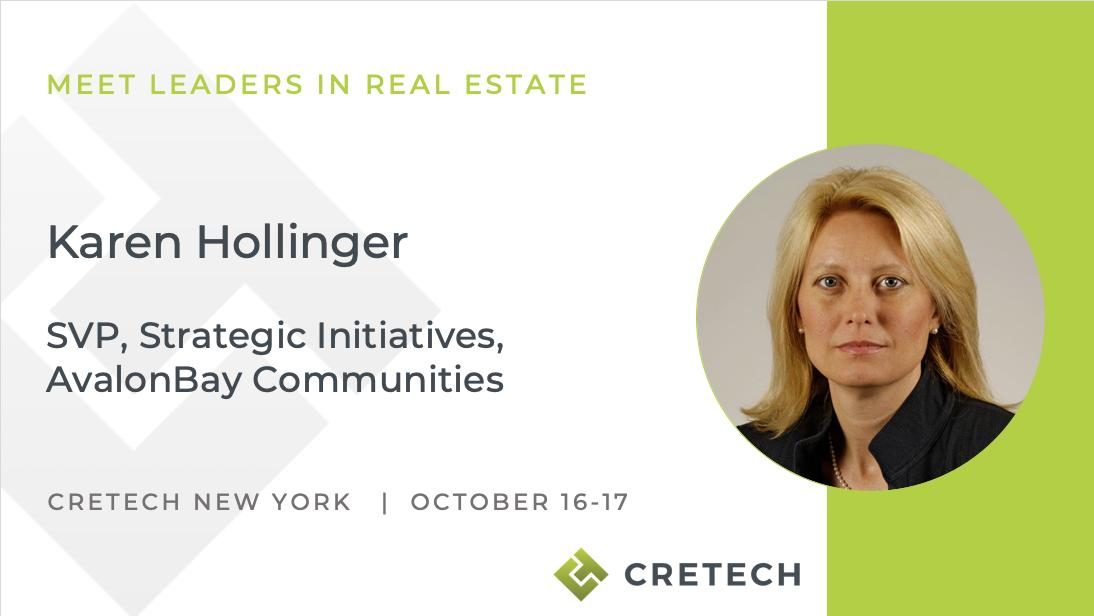 Attending the CREtech New York Conference on October 16-17, 2019?
Don't miss a groundbreaking session from Karen Hollinger, SVP, Strategic Initiatives, AvalonBay Communities. She will present the CREtech Talk: "I'll Tell you What I Want, What I Really, Really Want: Ideas for Multifamily VC Investment." With billions being invested in new technology focused on real estate, especially in multifamily, it is surprising no one has asked the customer to describe the pain points which need to be solved. Hear from an expert using a rapid-fire, humorous approach to the business problems that they wish venture capital investment would target.
What were you doing prior to your current role and why did you decide to enter the commercial real estate tech industry?
Karen Hollinger: I was a consultant across industries, including Real Estate. I joined AvalonBay during the 2001 recession because I recognized that the company was stable, well-run, ethical and had growth plans while the remainder of the industry was contracting.
Describe your role at your company and what your day-to-day looks like?
KH: With just a bit of humor, I describe my role as "Other Duties as Assigned." It's strategy, project management, partnerships, technology, and lots & lots of idea generation, many stolen from other industries. There is no such thing as a normal day to day, which I love.
What are you most excited about that your company is currently doing in the commercial real estate tech sector?
KH: Hard to choose. I get jazzed by looking at the existing business and contemplating new ways for development partnerships, revenue growth, customer service or resident amenities. We're starting to evaluate new construction techniques, which while new, can (fingers crossed) someday dramatically alter the underlying costs to build.
What is the most important trend you are paying attention to today in commercial real estate tech?
KH: It has to be the need for less costly housing options, especially in urban areas. While companies like We or shared housing vendors may or may not meaningfully impact supply, the data is clear that recent college graduates need less-costly options when moving to a coastal market.
---
The 2019 CREtech NYC Conference will be held on October 16th and 17th at Dock72 in Brooklyn and is expected to attract 2,000 professionals from around the world. Global commercial real estate executives will attend the event to network, uncover new investment opportunities, and acquire leading-edge products and services to enable digital transformation for the largest industry in the world.
To purchase conference badges to CREtech New York, click here.