The coming M&A storm to dominate CRE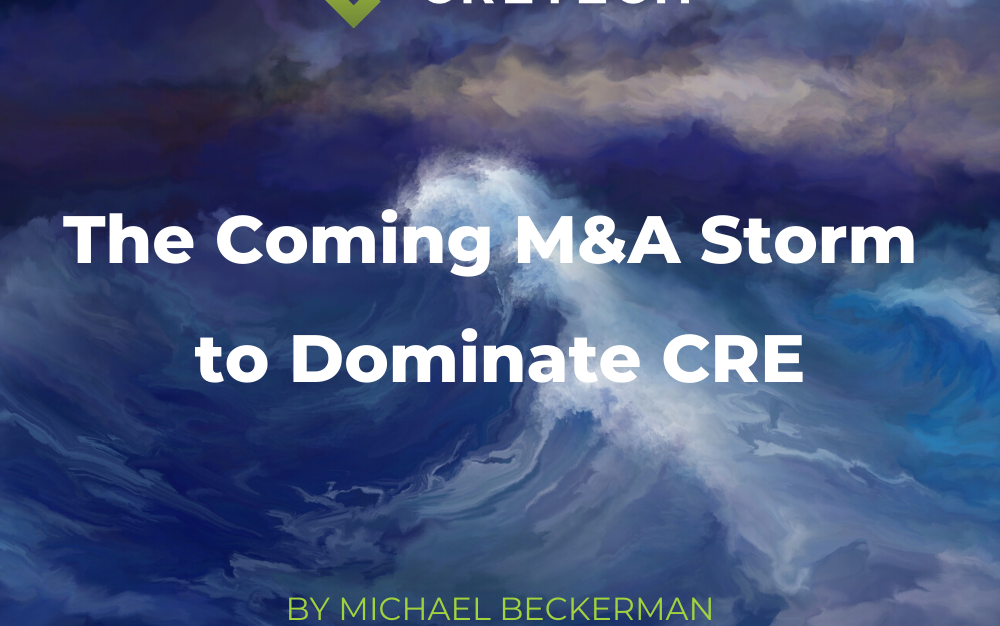 The tide has been slowly shifting toward mergers and acquisitions (M&A) in real estate tech, and this year a tidal wave will hit. A staggering 7,000 startups have received funding over the past five to six years and money invested in the sector doubled year over year, reaching $35 Billion in 2019. This frenzy of interest, however, has not been met with a similar flurry of Proptech adoption. Real estate dramatically lags behind other industries in embracing tech and innovation—"companies reinvest less than 1% of revenue into research and development while other industries typically invest between 3% and 8% of revenue in building new tech-driven products," according to Bing Wang, a Harvard University professor of real estate.
Deloitte first called out the active commercial real estate M&A environment in 2019 because of "favorable global commercial real estate industry trends, a positive investment climate, and opportunities from technology-driven industry disruptions." And then again this year, Deloitte's seventh M&A Trends report, which gathered insight from 1,000 executives at corporations and private equity investor firms, found "clear and strong signals that deal activity will persist, with just 4 percent of respondents forecasting a decline in the number of deals in the 12 months ahead." Only 2 percent "anticipate a dropoff in deal size in the year ahead."
Our sector simply hasn't yet demonstrated the confidence in the ability to use existing infrastructure to research, vet, and adopt tech. And it's not a failure of the IT departments or internal leadership, but rather a need to overhaul the real estate company culture at the CTO and CIO levels to better embrace innovation. These are examples of what doesn't exist in our sector, and until it does, adoption will continue to lag far behind expectations. 
What we need is a massive cultural shift within the real estate sector to embrace innovation as much as capital since in the future they will both be intertwined and codependent. 
And today, with adoption still lagging, I am afraid a great many proptech startups won't survive—too many mouths to feed and not enough food on the table is not a recipe for success.
Given that, M&A is a natural evolution of this phase, and the earliest stage in real estate's tech revolution. There will be failures, unfortunately. But there will also be clear frontrunners gaining even more traction and market share. And alongside both of those occurrences will come 12 to 24 months consolation in the form of M&A or LBO.
Also consider that there is no real public exit strategy in this sector since early stage CRE startups lack the revenue and profits generally required for consideration by the public markets. And, given the emphasis on real revenue and profit figures, taking companies public via IPOs is unlikely in the short term.
The M&As that Set the Stage
The M&A trend has been building, and looking at what has come before is a good way to prepare for what's ahead. So what should we expect in 2020?
Large and well funded startups will acquire other startups that offer good teams and product that has simply not yet scaled. Think:

Hello Alfred acquiring Bixby

and

Knotel acquiring 42 Floors

Well funded holding companies will stay very active. There are already clear signs of what's to come. Look to

RealPage's $580 million acquisition of Buildium

and notable addition of

Modern Message's

flagship resident engagement platform

to its existing stable, which also includes ClickPay, SimpleBills, Rentlytics, Hipercept, and LeaseLabs. Procure has already picked up Honest Buildings, BIManywhere, and Construction BI, and MRI Software brought a number of companies in house: Engage Property Technology, Dynamic Lead SOlutions, Rental History Reports and Trust Employees, ProLease, LEVERTON, CTM Software, TCAM Asset Management and IPM Software. This also played out as Boston-based

Building Engines acquired Real Data Management

. Meanwhile,

Lightbox recently added ClientLook

to a portfolio that already includes EDR, ExactBid, Real Capital Markets, and Digital Map Products.

Tech giants like Moodys, CoStar, and Yardi will also actively acquire companies to help both growth as well as the bottom line.

Moodys acquiring Real Capital Markets

while

CoStar bringing Cozy in house

(and acquiring

Off Campus Partners

and

STR

) is only the beginning.
In short, this means 2020 will be a good year for the industry's best funded tech companies, as  well as smaller startups with great teams and products and also any number of attorneys, investment bankers, and advisors already serving this space.
Curious to learn more about this? We'll be speaking about it in depth at CREtech Austin— get your tickets now.
A Landscape in Flux
Strong equity markets and a strong economy both spurred M&A and consolidation over the past year. According to Goodwin Law authors, "The VTS merger with Hightower, a $300 million combination of two cloud-based leasing and portfolio management data platforms, exemplifies the benefits that can be realized in PropTech M&A, including increased market share and efficiencies from cost-savings."
Memoori meanwhile is also betting big on M&As—the company "covers investments focused on the facility operations and management stage of the building lifecycle, across seven segments—IoT in Buildings, PropTech, Building Energy Management, Physical Security and Life Safety, Building-to-Grid, Building Fabric, and Smart Home."
As we've noted in the past, M&A activity will be an important part of the arsenal of corporate growth strategies in real estate tech. Not to mention the financial incentives for these companies in being first up to bat. Matthew Rothstein for Bisnow noted last year that eventually all of the "equity investments will likely hit a critical mass that pushes some investors to buy startups as a way to gain exclusive access to technology that has proven itself, or simply to take territory as competition gains in intensity." Many believe that the real estate industry is "on the cusp of a feverish investment period." 
Within this "feverish period," the volume of unicorn and real estate tech companies going public will surely decrease, but the resulting mergers will be bigger and better than ever before. These M&As signal the next evolution of Proptech, an era when consolidation brings together harmonious products and technologies, strengthening both their marketability and their market share. M&As mean clear winners will emerge—and soon. 
It's always been inevitable that CRE will catch up to adjacent industries already wholly integrating innovative tech solutions. This is simply the year inevitability becomes a reality as a tsunami of mergers and acquisitions forever changes the Proptech landscape.